EVEREST & LHOTSE
APRIL – MAY 2017
These are my journal entries from the first three days of my 2nd Rotation. I have chosen to post the 4th day, the day of Ueli Steck's death, separately. It was an extremely challenging day and I have a few additional thoughts that I wanted to share.

Thursday, April 27th (Move to Camp 2)
The move to Camp 2 just plain sucked. I'm writing this a day late because I was too exhausted to write anything yesterday. So why was it so bad? Let me tell you…
First of all, our foursome HATES alpine starts. For those of you that don't know, an "alpine start" is when you start climbing very very early in the morning. Personally, I can't stand it because you have to wear additional layers for warmth but more importantly, I don't like rushing breakfast and coffee. Anyway, we went with it and decided to leave promptly at 4 AM (hardly an alpine start) and ended up stumbling out of the gate at 4:30 AM. This was going to haunt us very soon…
As soon as we got out of camp, my throat tightened up and I was having difficulty breathing without coughing. I threw my buff on so that I my throat was exposed directly to the frigid air and it seemed to do the trick. I was worried that if we pushed for a fast time through the Khumbu Icefall that my throat would be an issue but we soon realized that a quick climb wasn't feasible due to a bottleneck of climbers at the first set of ladders.
If we had left a half hour earlier, we would have been cruising through the icefall but instead, we were freezing as we waited for three teams ahead of us to clear a simple ladder. I'm usually the one to get frustrated in these situations and Geoff is the cool headed one but in this case, the roles were reversed. I got a kick out of Geoff and Brent getting angry at the timidness of the climbers that were ahead of us and couldn't help but laugh. The laughs soon faded as the cold sank through our boots.
We managed to pass a couple of teams and were soon able to identify the main culprits for the traffic jam, the Indian Army. Now, I'm not saying that these guys aren't great warriors but if there is any urgent matter at hand, they are in trouble because they are incredibly SLOW. I'm fairly confident that my Mom could move through the Khumbu Icefall faster than these guys. OK, I'm done making fun of the Indian Army now, back to story… We passed them and decided to press on to warm up our core temp. At this point, we had been delayed about 1 1/2 hours and hadn't consumed any calories in three hours.
A look into one of the many crevasses that we cross by ladder…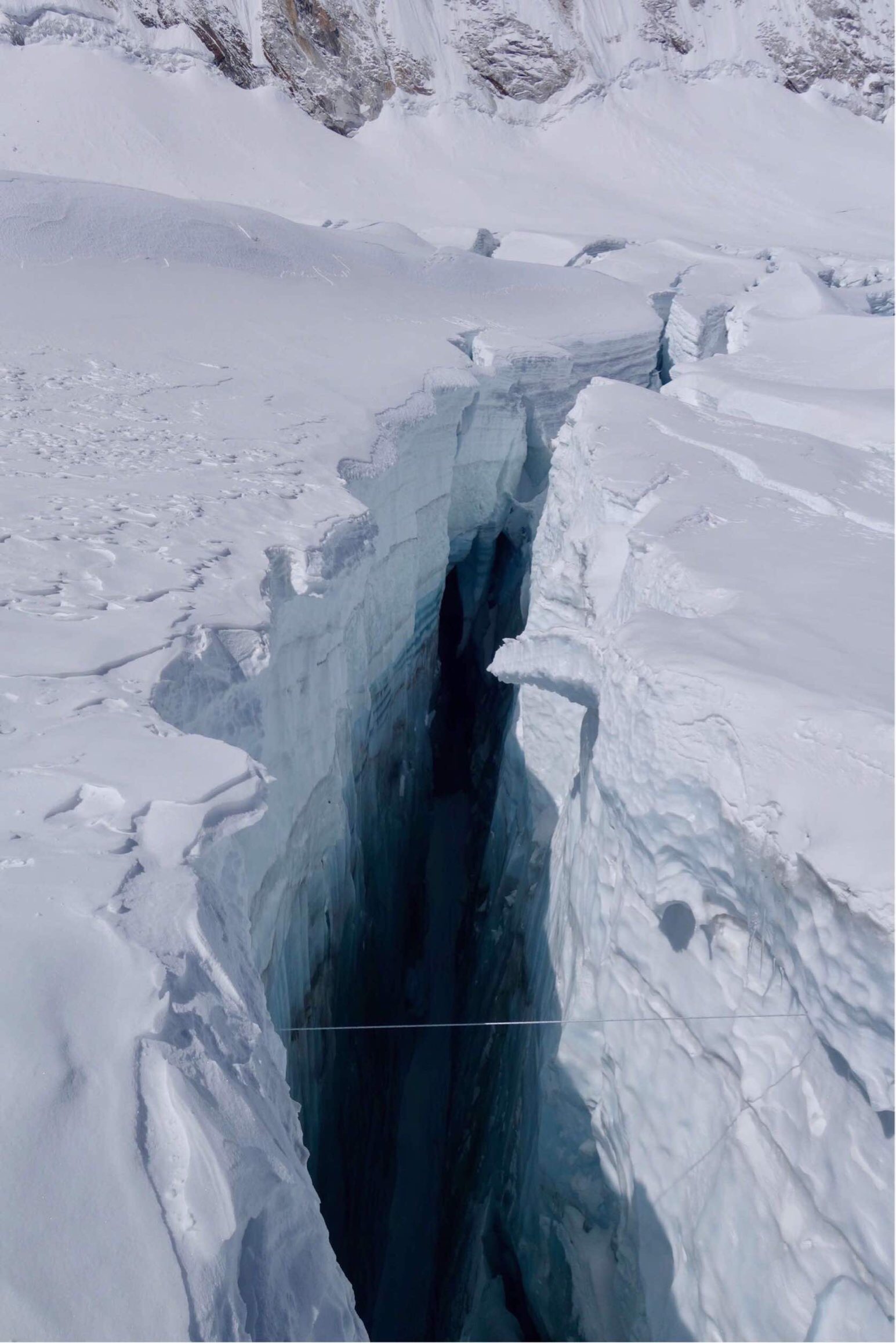 And then an endless amount of "bread loaves" at the top of the icefall.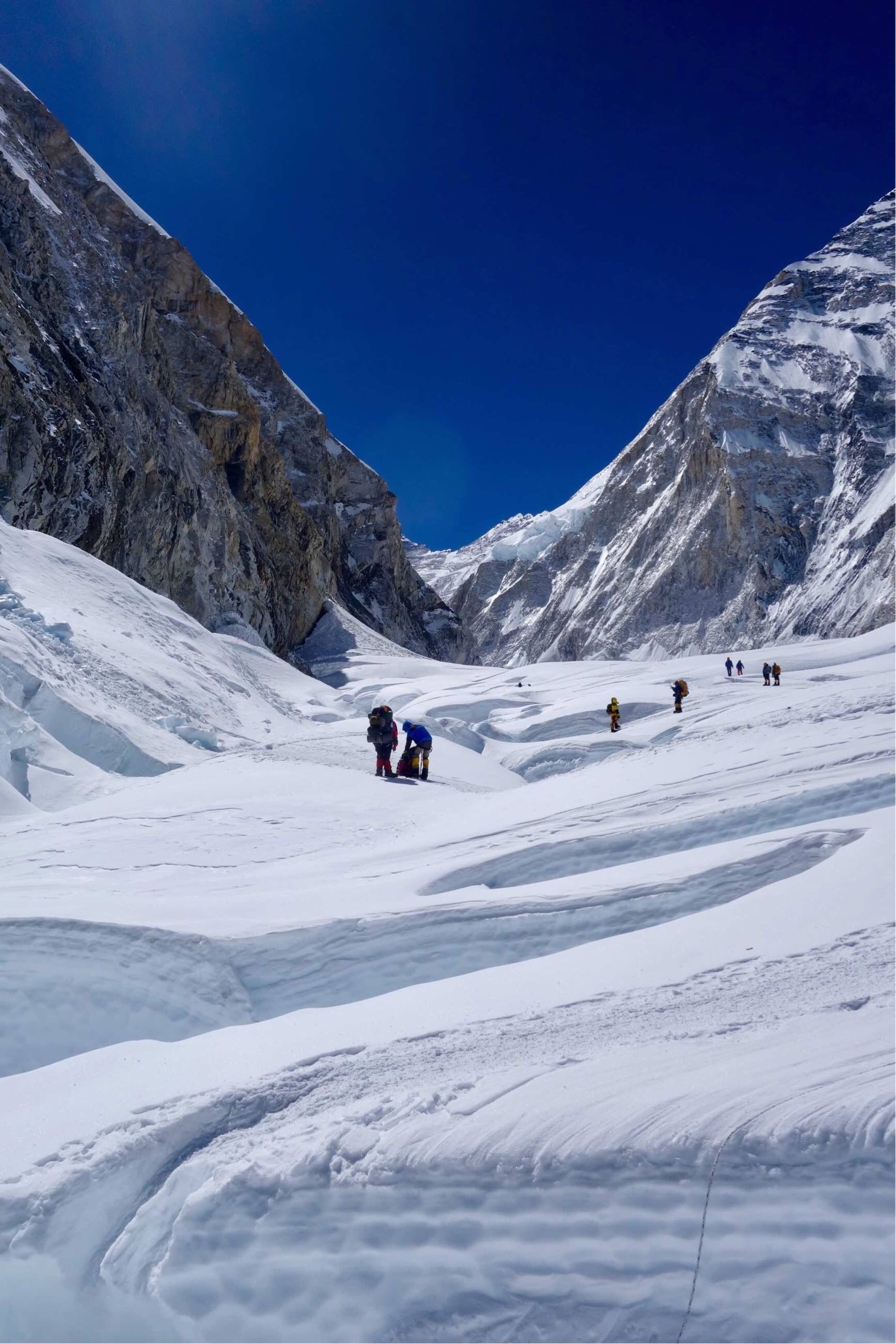 The plan was to climb directly to Camp 2, rather than spend an unnecessary night at Camp 1. We hit Camp 1 at around the six hour mark and were not feeling great. Our core temps had cooled during the delay, then we pushed it hard to pass and make up lost time, and forgot to consume enough calories to make up for what we were using. When we finally made it to Camp 2, it had taken about 10 hours and none of us consumed more than 500 calories. It doesn't take a rocket scientist to understand why we bonked so hard at the end of the day. For those of you that don't know what the term "bonking" means, it refers to when your body depletes all of your glycogen stores (sugar energy) and you get woozy. We were definitely woozy, as we stumbled our way into camp and sucked down as much tea and soup as we could before crawling into our tents.
The irony in this photo is that Geoff is pretending to bonk by doing a "starfish" but in reality we bonked about 30 minutes later.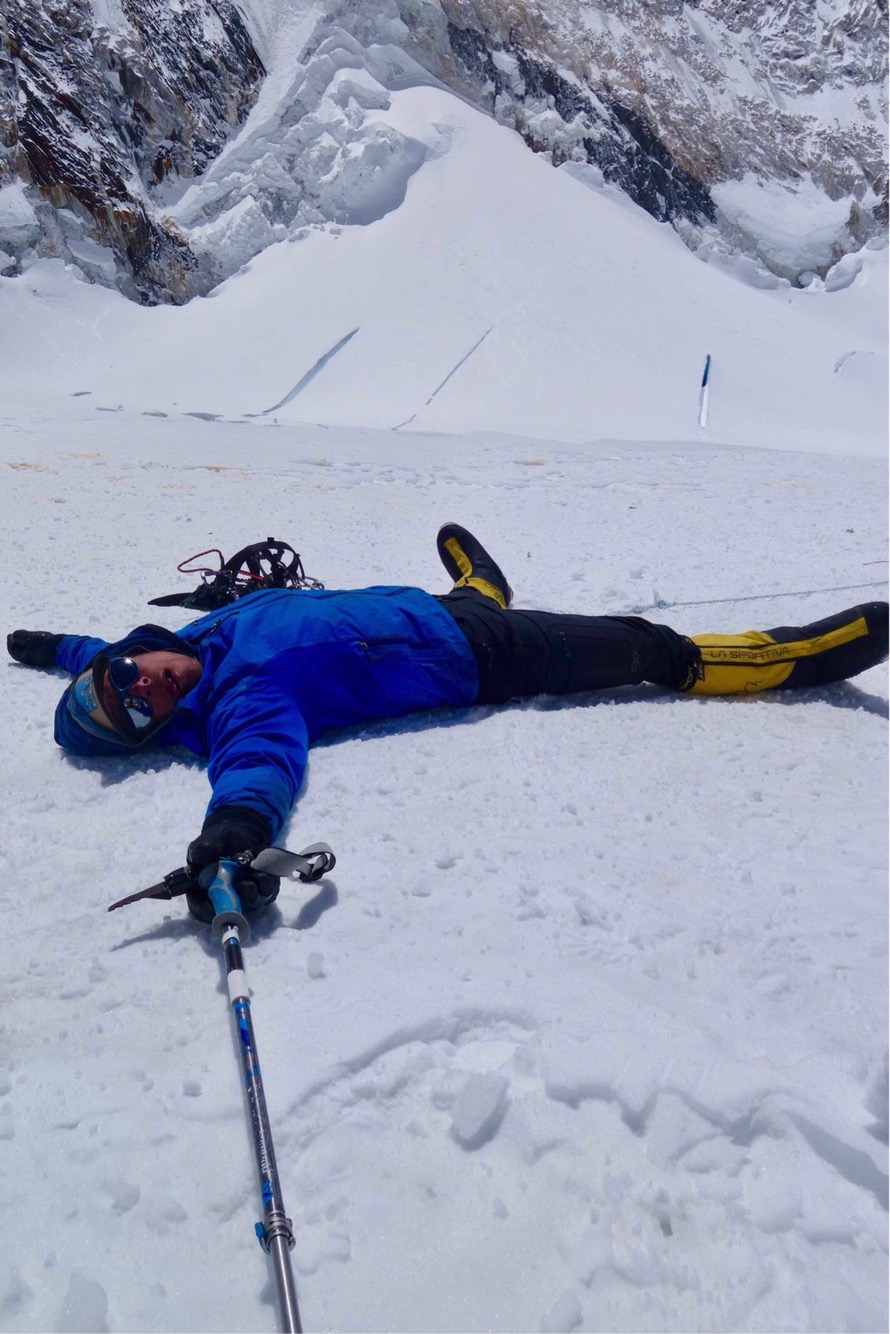 So what did we learn yesterday? Well, I guess I should say that we were reminded that despite being strong, we all need to be more responsible with caloric consumption during days of high activity. Otherwise, I'm going to end up writing more journal entries on the following day.
Friday, April 28th (Rest Day at Camp 2)
I woke up today feeling great, at least as great as you can feel a day after a 10 hour climb and sleeping at 21,000 ft. It was the first night that I did not take a Diamox at Camp 2 because I wanted to see if my body had acclimatized, so I was a little concerned that I would wake up with a splitting headache. I was also slightly concerned that I might be a little dehydrated after our long day moving up to Camp 2, which is why I was excited when I had neither.
I hopped out of bed, looking forward to a long day of nothing. Breakfast was good, the usual oatmeal, pancakes, and fried egg that has become the norm at Camp 2. After breakfast, we finished up watching Tropic Thunder, which we had started the previous night. The environment on long expeditions can be very challenging and it's extremely important to keep morale high, so we tend to keep our movie selections light. I was also able to sneak a nap in before lunch. I think that I have had more naps in the past month than I've had in the past two years.
After lunch, Geoff and I crawled into our tent and listened to a book on tape, until I dozed off again. Something is starting to feel off, I'm not tired but my body seems a little depleted and is craving rest. I wasn't going to be the first one to say it but Geoff did me that favor as we were getting out for dinner, by saying "Are you feeling OK? You better not be getting sick". He was right, I sound very congested, I'm sleeping a lot more than usual, and I feel a little chilly. If this becomes something more than just a stuffy nose, I am going to have an even tougher uphill battle over the next week. The body just doesn't recover well in such an oxygen depleted environment…
Some of our Sherpas working their magic in the cook tent at Camp 2.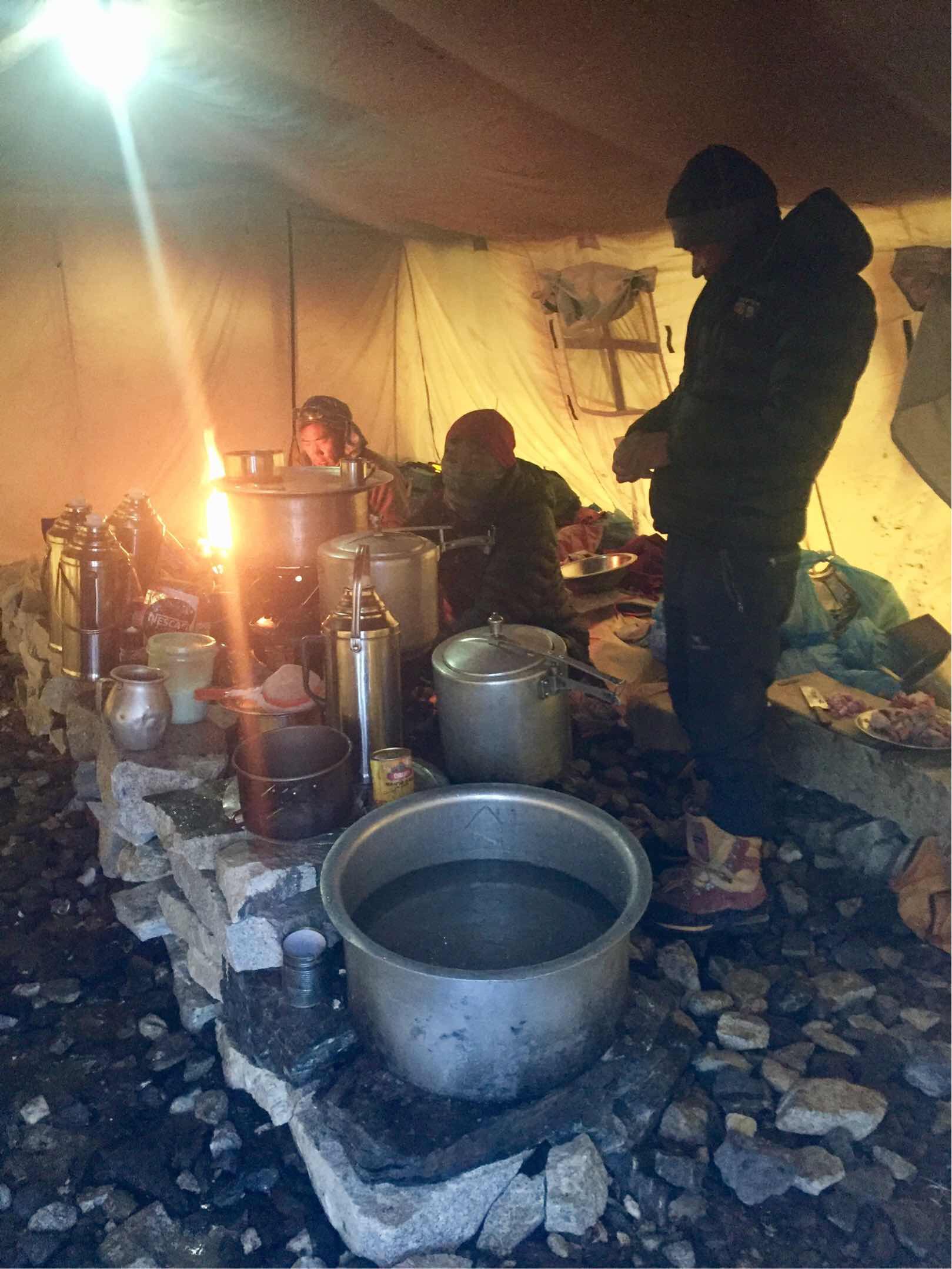 I tried to keep my head up at dinner but it was tough. The food was good but I just couldn't escape the thought of getting sick and what it would mean if it was something severe. I know that the boys will always rally around me but for me, this is the toughest part of being on the mountain, maintaining faith in yourself. Those closest to me know that I struggle with self doubt. I know that it sounds strange for someone that is attempting to climb the tallest mountain in the world to admit to self doubt but it's the truth. I am my own biggest critic, so even the thought of getting sick and not being able to perform to the best of my ability is a very tough pill to swallow. It's probably premature for me to get overly concerned but I need to be honest with myself, my team, and you.
Dusk over Camp 2.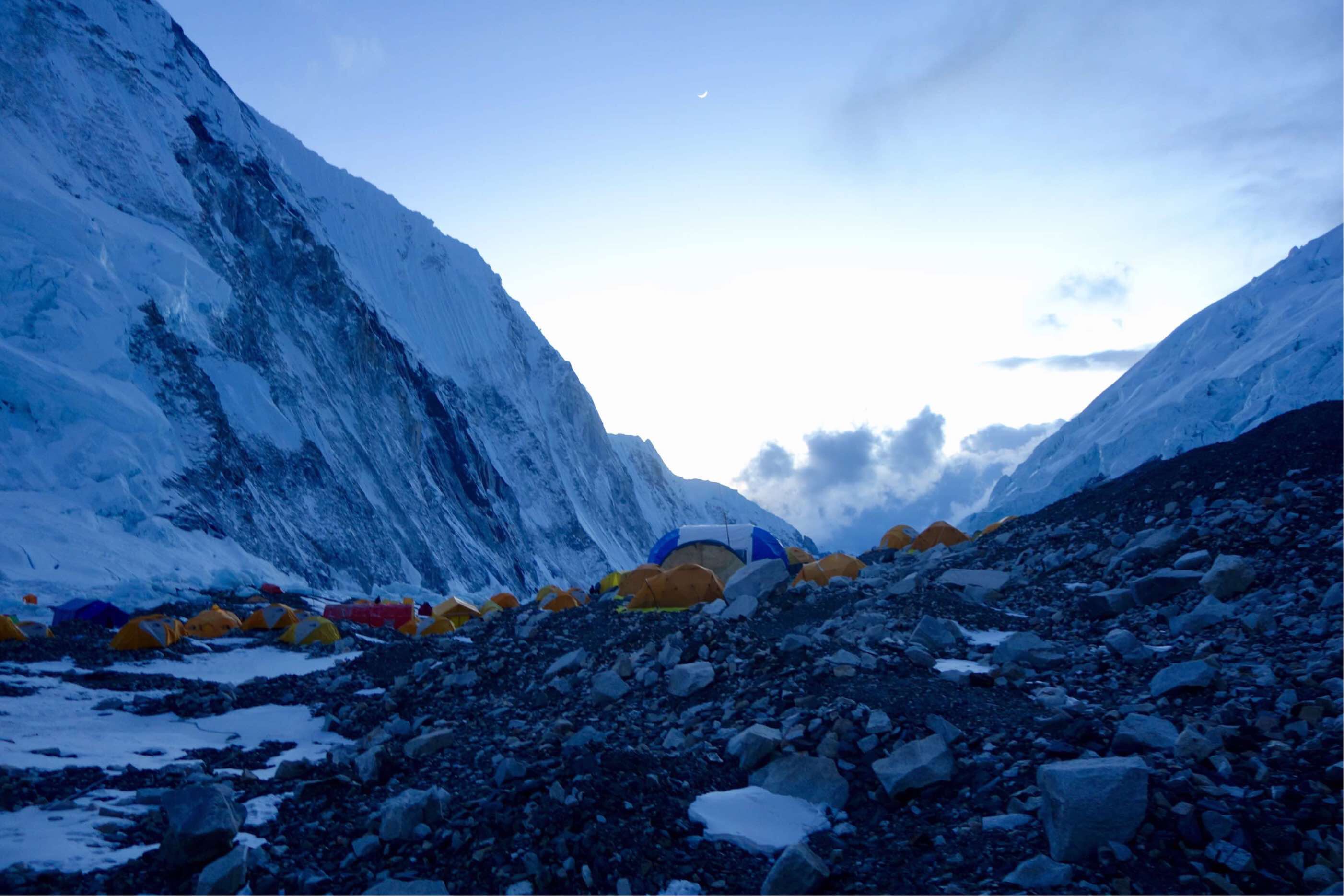 We finished the evening with dinner and watching the movie, "Lawless". I spent most of the movie trying to think of ways to keep my body healthy and avoid getting sick. I decided that if I'm not feeling better tomorrow, I won't go on the short acclimatization hike, opting to rest in the tent instead. If my Mom were here right now, she would tell me to stop worrying about it and to try to get some sleep. She would be right, I'm just a little down right now and a good night of sleep will do me well. Fingers crossed…
Saturday, April 29th (Rest Day at Camp 2 & Small Hike)
Today was a little bit of a challenge, primarily from a morale standpoint. Despite sleeping like a rock, I woke up extremely congested with that scratchy sensation at the back of my nasal passages. At this point, I have given up hope that it was just some small irritation and am hoping that it is limited to a sinus infection. If it is anything more, such as strep throat or bronchitis, I'm going to have to squash it with some antibiotics. This would be my last option because of the damage that antibiotics do to your immune system at this altitude. If this ends up being the route that I take, I'm going to have to fight really hard to get my body back to homeostasis by summit rotation.
Time is somewhat on my side because I am nearing the end of my 2nd Rotation. If I can limp my way through the next two days and make it down to EBC without doing major damage to my body, I will be in an environment that is better suited for recovery. Once down at EBC, I should have 5-6 rest days before we start up our Summit Rotation, which should be adequate time to get this bug out of my system.
Needless to say, it is extremely demoralizing. I'm used to having a bullet proof immune system, which is why it is difficult for me to cope with my body not operating at 100%. My legs feel great but I can hardly suck down the oxygen that they need, without coughing or sneezing up a lung. I'm sorry to vent but I'm just frustrated at this point.
Alright, I guess I should provide an update on the rest of the day, instead of complaining. We had a very casual morning and decided to hike up the moraine on the West Shoulder of Mount Everest after breakfast. We only gained a few hundred vertical feet but it was enough to get our blood flowing. Once up there, Geoff did some rock stacking, while Anders, Brent and I took naps in the sun. It was very relaxing and we had a great vantage point of Camp 2 and some teams making their way up to Camp 3. After our naps, we headed back down and did a little more of the same. I can't complain because the rest is exactly what my body needs right now. ​
View of Camp 2 from the upper moraine.

Nap time on the moraine for 3/4's of "Boystown"​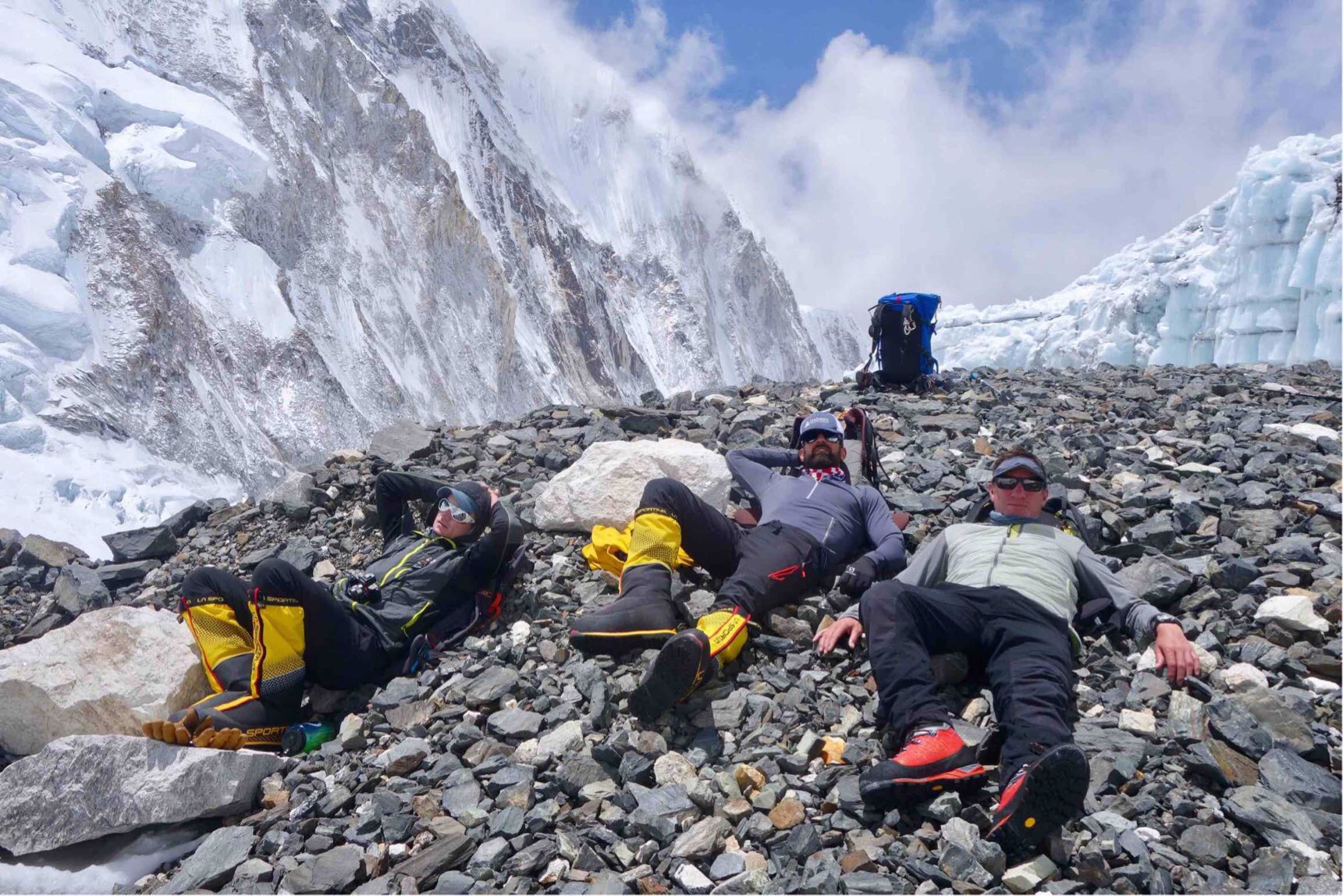 The other 1/4 was being artistic with his rock stacking. Nice work, Geoff!!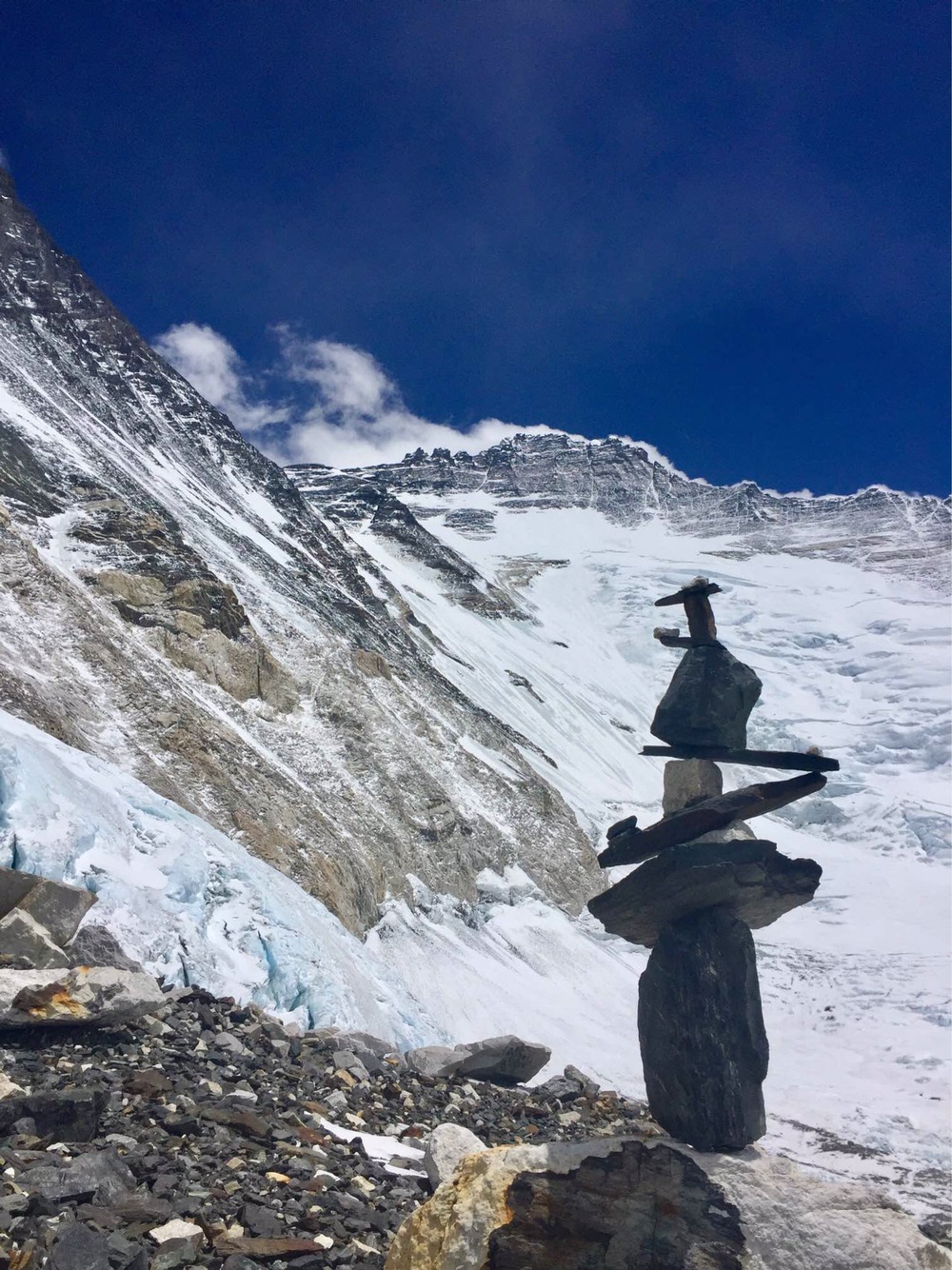 A brief update on our 2nd Rotation… Tomorrow's plan is for the four of us to hike up to Camp 3 after breakfast to further accelerate the acclimatization process. I'm planning to take it slow and steady, to avoid burning out and digging myself into a deeper hole. The following day, May 1st, we would return to EBC to rest before our 3rd/Summit Rotation. The message from our team at EBC was that they are planning on moving up for their 2nd Rotation on May 1st, the same day that we are moving down. While this is all dependent on weather, this schedule would set Anders, Brent, Geoff and I up for a summit bid as early as May 9th or 10th. Obviously a lot can happen in between now and then but I thought you might appreciate an update.
Before I shut off my iPad and head to bed I wanted to share something with you. Whenever my Mom knows that I am struggling with something, she always tells me "This too shall pass". I know that if she were here with me, she would be telling me the same thing about this damn bug and I bet a lot of you would be too. Just knowing that I have so much love and support back home, helps me keep my head up! Thank you, all!