The team was supposed to depart for C2 at 9:00 AM but David, Geoff, and I were ready at 8:30. Several members of the rest of our team were also ready early and I began to wonder if they knew our plan to race to C2. It was almost like a scene from a movie, where everyone looked around, made eye contact, and knew each other's motives. We stalled for Jesse but it was too late, four others had started up, so Geoff, David and I took a route to the right of the main line and pushed to pass. It reminded me of a few cars trying to pass slower traffic, only to have the slower vehicles accelerate in an attempt to prevent a passing. The effort was respectable but we were too fast and soon overtook them.
With Jesse stuck in traffic, the three of us moved freely at the head of the pack. I turned up my Bluetooth stereo and we rocked out, pitch-by-pitch. I have to say it was some of the most enjoyable climbing of my life and was definitely the most that I have ever laughed during a technically challenging climb. It's might be hard to imagine 3 guys laughing and listening to music while climbing on the side of one of the most challenging mountains in the world, but good company makes all the difference!
Before we knew it, we found ourselves at the base of House's Chimney with the bulk of our team a good distance behind us. As the forecast had predicted, the weather was beginning to change and we could see clouds rolling in from the Southeast. Temps were dropping and snow began to fall, so we decided that it would be best to move quickly to C2, which rested on a ledge just above House's Chimney.
Geoff led, I followed, and David followed me up the famous rock feature. I timed myself, due to my competitive nature, and after hauling my 250 lb mass of body and backpack up the chimney, I finished with a time of 6 1/2 minutes! I would have basked in my self-bestowed glory but the weather was turning nasty much faster than we expected. I jumarred my way up the final couple pitches of ice and snow slope, yelled "Geoff!", and hopped into the tent from which I received a response.
It wasn't long before we heard Garrett's voice outside of the tent. We yelled at him to hop in because the wind was coming in strong over the ridge and snow was beginning to dump. At this point, we were expecting that we would need to be 3 to a tent but the joke was on us because the remainder of the team would end up being 2:1. This would become a trend throughout the majority of our summit rotation, resulting in the nickname "3 Dudes in a Tent" and a lock of jabs. That being said, the company was great, we had a lot of laughs, and it gave me the opportunity to be involved in the logistics of the days that ensued.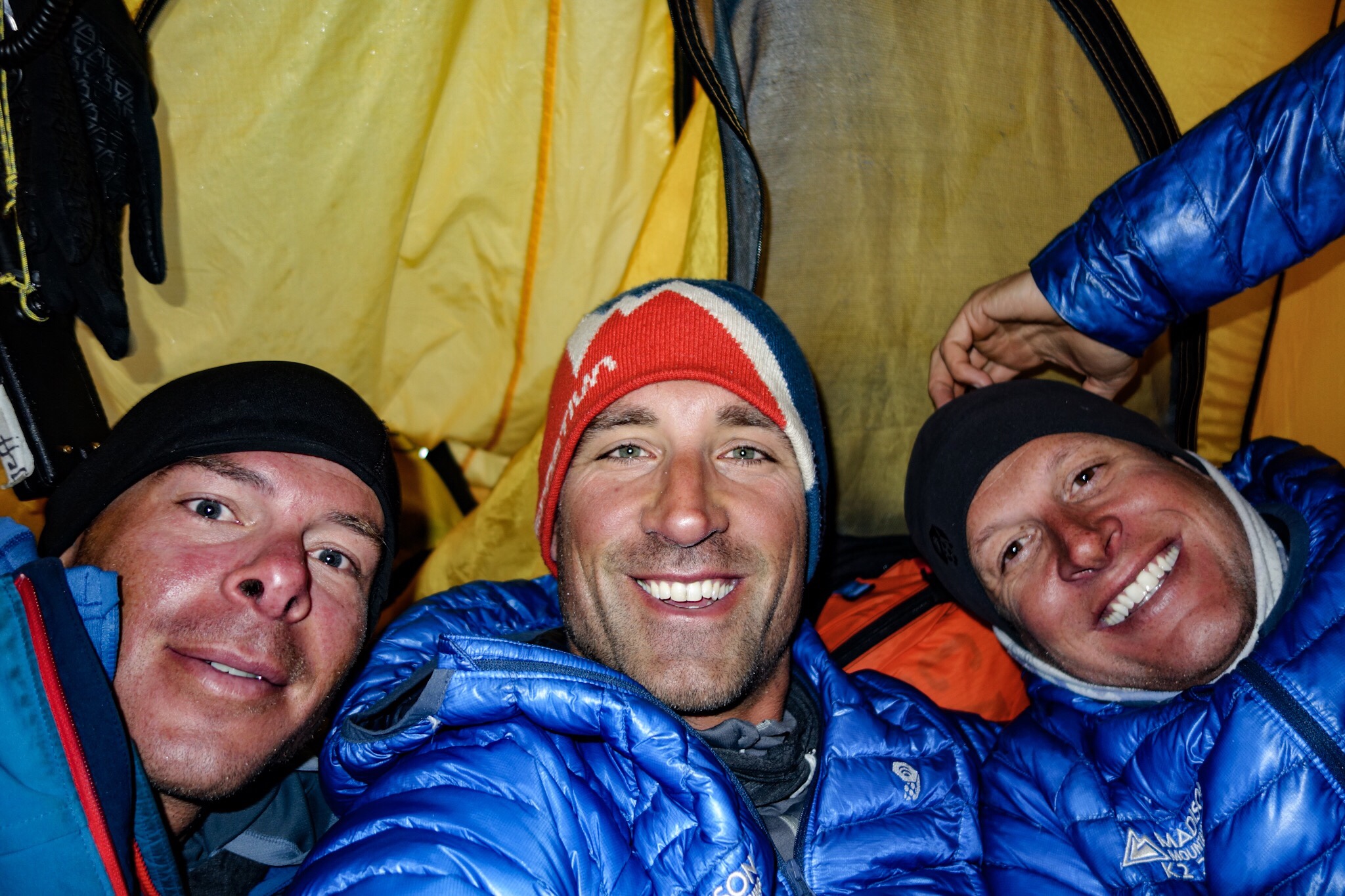 Conditions on the perch, where C2 is located, are generally amplified over other areas due to its exposed nature, but what we were experiencing was almost surely worse than expected. While we were confident with our planned schedule and the forecast, the weather was reminding us of who is ultimately in charge.