I'm back! I just finished up our 1st of 3 rotations and have settled back in at my EBC home. Our four nights at Camp 1 and 2 were a great success and were some of the earliest on the mountain. Right now, my mini four person team of Geoff, Brent, Anders and I are setting up to be one of the faster moving teams, which should put us in position to have an early summit window. Of course, there are a lot of variables that comes into play but so far, so good. Anyway, I'm sorry that I was having satellite phone trouble but there was a lot of cloud cover, which makes for a weak signal. I've logged the events of the past four days and will post them in two sections, Camp 1 and Camp 2.
Wednesday, April 19th (Rotation #1 – Move to Camp 1)
My alarm was set for 3:45 AM and I went to sleep at 11 PM but that doesn't meant that I had almost 5 hours of good sleep. Nope, I didn't sleep very well, mainly because of the excitement of getting some hard work done. Perhaps, there was a little anxiety of leaving all of the amenities of EBC and my cozy tent but stinky exhausting days are part of the reason that we head to the mountains… don't ask me why.
Of course I woke up at 2:12, worried that I was going to miss my alarm, just like I always do before a 6 AM flight for work. I laid in bed, dreading the sound from my phone and when it came, I hopped out of bed and threw on all of my gear. Ant had asked a couple of the cook staff to make us some oatmeal and coffee, so when we met down at the cook tent, everything was ready for a quick breakfast. Then, it was time to go.
We actually didn't break camp until around 5:30 AM because we were busy trying to stuff our gear into our packs that ranged from 55-65 liters. Most teams rely on sherpas to carry the bulk of their gear from camp to camp but we were carrying everything except for the tents and some dehydrated food. Our packs ended up being 30-35 lbs each and as we hiked into the icefall, we saw other climbers with packs that looked like raisins, empty except for a couple layers of clothing and some water. Needless to say, we had a big day ahead of us… The hike through the lower icefall was a nice little warmup but as we began up the steeper portions of the infamous Khumbu Icefall, we quickly began to feel the weight on our backs.
Geoff scampering up the first vertical ladder in the Khumbu Icefall.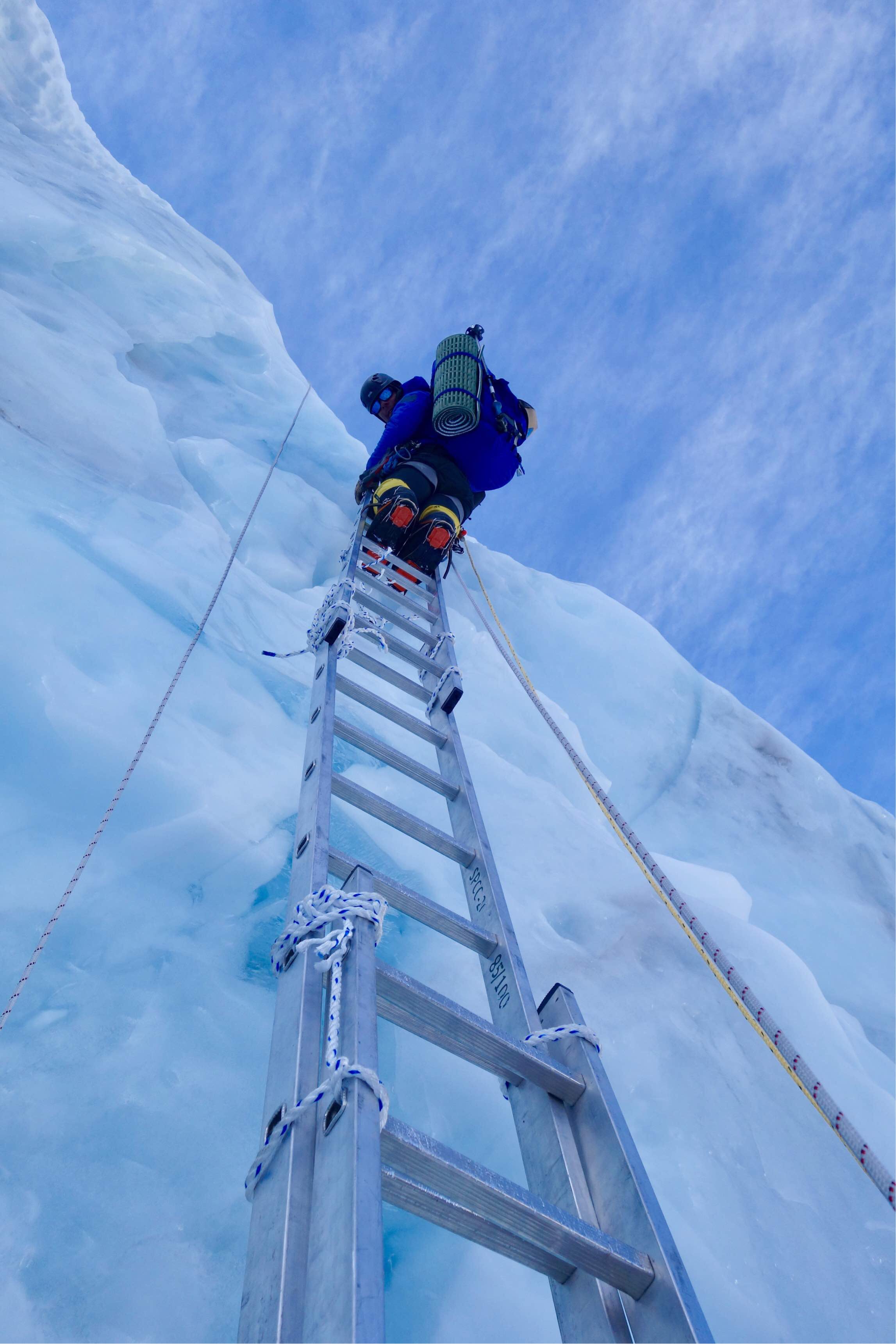 Let me start by saying that my description of the Khumbu Icefall will not even begin to do it justice because I've never seen anything like it. An icefall is created as gravity pushes a glacier down the side of the mountain and as the slope of the mountain decreases, the glacier begins to crumble. This event is what causes crevasses (cracks in the ice) and seracs (overhanging ice pillars). In the case of Everest, everything is on such a large scale that the icefall consists of about 2,000 vertical feet of seracs and crevasses that resemble a giant frozen obstacle course, except that this obstacle course can kill you.
What are friends for? In this case, keeping tension on the ropes to help me cross a horizontal ladder over a crevasse.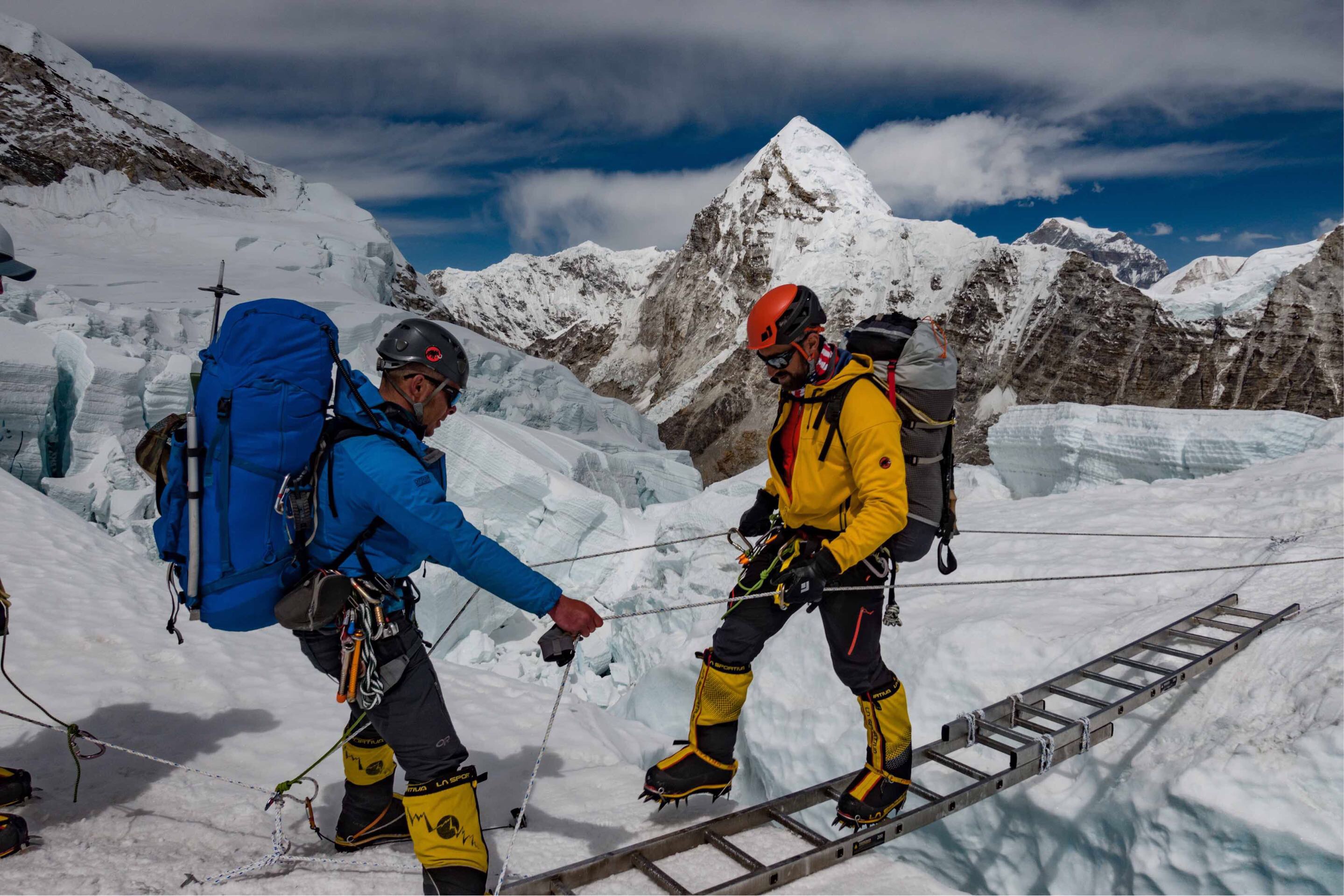 Geoff crossing a ladder while Anders holds the ropes taught.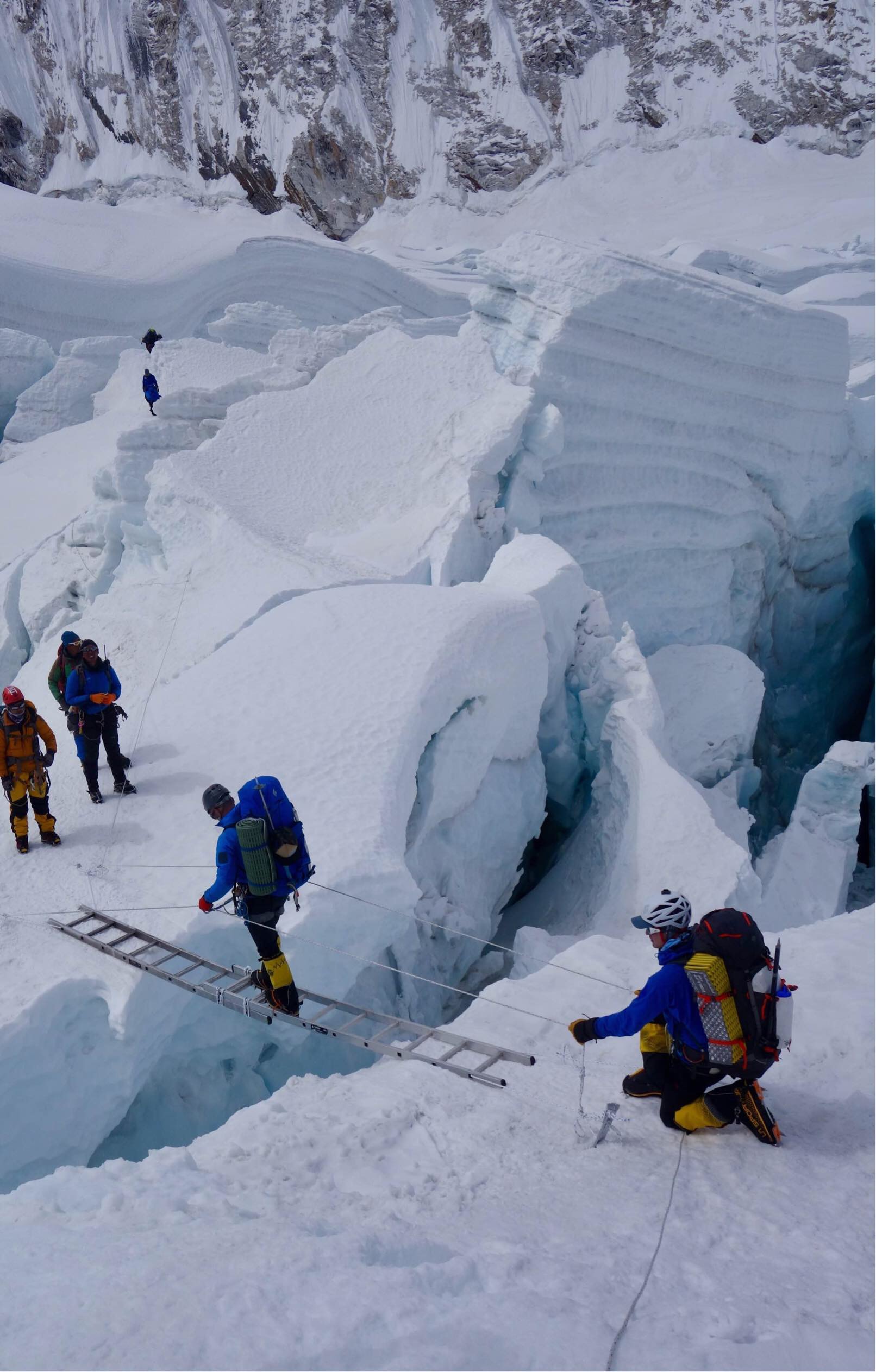 From the beginning, I wasn't feeling great. I was a little tired from lack of sleep, slightly dehydrated and the 35 lb pack was not my friend. We moved quickly but I felt lethargic and had to grind it out most of the way. We crossed and climbed wobbly ladders, just like the ones that you have seen in pictures and movies. In fact, the ones that you have seen probably look more stable than what we actually use. When a ladder wasn't long or tall enough, they were latched together with static rope and you do your best to not agitate them too much. If my Mom had seen what we climbed through, she probably would have had a heart attack.
The chaos of the Khumbu Icefall.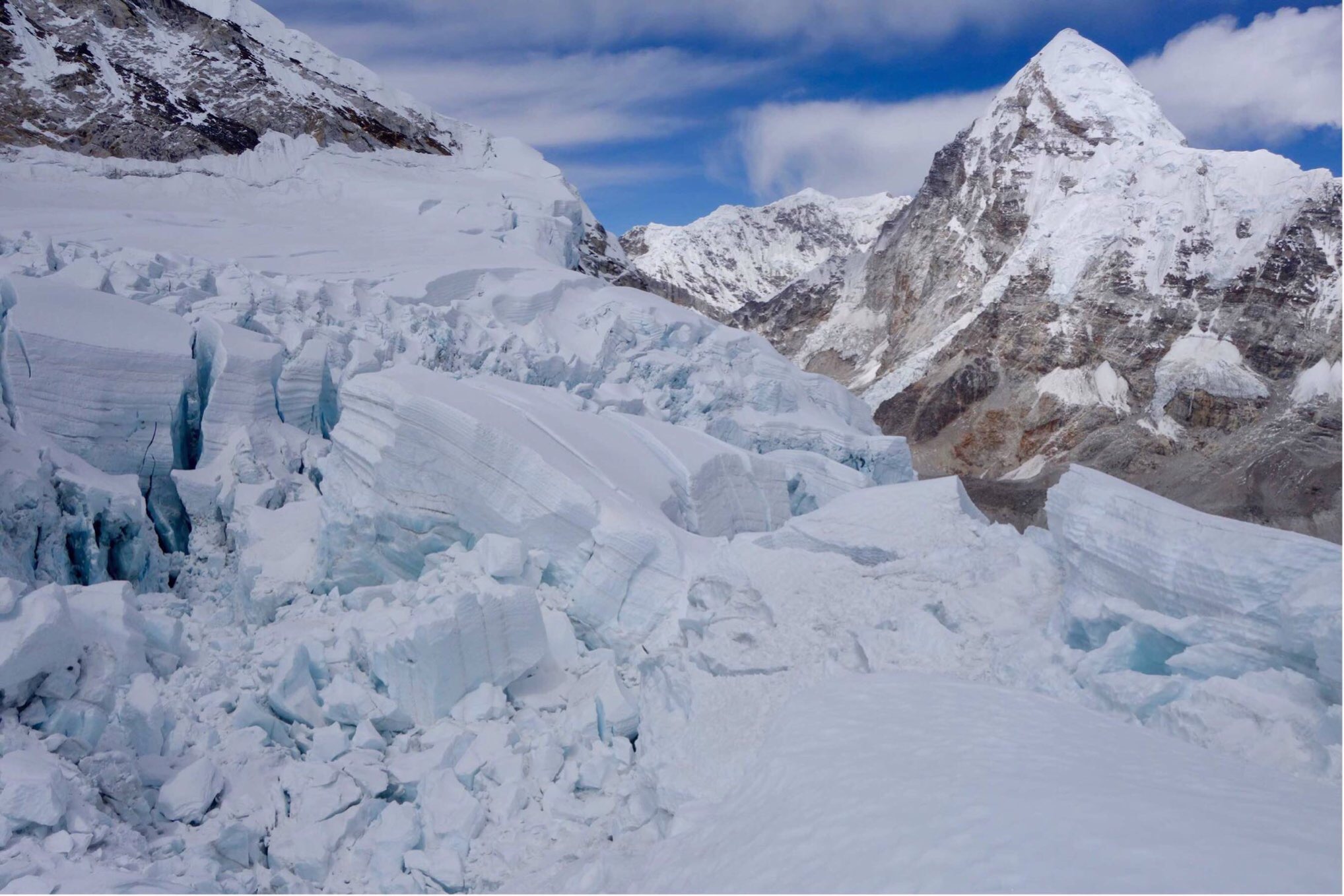 Despite the weight on our backs, we passed a lot of climbers and did not get passed once. We eventually topped out on the icefall and spotted tents in the distance but the work was not done. Giant undulating glaciers, which some refer to as bread loaves because of their look, lay between us and Camp 1. We had to lower ourselves down the backside of each bread loaf and then climb ladders back up. By this point, everyone on the team was feeling smoked. After what felt like an eternity, we made it to camp at 11:30 AM, had some Pringles and soup, then crawled into our tents for a nap.
Anders about to cross one of the last ladders before Camp 1.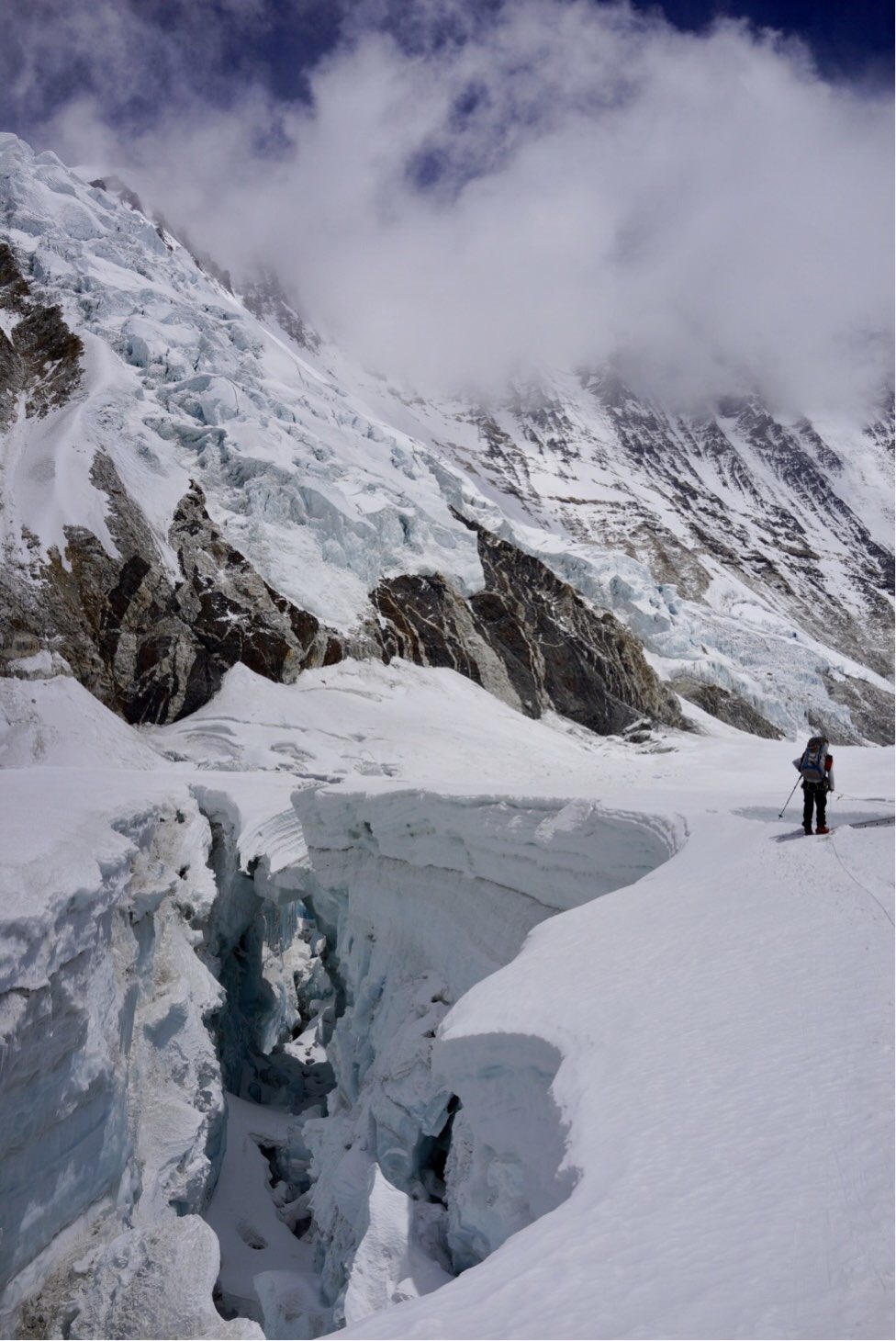 Between the physical exertion, lack of sleep and altitude gain, I felt like I had been hit by a train. My five hour nap helped enough for me to enjoy some dehydrated dinner and then it was time for bed again. Some say that a heavy move to Camp 1 on your 1st rotation can be the hardest day, outside of summit day, and I would have a hard time arguing that statement.
Thursday, April 20th (Rotation #1 – Rest Day at Camp 1)
I woke up with a bit of a headache, which is to be expected when first moving to a high point on a climb. Our campsite was the highest at Camp 1 and sits at 19,700 ft. My headache was quickly knocked out with a couple ibuprofen and several cups of coffee, the most important provision of any climb. Breakfast consisted of Costco Granola and dehydrated milk, which I have to admit that I sincerely look forward to, regardless of how many times that we have it in the mountains.
As we were eating, I pulled out my portable stereo and we listened to the most random mix of music that ranged from the 50's to present day. Anyone that knows my musical taste, knows that there was definitely some Fleetwood Mac, "Hot Stuff" by Donna Summers, Disney Classics, EDM and much more. We all agreed that the weather was good enough to kill some bacteria and produce some Vitamin D, which means that we took our shirts off for a tan. Climbing teams passed by our camp as they moved up the mountain for acclimatization hikes and couldn't help but want to hang out what I believe to be the most fun team on the mountain. Brent has since coined each of our camps "Boystown".
Camp 1, aka "Boystown".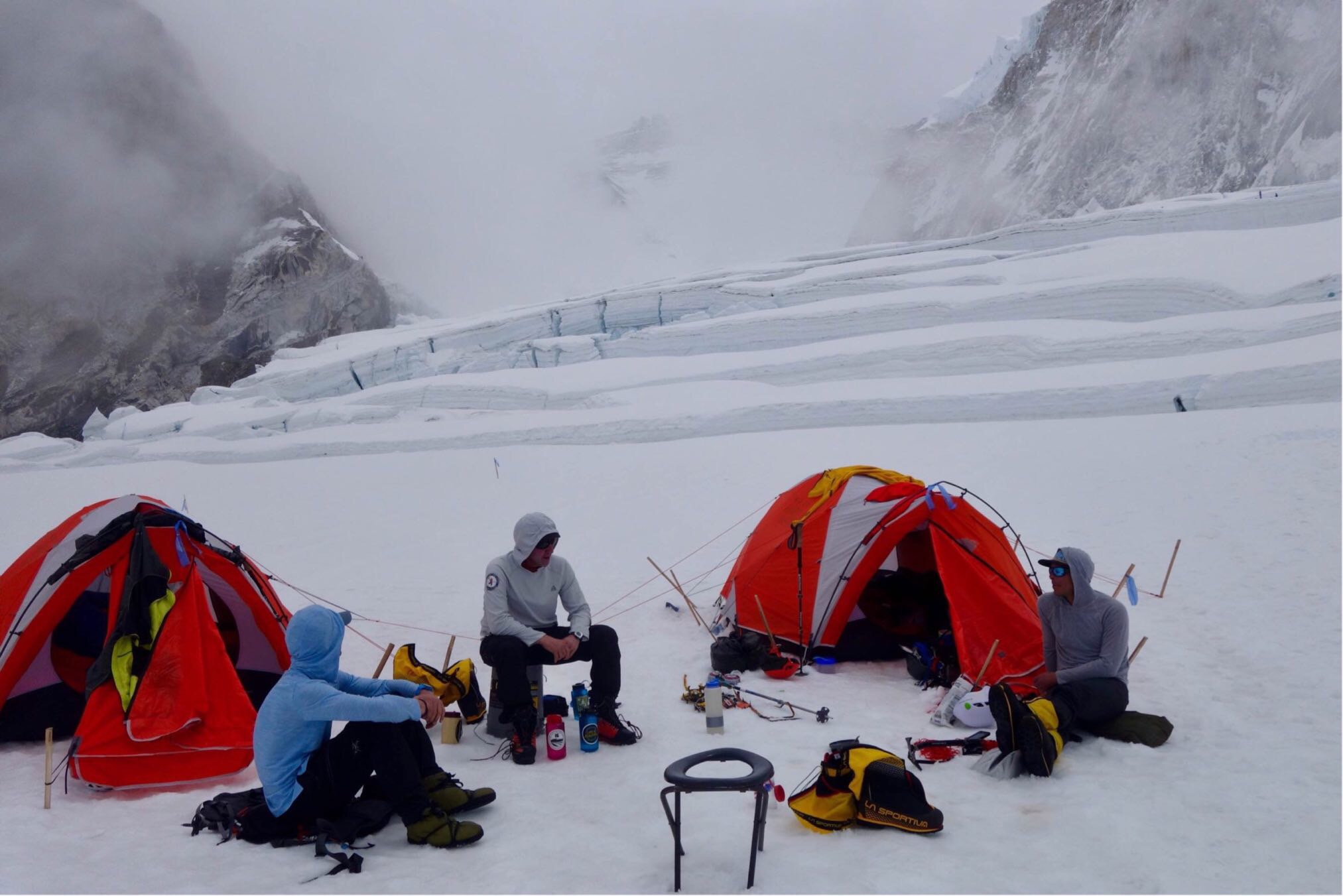 We had planned on taking a 1,000 vertical ft acclimatization hike but it was quickly scrapped because we were enjoying our R&R far too much. The remainder of the day consisted of more tunes, supplemented with sporadic naps. I have previously mentioned the importance of rest days because it allows the body to recover from high amounts of stress and this was one of those days.
Sunset over Camp 1. This photo was taken from our campsite, looking down the Khumbu Glacier. Note the peak of Pumori in the background and the undulating "bread loaves" over the glacier.