Geoff has experienced more loss in the mountains than I have, which is why it was important to me that he share his perspective. Below, I have included my journal entry from the date of our climb to Camp 3 and Ueli's death. Before you get to reading my post, I will be updating everyone on our plan for our Summit Rotation, tomorrow.
-John
Sunday, April 30th
I was first drawn to mountaineering and climbing because I was amazed by how the human body's ability to persevere and accomplish what some deemed as impossible. Over the years, I've also witnessed the opposite end of the spectrum, the human body's frailty when facing Mother Nature. These two thoughts seem counterintuitive to one another but in actuality, they exist together in the mountains. The human body is capable of far more than most of us give it credit for, it is an amazing creation that can accomplish the near-impossible when we apply it properly. However, this amazing creation is easily snuffed out by the incredible force of Mother Nature. These two seemingly counterintuitive thoughts and the spectrum that they run along, is the reality that mountaineers face.
During our breakfast, we heard a helicopter overhead and we each gave one another a nervous look. It is not normal for helicopters to be spending time in Camp 2 and the only reason that they would be in the area would be for an emergency. Personally, I wrote it off as someone that had come down with a case of HAPE or HACE and needed to be evacuated. While this sounds horrible, it is much better than the alternative and I considered it to be an optimistic assumption. I quickly brushed it off and got to packing for the day because we had a big day of climbing up to Camp 3 (23,400 ft).
The grind up the Western Cwm to the Lhotse face was not enjoyable because my sinus infection had worsened. I kept a slower than normal pace, as to not do any more damage to my throat. I was grinding it out and we had almost reached the Bergshrund (the large crevasse that often separates the lower glacier from the face of the mountain), when Brent yelled from behind "Boys, hold up… I have some bad news. Actually it is REALLY bad news.". I stopped immediately, turned to him and saw by the look on his face that he was serious. I will never forget the moment that he said, "Ueli is dead".
Ueli Steck was the best alpinist in the world, when he died this morning on the North Face of Nuptse. He has made some of the most incredible ascents in recent memory, which have inspired me and many others to follow our dreams. Around 9 AM this morning, he was doing a preparatory climb on Nuptse, one of the mountains that he was planning to climb at a rapid ascent rate without oxygen, when a serac broke above him and killed him. It had been common to say "Hi" to Ueli as he walked through camp and watch him as he did training climbs throughout the Khumbu Glacier. I can't believe that just 15 days ago, he was having lunch with us in our dining tent while we prodded him for information on his objectives while in the Khumbu. Despite the prodding, he was very humble about it and far more comfortable talking about life and laughing. It's still difficult for me to comprehend that the helicopter we heard was the one called to recover his body.
Brent, Anders, Geoff and I stood there, just below the bergshrund and we let the news soak in. We were all in shock. Despite his humble demeanor, Ueli was someone who bordered on superhero status in the climbing community and his string of amazing accomplishments only made his demise seem less likely. The fact that it occurred less than a mile from where we were eating breakfast, made it even more surreal. We eventually regained enough composure to push on to our objective, Camp 3, but no one was quite the same for the remainder of the day.
Geoff, doing his best to keep us motivated during our climb up the Lhotse Face.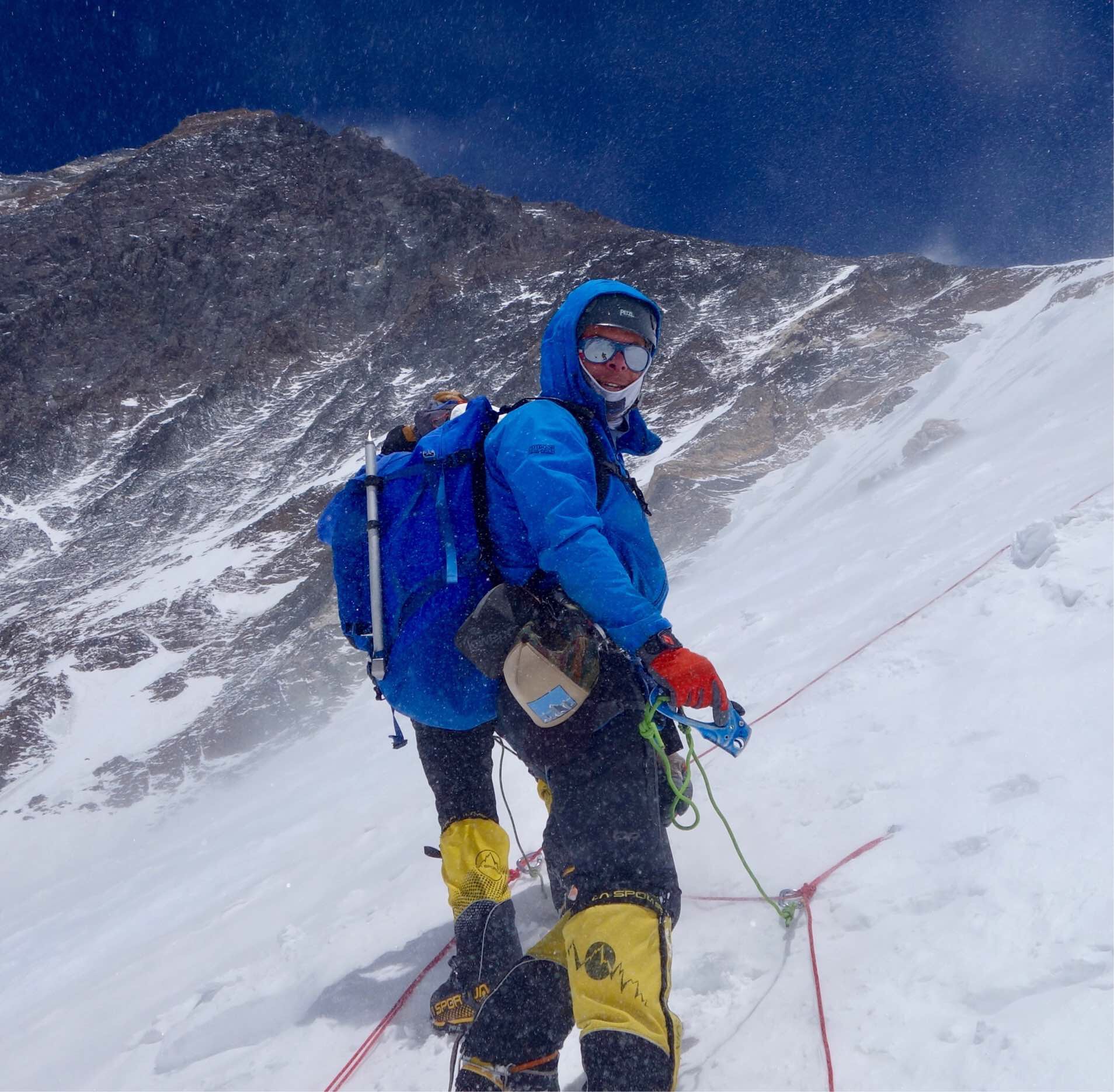 While my legs felt strong and we made the climb from Camp 2 to Camp 3 in just under 3 hours and 15 minutes, I couldn't shake the thought of Ueli. I found myself thinking of my Mom and what she would think when she heard the news. I found myself thinking of the inherent dangers that I face whenever I step into the mountains and my own mortality. I also found myself thinking of my fears, which are always present. Many of you probably think that I am crazy because of what I do but I can assure you that I am well aware of the danger and constantly feel fear. I know that Ueli did too.
Anders and I, relaxing for a quick minute at Camp 3.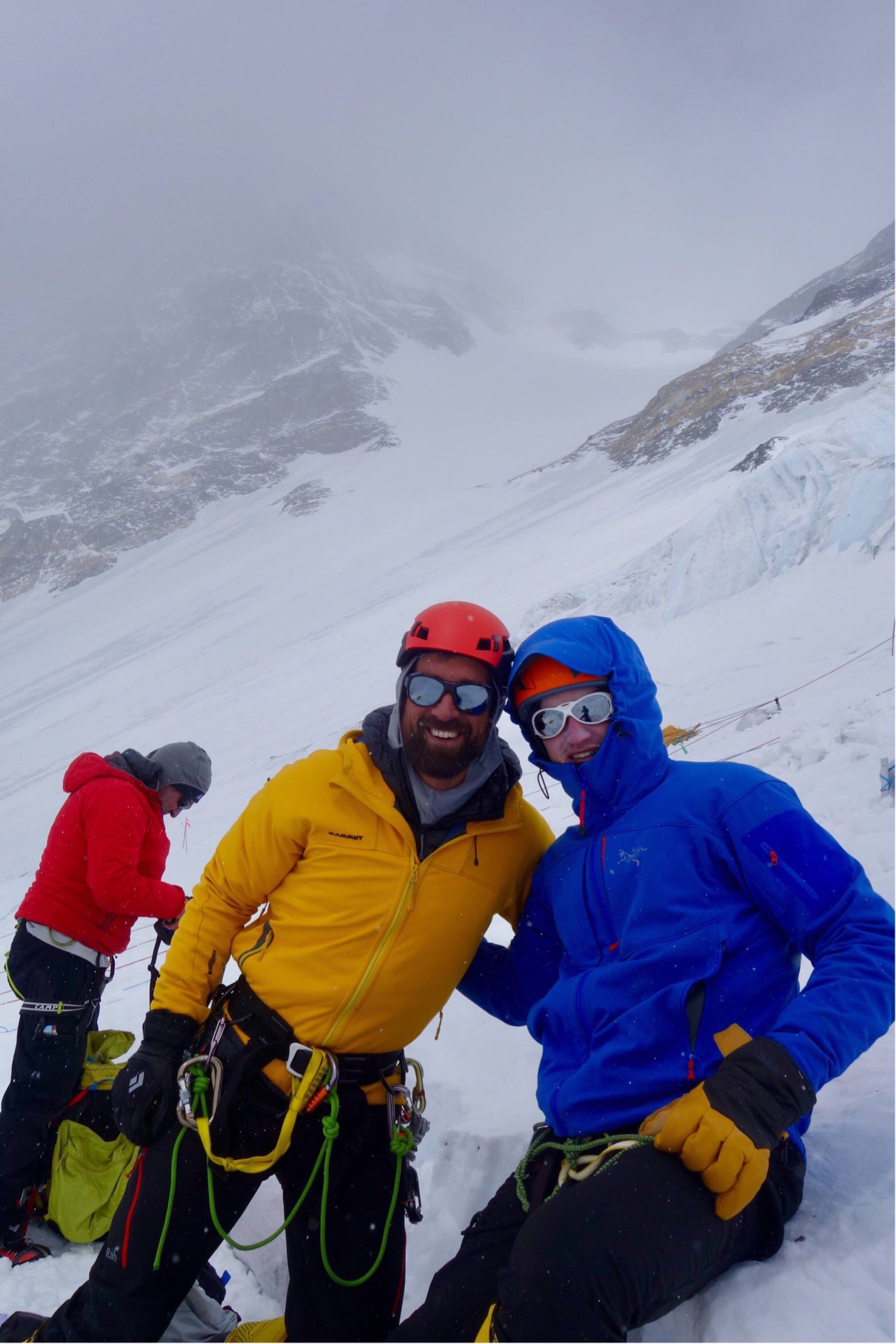 There were a lot of hugs and high fives today, definitely more than usual. Our little team is strong and not just from a physical standpoint, we know that we can rely on one another. If we find success on this mountain, it won't be because of the strength of our legs but rather, the camaraderie that we have developed.
We made short work of the ascent to Camp 3 and the descent, despite the tragic news and me being under the weather. We knew that we had work to do and that not finishing it would put us in more danger for our Summit Rotation. Not completing our climb to Camp 3 was not an option. We rallied around one another and got it done.
My team, descending to Camp 2 after a tough but successful climb to Camp 3.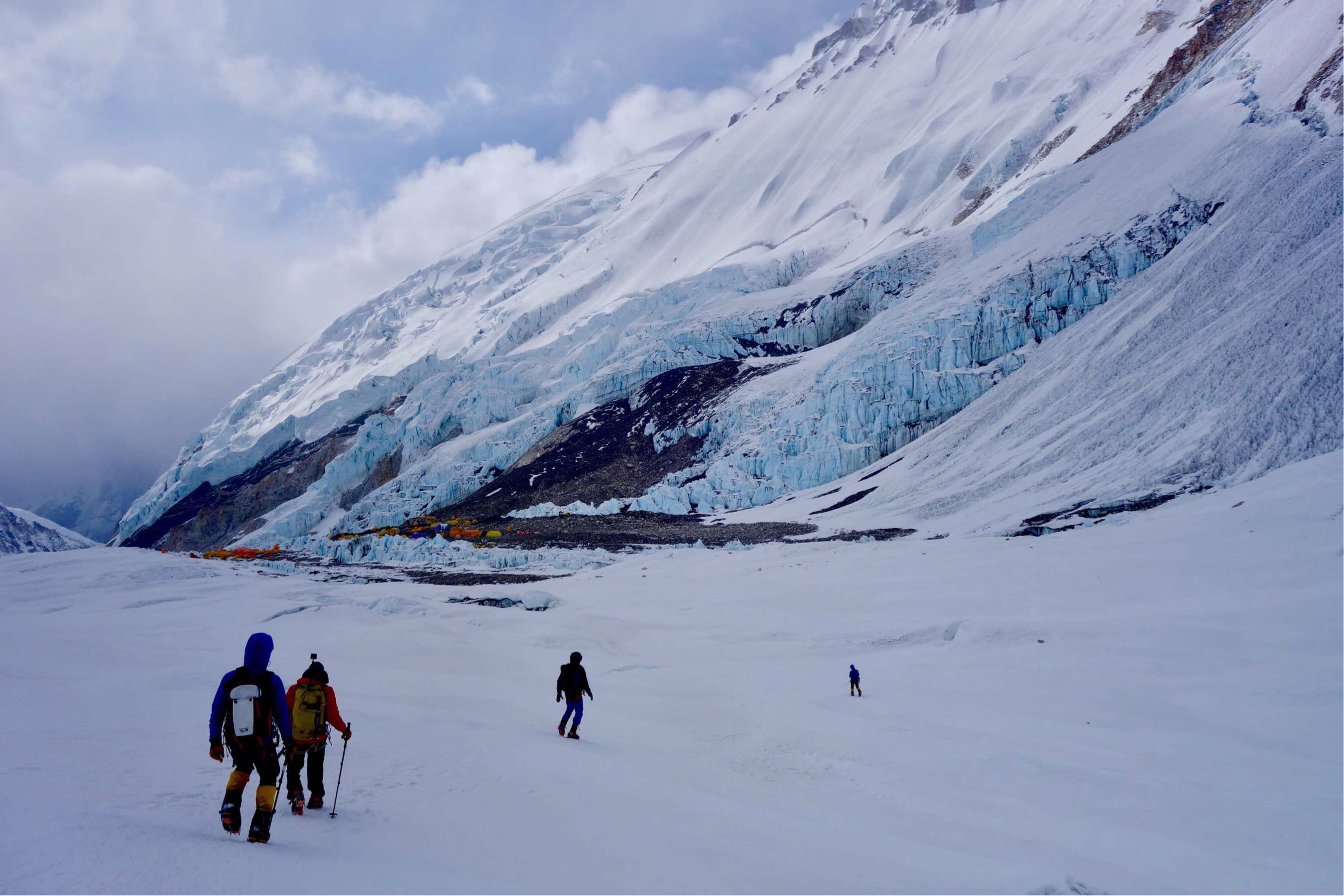 Ueli Steck has completed some of the most challenging climbs of all time and he lost his life, doing what he loved while on Nuptse on April 30th, 2017. Brent's Father, Barry Bishop, was a member of the 1st American team to summit Mount Everest in 1963 and the 1st person to ever summit Ama Dablam. He was killed in a car accident in 1994. My point here is that you never know how your life will end, so you better make the most of it. Face your fears and follow your dreams, otherwise what is the point of living? I know that I face danger every single day in the mountains, but the experiences and relationships that I have found are worth the risk, tenfold.