Today we set out from Khumjung and hiked through Tengboche and finally make it to our next stop on our trek to EBC, Pangboche. Now for your next fun fact of the day… villages that end in "boche" are named so because Buddha once spent time there or at least that is what I'm told. Despite the influence of Western Culture, this country continues to hold their religious traditions in very high regard. There are prayer flags flying all over the mountains, prayer wheels everywhere, and prayer stones carved on rock throughout the region. Whenever you approach the wheels, you spin them, and always approach them clockwise or else you risk bad luck. You have to stay very aware because you don't want to be that dumb American that walks the wrong direction!
Anyway, after waking up at the teahouse in Khumjung, we had breakfast and the Father/Son crew teamed up again to set out on a fast pace to our first destination, Tengboche. Our group consists of Anders Christofferson (son), Randy Christofferson (father), Brent Bishop (guide), Geoff Schellens (guide), and of course my Dad and I. Brent is a well known and very accomplished alpinist, who has been to the region many times to climb mountains like Everest, Lhotse, and Ama Dablam. In fact, his father, Barry Bishop, was a member of the 1st American Expedition to summit Everest (1963) and the first person to ever climb Ama Dablam. Our first goal of the day was to visit the Tengboche Monastery, where there is a memorial for his father and his longtime Monk friend, Tinley Sherpa, has resided for 30 years.
Tengboche Monastery
After descending to the river and then making a hot and dusty hike back up the other side of the canyon, we reached Tengboche. We were warmly greeted by Tinley, who took us to a nearby shop where we purchased beers to take to the Memorial. Yes, I know that it sounds strange to hear about a Monk showing you where to buy beer but would you really expect anything less from my adventures and there was definitely a purpose. We soon found the Memorial, which honored several highly respected climbers and overlooked the massive peaks. Brent told us the story of each of the climbers and we cracked the beers because it's a tradition of his to have a beer with "the boys" each time that he visits. Tinley said a prayer for them, we hung new prayer flags and Brent placed his Kata from yesterday on his Father's Memorial. Needless to say, it was a very special experience.
Beers with "the Boys"! (From left: Geoff, John, Tinley, Brent, Anders)
Brent spending time with his Dad, Barry Bishop.
Tinley invited us to his living quarters to have tea and catch up. The six of us barely fit through the doorway but found it very cozy once inside. Brent surprised Tinley with a new red backpack, the color that the Monks in Nepal wear, and he was very excited about it! As we were finishing up our tea, Tinley showed us a 300+ year old prayer book from Tibet that his parents had given to him and he blessed each of us for our journey. We said our goodbyes and promised to visit him on the way back through the Khumbu valley.
Brent presenting Tinley with his new backpack!
The climbing team. (From Left: Anders, John, Brent, Geoff)
The rest of the hike was mild and we quickly covered the last three miles, snapping some epic pictures of Ama Dablam on the way. When we arrived at the teahouse in Pangboche, we were greeted by the wife of Brent's old climbing partner and Sirdar. The eating quarters had amazing memorabilia from Everest, including old equipment from the Sir Edmund Hillary's 1953 Expedition and the American 1963 Expedition, Brent's Father's team. There was even a picture of the National Geographic documentary about Everest that Brent was filmed in, which made him blush.
Dad trekking into Pangboche with Ama Dablam in the background.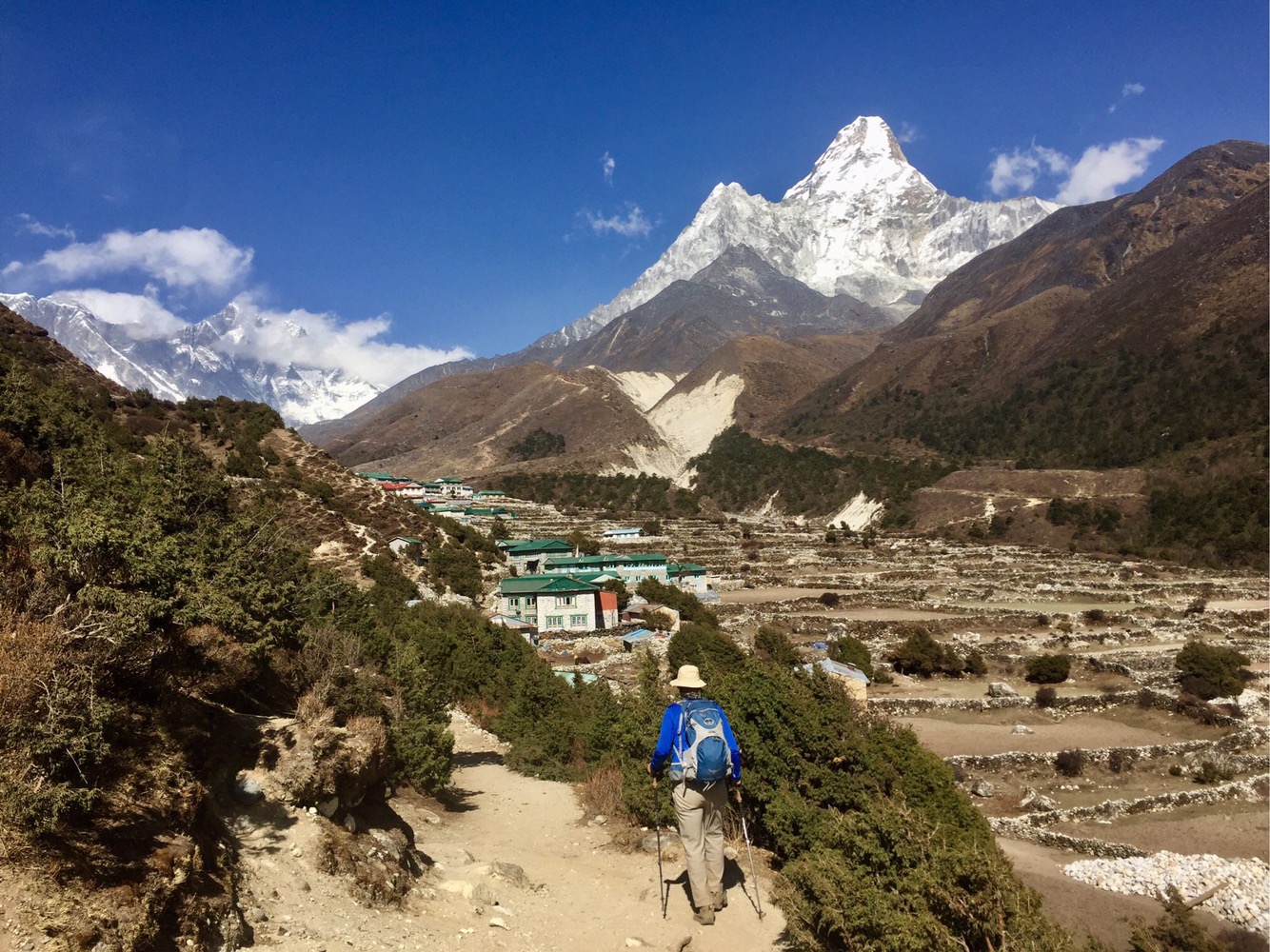 Equipment chest from Sir Edmund Hillary's 1953 Expedition, the first successful summit of Everest.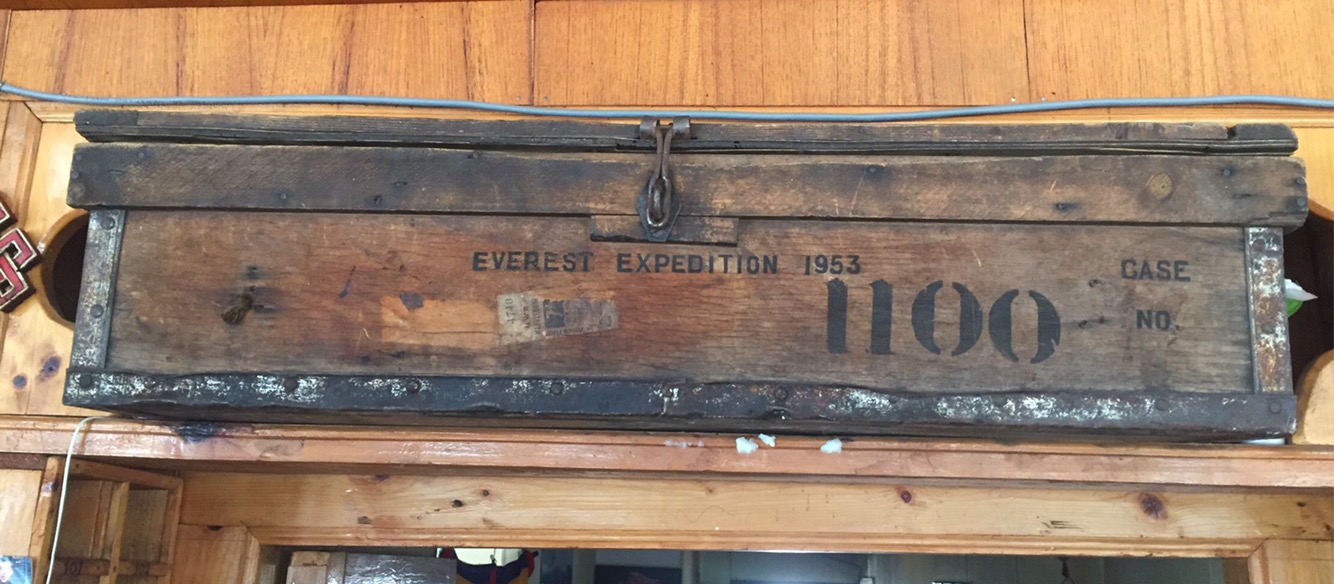 It was an amazing and very moving day that I will never forget.