Day 42: Monday, May 15th (Rest Day in Pangboche)
It's been one month since Dad left EBC and it feels like it was just yesterday. I can hardly believe that I've considered a desolate campsite located on a glacier at 17,200′ home for over a month. A lot has occurred; three trips through the icefall, countless hours spent speculating about the weather, lots of ups, lots of downs, and a heck of a lot of fun too. I wish Dad was still here but I know that I will see him soon enough. Until then, we still have some work to do and it seems that the plan for the next few days is coming into focus.
Today was about as much of a rest day as a rest day can be. We woke up late, ate breakfast, joked around in the lodge of the Highland Sherpa teahouse and relaxed. Time crawled by as we waited for each weather report to show up. Early on, we received word that the lines had finally been fixed by a small group of Sherpas that was formed from the Ghurka team, another British team, and two from our very own Madison Mountaineering team. They were the first individuals to summit from the South Side (Nepal) of Mount Everest in 2017. I have to congratulate them not only for fixing the lines but for going above and beyond in fighting thigh deep snow up the summit ridge.
The dining room of the Highland Sherpa teahhouse.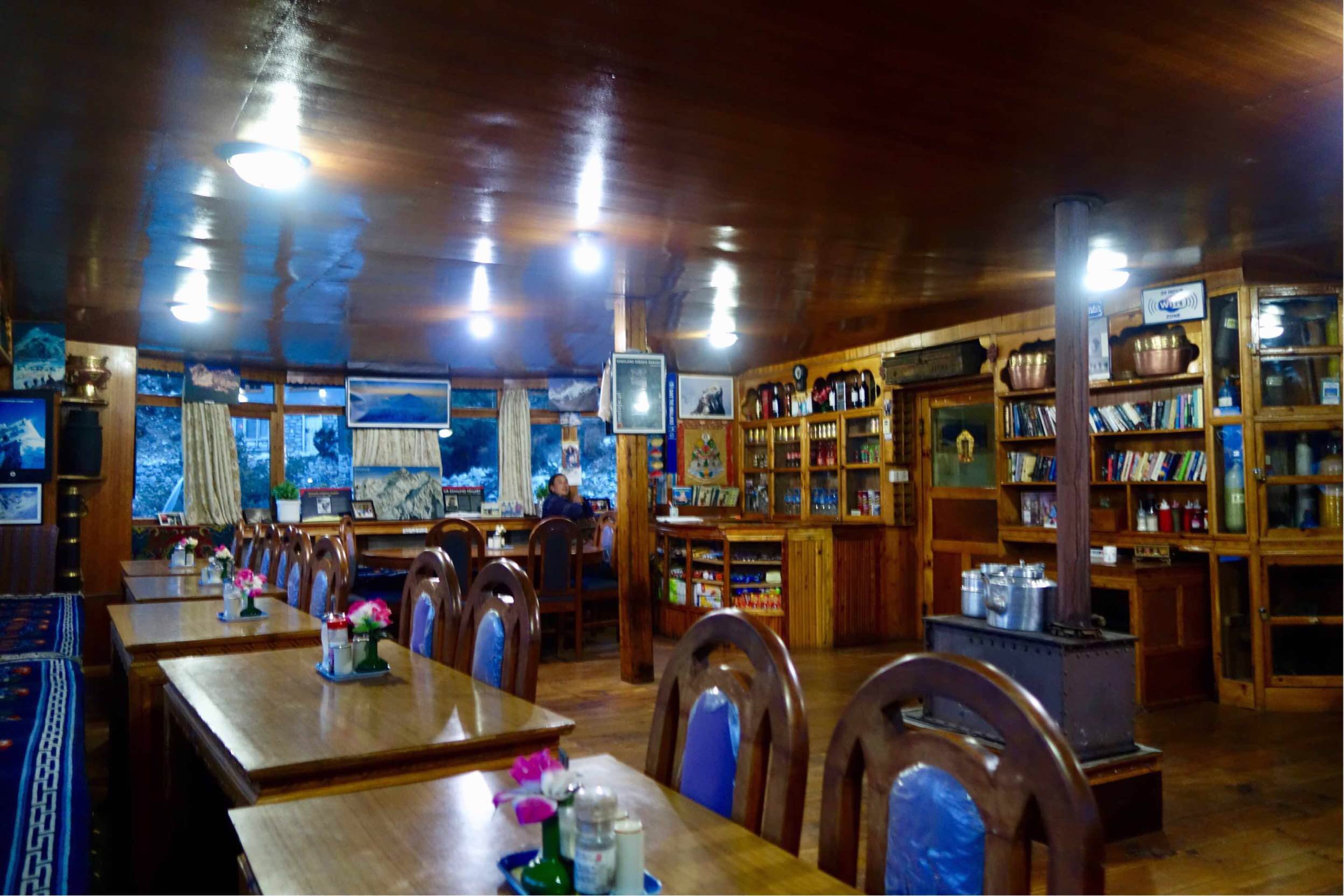 The 2002 "Surviving Everest" documentary that Brent starred in. He is the last one in line. This poster was hanging in the Highland Sherpa.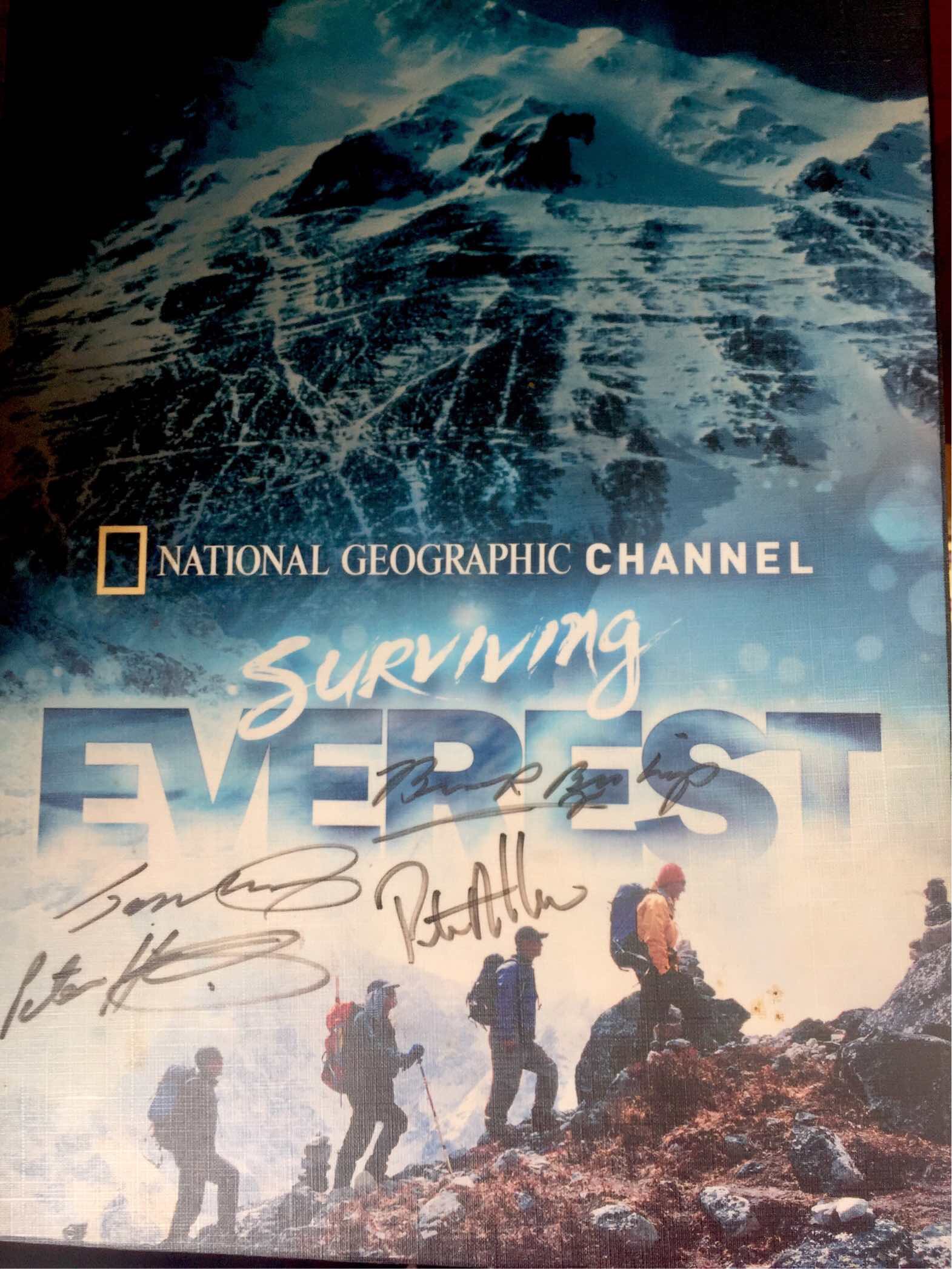 Rumor has it that 70-80 climbers had positioned themselves at C3 and C4 in anticipation of this small group fixing the lines, as well as a very small weather window on the 16th. While this frustrated us, we understand that the weather window was questionable and would be short, most likely eliminating the opportunity to climb Lhotse the day after Everest. Nevertheless, we knew that it was time for our mini-vacation in Pangboche to come to an end. We spent the rest of the afternoon debating on climbing schedules and checking on helicopter prices back up to EBC. The original plan was to hike back up a day or two before our departure from EBC but after much debate, we decided that it would be best for me to take a helicopter to avoid any additional injury to my ankle. Brent also opted for the helicopter ride, while Geoff and Ingvild decided that they would hike back up.
With plans for our return in place, we had an early dinner and retreated to our rooms to get some rest.
Day 43: Tuesday, May 16 (Move Up to EBC)
Breakfast was early because Geoff and Ingvild needed to hit the road. Brent and I had a helicopter scheduled to pick us up at the helipad in Pangboche at 8:30 but we had a strong suspicion that the helicopter would be running late because everything in Nepal tends to be late. We were correct and we spent most of the morning receiving updates that the helicopter would be 30 minutes late, which went on for some time. At 10 AM, we said goodbye to Yangzing Sherpa, the owner of the Highland Sherpa, and hiked up to the helipad. We had a bit of a wait there but the weather was good, so we didn't mind.
Geoff was hesitant to get out of his sleeping bag this morning. I think he looks like some type of caterpillar or grubworm.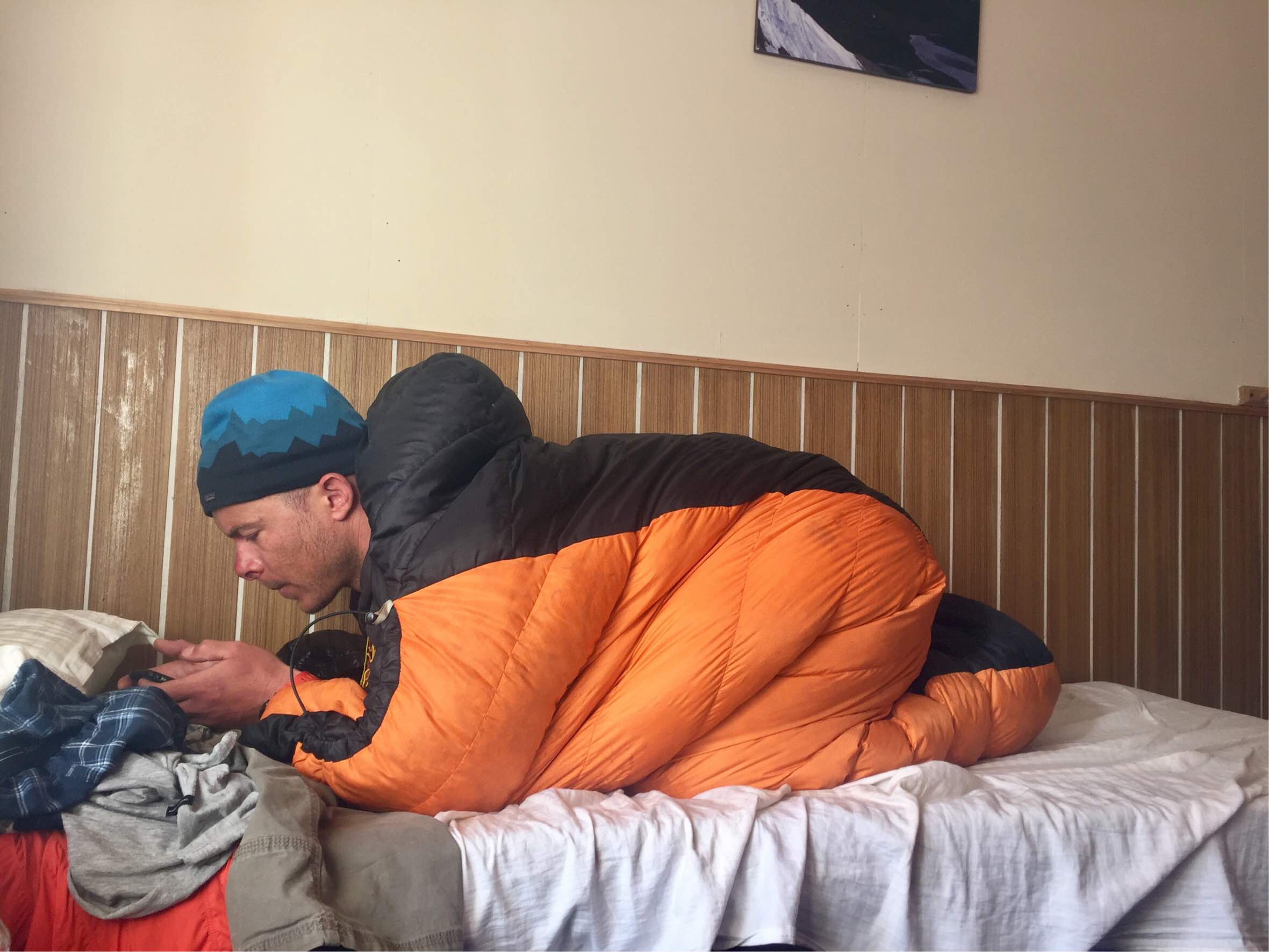 As we waited, we received word that the Ghurka team had been the first to summit and that the weather had turned out to be much milder than predicted by our weather experts. We couldn't help but be disappointed that we had forgone the opportunity to climb. We had to remind ourselves that we made the decision based on a limited window and that we probably wouldn't have had the opportunity to summit Lhotse. Our time would come but we had to remain patient.
Soon, we heard the sound of a helicopter flying up-valley, so we took shelter behind a boulder because the helicopters have been known to "rock" when landing. Within moments of the helicopter touching down, we were rushing to hop in and as soon as we were seated with the doors closed, it was off the ground. The helicopter pilots in the Khumbu Valley are highly skilled and skim just off the surface of the rugged terrain. Brent and I enjoyed the 10 minute ride to EBC, which had taken us five hours to descend just days prior. A quick 90 degree turn into EBC, brought us to an abrupt landing on the helipad and we were home.
Our chariot awaits.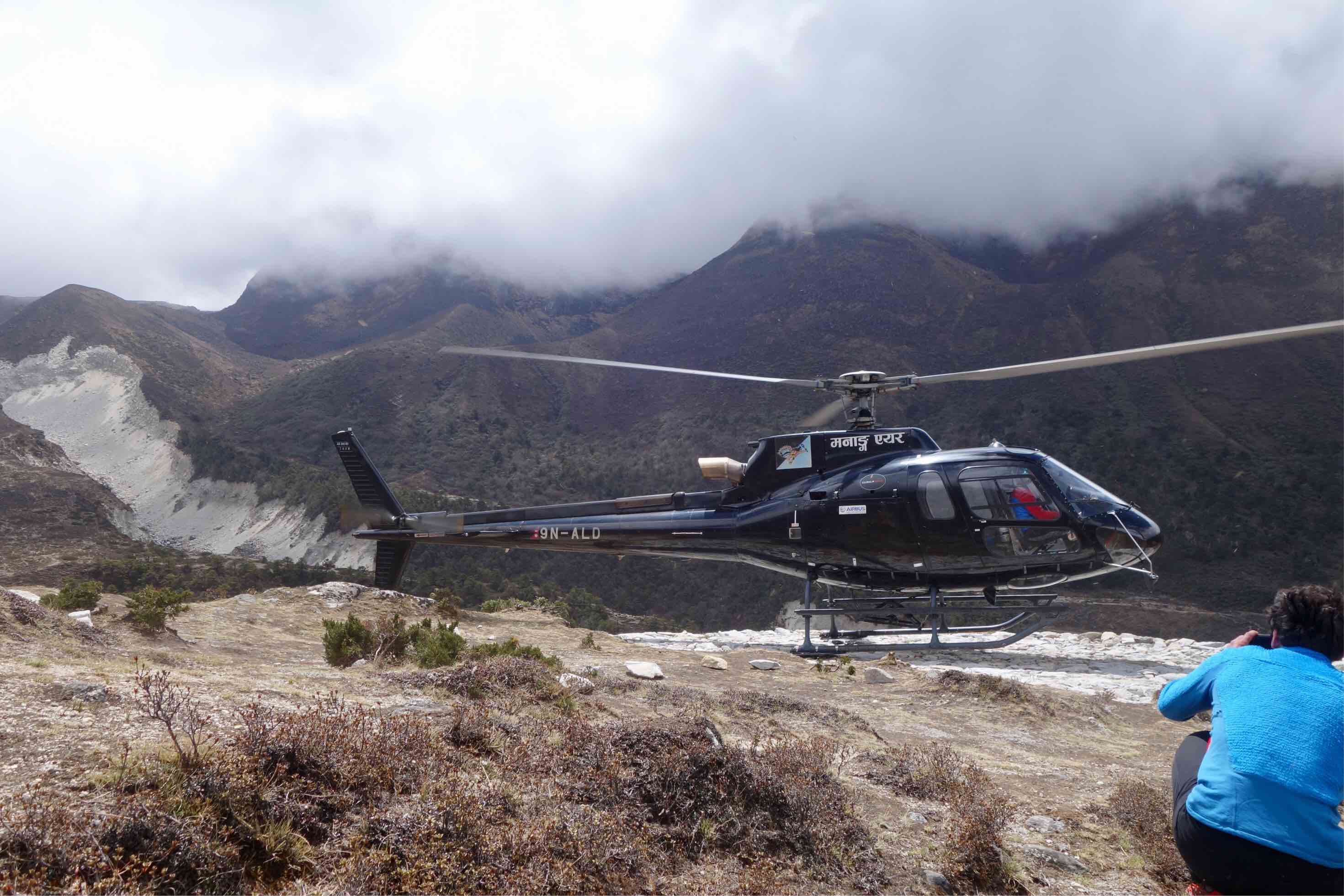 Big smiles for the guys who don't have to hike back to EBC!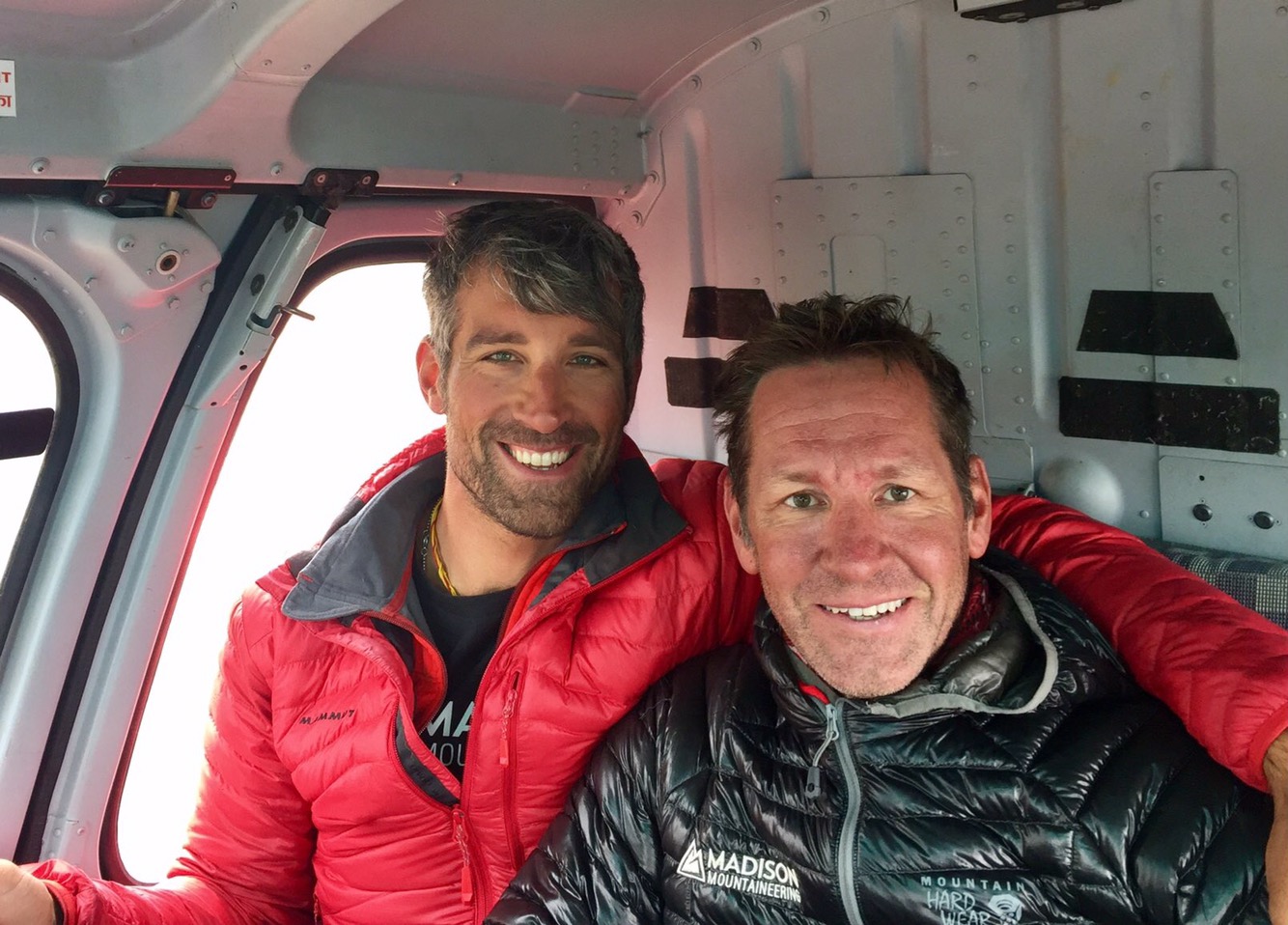 Landing approach at EBC.​
​
Bhola, our Nepali Basecamp Manager, and Andrew, our Western Basecamp Manager, greeted us as we hopped out of the helicopter. A 10 minute hike brought us back home and we were soon hugging all of our teammates in the dining tent. The next couple hours consisted of lunch and planning for the next few days. Brent has decided that our team of four will break camp in the early morning of the 18th, which would put us at C2 before noon on the same day. The weather reports are showing winds that should begin to subside on the 20th, most likely offering great summit windows on the 22nd and 23rd. Due to delays of the lines getting fixed, it is very likely that the majority of the Everest climbers this year will try to climb on the 22nd or 23rd, weather permitting. Our tentative plan is to target the 21st and tangle with higher winds to avoid any delays caused by slower climbers on the summit ridge. Our team is strong and very capable, so we feel that this is a good trade off, allowing us to climb Lhotse in favorable weather, while Everest is busy with activity.
Chilly afternoon at EBC.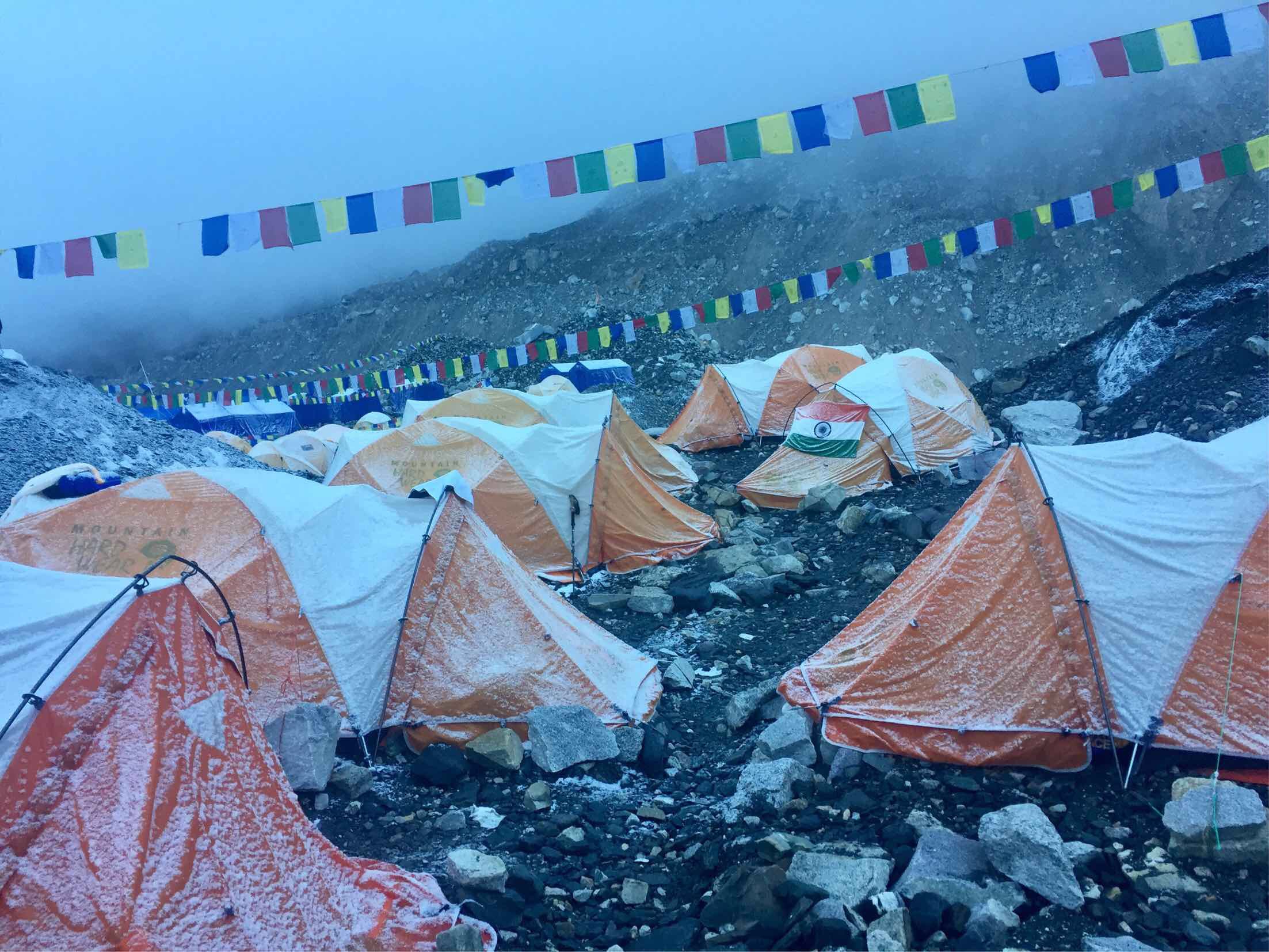 With an improving outlook, my attitude has improved and I focused on some pleasant napping for the afternoon. I think I took four separate naps over the course of three hours, it was glorious. The funny thing is that I don't know that last time that I took a nap at home but when I get on big mountains it feels like second nature. Once my napping was out of the way, I dropped down to the dining tent. We had just received some new weather reports and I noticed a few smiles, always a good sign. The trends showed decreasing wind speeds over the next few days and an opportunity to make a move. It looks like we will be heading back up around 2 AM on the morning of the 18th. Stay tuned…
And another baby yak picture for good measure.