Below are my journal entries from our move to Camp 2 (21,000 ft), our rest day, and our return to EBC. I apologize in advance for the lengthy post but it covers three days and I have included pictures for those that do not have the patience to read.
Note: Camp 2 will be used as our Advanced Basecamp (ABC) for the remainder of our climb, which means that it will be our primary staging area above EBC.
Friday, April 21st (Move to Camp 2)
After two nights at Camp 1 (19,700 ft), we planned on moving to Camp 2 for two nights at a higher elevation. Our sleep wasn't great because several Sherpa teams were moving gear to Camp 2 in the middle of the night and decided that our location was a great place for a break. We were able to get back to sleep but were woken up at 7:30 by the second portion of our team to move up the mountain, a group consisting of four people. Boystown was planning on our normal 9 AM breakfast but had to hop out of our tents earlier than we would have liked, to allow our teammates to warm up and relax. We made them some coffee and caught up with them, since we hadn't seen them in a couple of days.
Geoff taking a stroll outside of Camp 1, prior to our move up the glacier. The West Ridge of Everest can be seen in the background.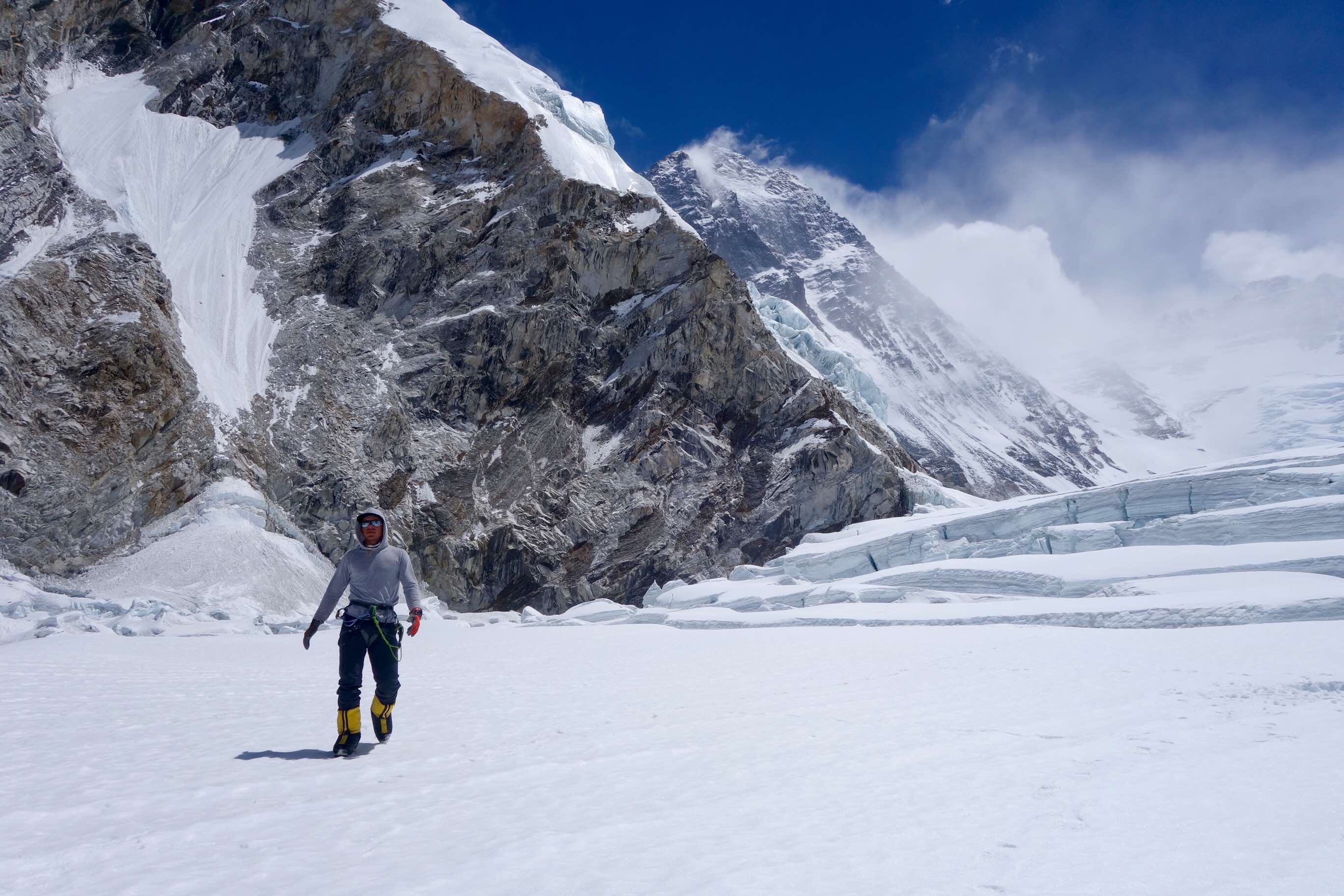 The four of us began to pack our backpacks in preparation for our move up the mountain. It was turning out to be a scorcher of a day and none of us were looking forward to it, despite it being a very straight forward hike with an elevation gain of only 1,300 ft. The problem is that the area above the Khumbu Icefall, the Western Cwm, is protected from wind on three sides by Everest, Lhotse, and Nuptse, and turns into a giant solar oven. We had no choice but to move, so we broke camp at 11 AM, just as the sun was really starting to radiate.
Looking up the glacier from Camp 1 at the "bread loaves" that we need to cross to get to Camp 2.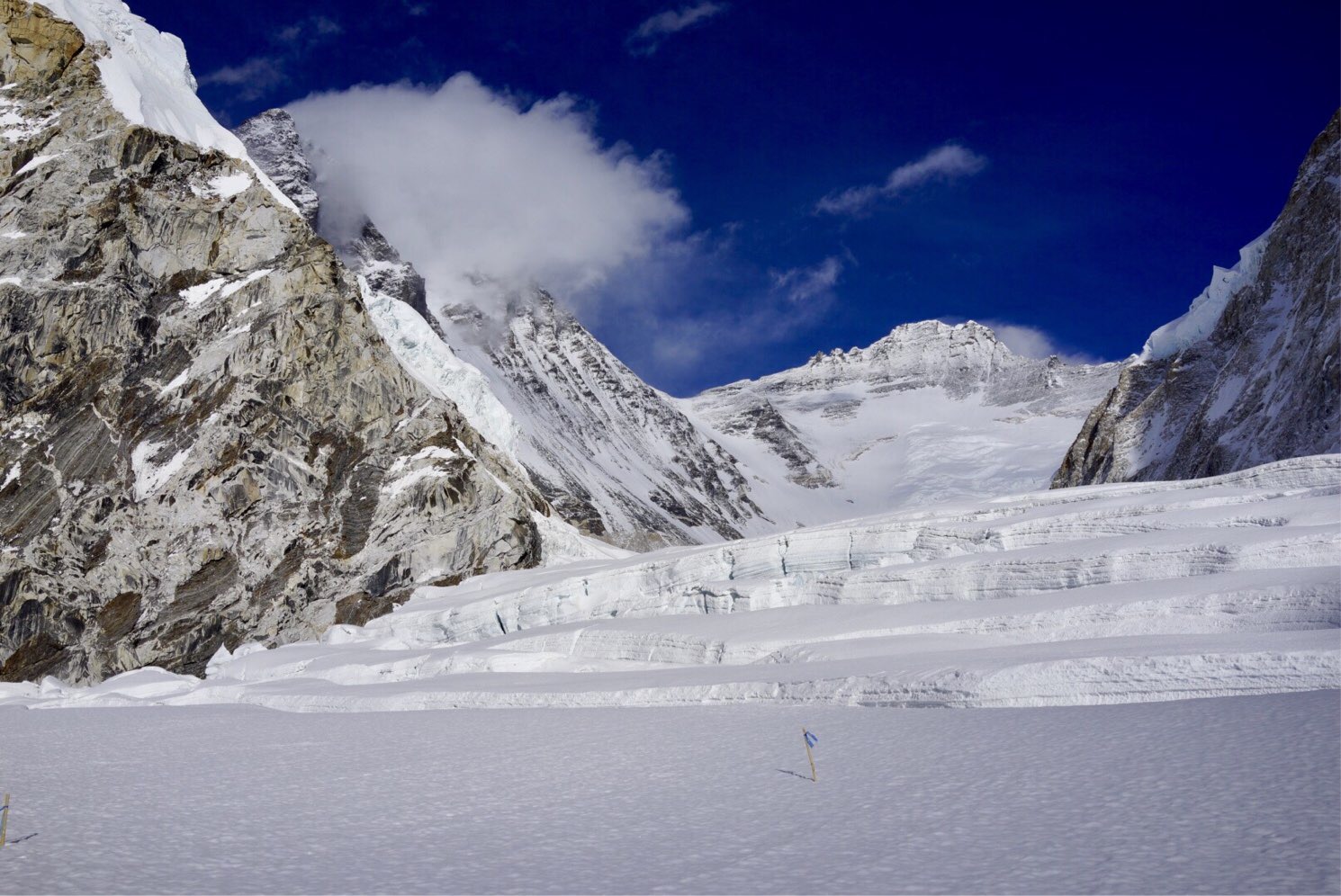 As expected, the first 45 minutes of our hike almost melted us. We slogged uphill, over bread loaf after bread loaf, while complaining about the heat and talking about how nice it would be to have an ice chest of Coronas and Pacificos. We passed a number of teams, some of which were struggling with the heat and cramping. With only one more ladder left, I was very happy with myself because I hadn't had any issues but I guess that happiness was a little premature. On the very last ladder with only a few rungs to go, the back of my right crampon (the spikes attached to my boots) latched down on one of the rungs. I tried my best to shake it free but it was too late, the guys had already seen what had happened. As I wiggled and shook, the guys got quite a few laughs. Eventually, I was able to shake myself free but I doubt that incident will soon be forgotten.
We continued over the Western Cwn and eventually caught sight of Camp 2, some tents that were positioned on a moraine below the West Ridge of Everest. Camp 2 is often referred to as Advanced Basecamp (ABC) because it is allows for a more elaborate setup and is where Teams stage their push to the higher portions of the mountain. Moving forward, we will not spend any time at Camp 1 and will instead move directly from EBC to ABC on our 2nd Rotation and our Summit Rotation. This will be possible because we will be acclimatized to the elevation after our two nights on our 1st Rotation and our packs will be much lighter. ​​
Anyway, back to our day… we felt great when we got into Camp 2 and were greeted by a few Sherpas. We were in time for a late lunch, followed by a nice afternoon nap. Dinner was good but we were in a rush to crawl into our tents because temps were dropping quickly and it was beginning to snow. Another successful move to a higher elevation, one step closer to our goal, which now looks directly down on us from 8,000 ft above…
PS – I apologize if my messages do not seem as literate as previous posts but the lack of oxygen at these altitudes greatly reduces one's vocabulary.
Saturday, April 22nd (Rest Day at Camp 2)
Only a hint of a headache this morning!!! I was dreading what the gain in altitude was going to do to my head but was ecstatic to wake up without a splitting headache. These tiny victories go a long way in building confidence and maintaining morale, in an environment that is constantly challenging your mental state. As soon as I chalked up my victory, I sprung out of bed and almost collapsed because of the blood and oxygen that leave your brain. It's very easy to forget that tasks like getting out of bed, going to the bathroom, or standing up from a meal can leave you lightheaded.
Once I regained my composure, I stepped out of our tent to one of the most amazing views that I have ever seen. When we had hiked into camp, it had been overcast and the mountains that surrounded us were shrouded in clouds. Now, I had a sunny view of what felt like a giant mountain amphitheater with the West Ridge of Everest directly behind our tent, the Lhotse face to the left, and Nuptse directly in front of our tent. They towered thousands of feet above us, despite their faces all being within half a mile, Everest being the closest at only a few hundred yards away. ​​
The "amphitheater" view from Camp 2. This video was actually taken on our way down but I thought that it would help provide a good visual early on in the post.
​We spent most of the day eating, while listening to music and watching other teams take acclimatization hikes a short distance up the Lhotse Face. Some Sherpas had already moved equipment up to Camp 3 on the Lhotse Face, so we were able to identify the route based on where the little black dots moved. One dot moved faster than the others and we soon realized that it was Ueli Steck, who was checking out the Lhotse Face and passed our dining tent as he raced up the side of the West Ridge of Everest. It was amazing how quickly he was moving for it only being a reconnaissance/acclimatization hike.
The remainder of the day was uneventful, filled mainly with napping, snacking and some more eating. We spent some time with a couple of the Sherpas after dinner and snapped some pictures of the stars over Camp 2 before crawling into our ice crusted tents. The plan is to wake up around 8 AM and then break camp before 10 AM to head back down to EBC. I can't begin to explain how excited I am to get back "home"!
Starry skies over Camp 2. This photo was taken at 9 PM, looking Southwest down the Khumbu Glacier.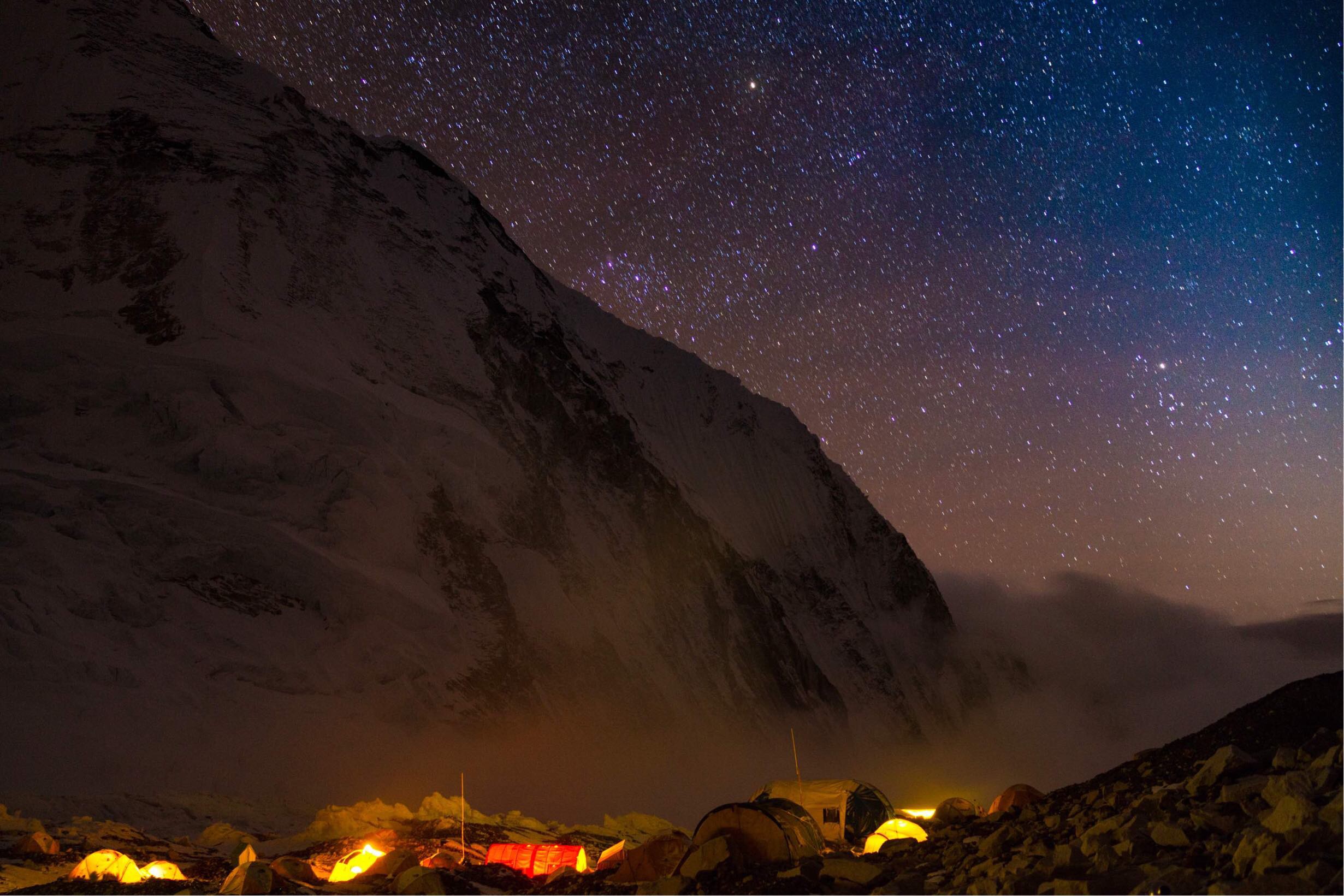 More stars, this time looking to the East at the Lhotse face and if you look closely you will see light from someone at Camp 3, midway up the face, most likely a Sherpa.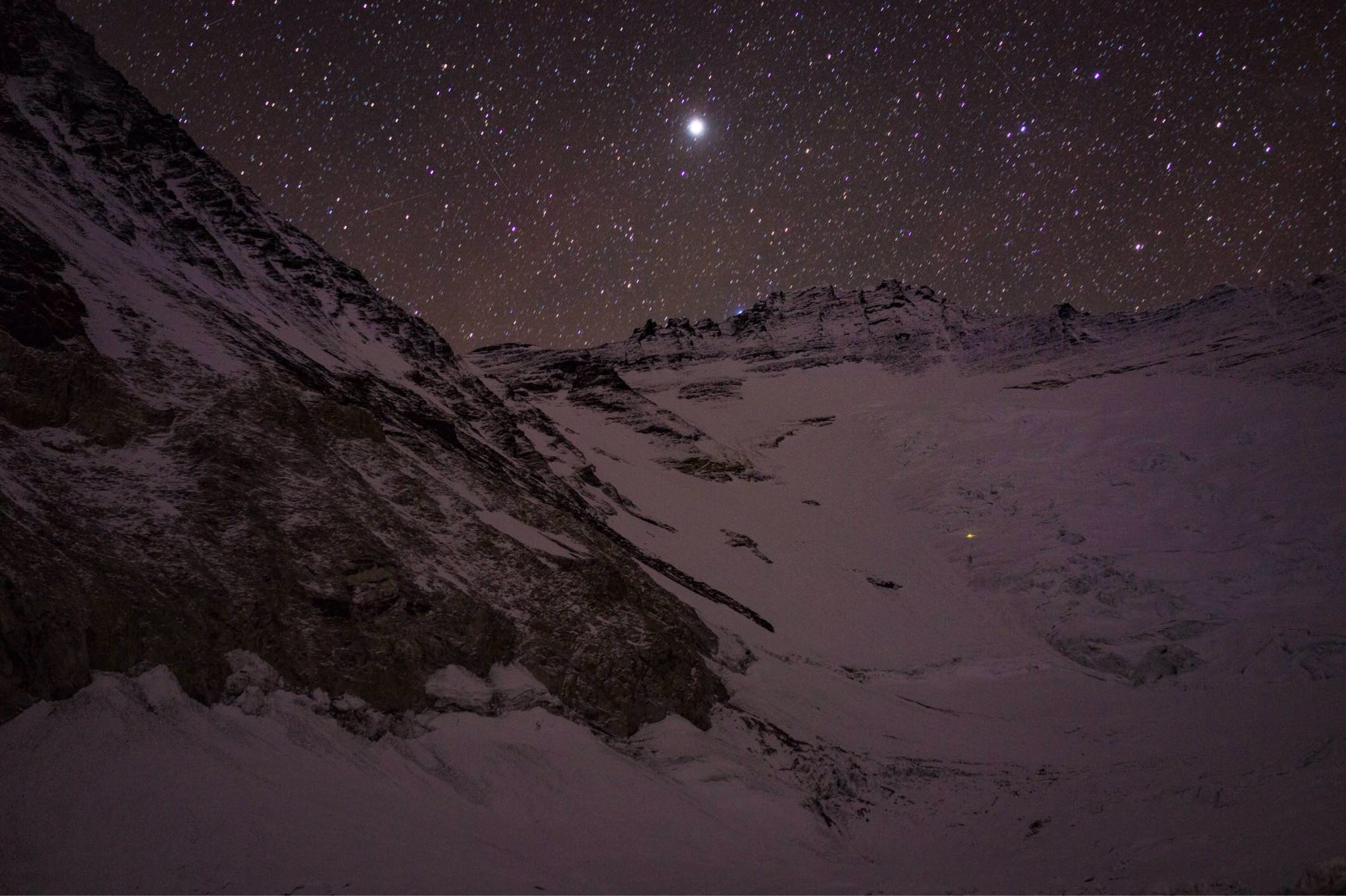 Sunday, April 23rd (Return to EBC)
Lots of people enjoy camping in tents. It is an opportunity to escape the hustle and bustle of society and feel a little closer to nature. Most camping trips are one or two nights, three at the most. Some people even enjoy bringing dehydrated food because they really want to feel like they are roughing it. All of these charming qualities of camping are lost when it comes to an expedition at high altitude in sub-freezing temps.
When on an expedition, we often wear the same pair of underwear for over a week. Yes, we also sleep in the same underwear and often additional layers of clothes to stay warm. We urinate in plastic bladders, referred to as pee bottles, in our sleeping bags during the night because it is too cold to go outside and takes too long to get dressed. Just in case you were wondering, we sleep with them in our sleeping bags because they will freeze into a urine brick if we don't. We loathe dehydrated food because the meals have enough sodium to kill a horse and it gives you gas. Our sleeping bags are called mummy bags because they are tapered in the shape of a mummy to save space when packing and are much less comfortable than that cozy Coleman bag that can fit four people. In the mornings, we have to be very gentle when moving around the tent because if we don't, we will be showered by frozen condensation that accumulates from the moisture in our breathes while we are sleeping. Sounds great, right???
Geoff and I shared a tent during our first rotation and as much as we love each other's company, we were ready to head down to the comforts of EBC for many of the reasons listed above. Our tent was beginning to take on the smell of a sweet musk, one that you can probably buy in a candle scent at Bed Bath and Beyond, and we were excited to head home. Brent woke up first and decided that we were being lazy, so he violently shook our tent and showered us with frozen respiratory condensation. I guess he was more eager to get home than us.
With the help of Brent's wakeup call, we hopped out of bed, saturated our bodies with coffee (the lifeblood of the mountains), and began to pack our gear for the haul down the mountain. Luckily for us, about 2/3's of our load was gear and clothing that was to be used on the upper mountain. We stored this equipment at Camp 2, which we refer to as "caching", so that we can use it when we return on the next two rotations, without having to haul it up and down the mountain. This included my -40 sleeping bag, down pants, down parka, heavy duty gloves, etc. I'd estimate that we cached about 10 flocks of goose down… if that can even be considered a unit of measurement.
Geoff & John's rice sack of cached gear at Camp 2.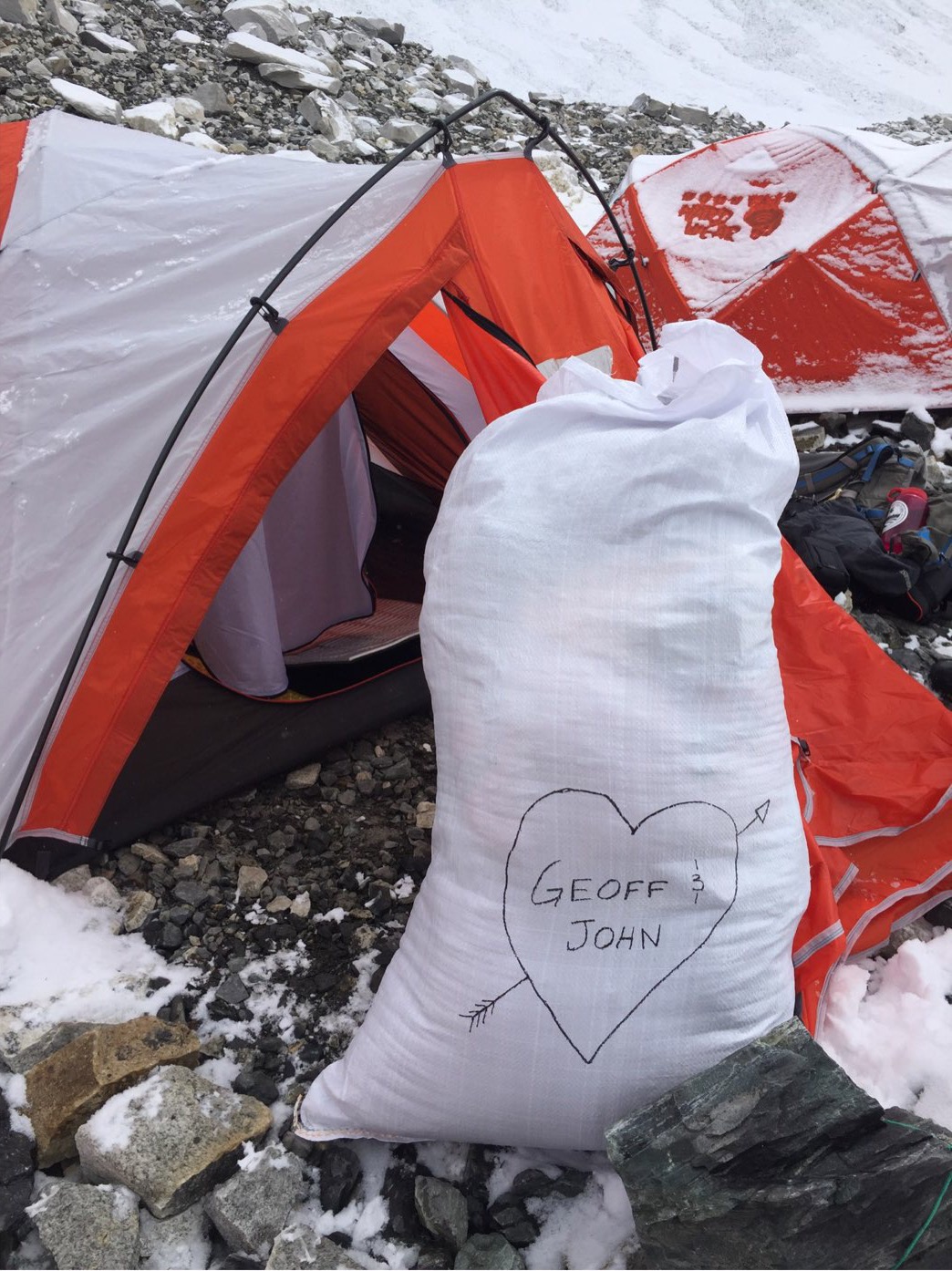 With our gear cached, our packs were slimmed down from 35 lbs to about 10 lbs. We broke camp around 10:30 AM and were off to the races. It wasn't too hot and there was some sporadic snowfall, which made for a leisurely start to our descent. On our way down, we ran into the part of the Madison Team that was moving to our vacant Camp 2 and then the last few members that had just moved to Camp 1.
As soon as we hit the icefall, the sun came out and cooked us. The descent was smooth and much more enjoyable than the ascent. For the most part, the route remained in good shape, except for one section that had collapsed while we were at Camp 2 (picture below).
Geoff (bottom) and Anders (top) descending the section of the icefall that had collapsed the day prior, two days after we initially passed through.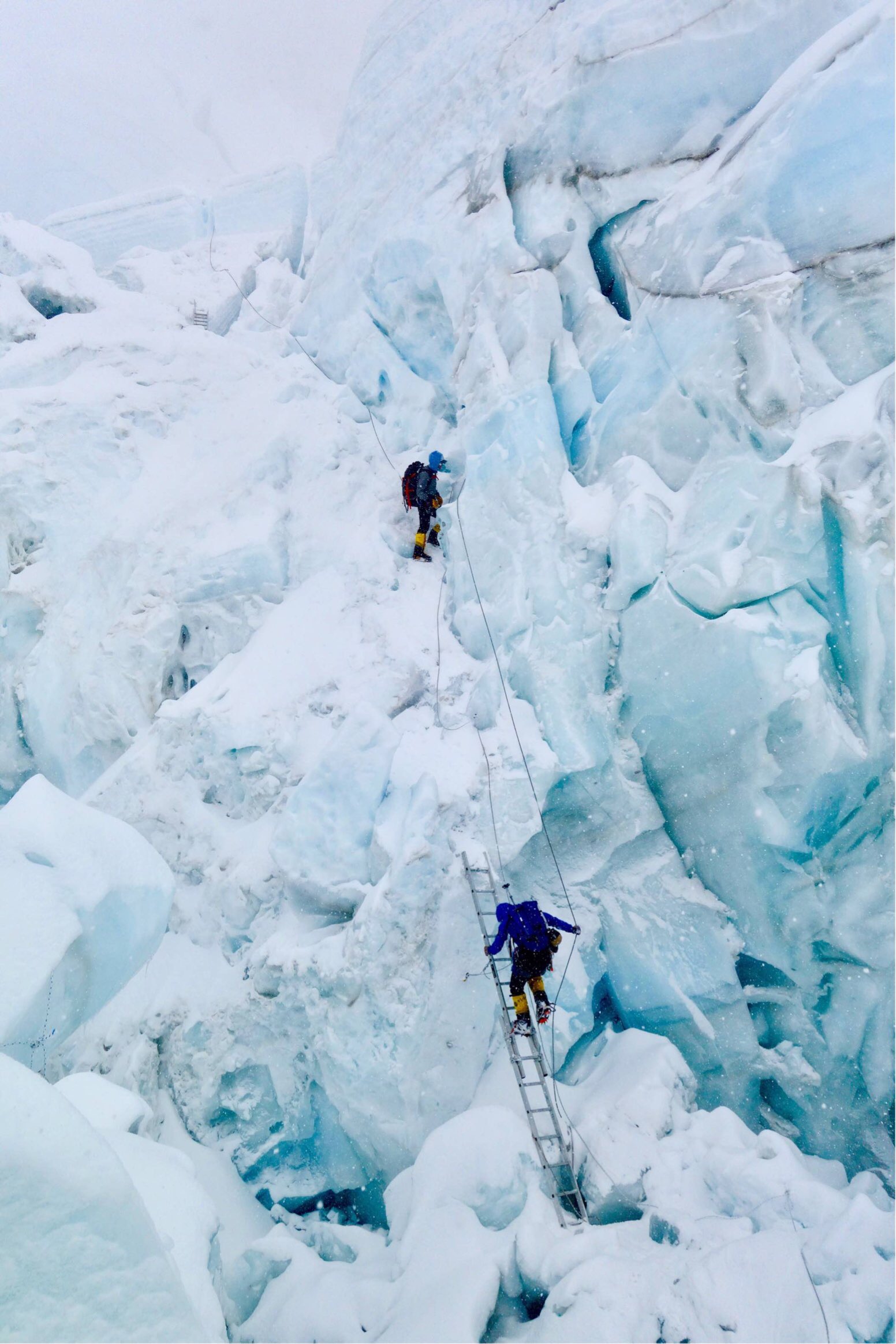 Clearing the last cracks in the Khumbu Icefall before returning to EBC.
When we arrived at EBC, Andrew and Ant greeted us with lunch and we enjoyed a casual afternoon. When the day drew to a close, I was excited to crawl into my tent but a little part of me already missed those annoying qualities of high mountain living.