Sorry for the delay in getting this message out to everyone following along on this adventure but the team that runs the satellite Wifi here is behind schedule and finally got our dish up and working this afternoon. This is the message that I had intended to send out when we arrived to EBC…
We made it!!! I'm sorry to leave everyone hanging but the team that sets up the satellite receivers for Wifi were running behind and we were unable to get any connection. If you are ever wondering about my location, check out the "Find John" page on my website and you will be linked to our new 3D interactive map from our new sponsors at Reality Maps. Big thanks to Jordan for putting getting in touch with them and getting it set up. I'm still amazed that we will even have the ability to connect to the outside world in a place that looks like another planet.
Anyway, it didn't take long to make the hike from Gorak Shep and as we descended to the moraine (rocky area created by a moving glacier), where EBC is located, we took every opportunity to soak it all in. High fives were being thrown left and right, lots of hugs, and big smiles. Everest Basecamp is surreal in so many ways, pictures and my description won't do it justice. The tongue of the infamous Khumbu Glacier Icefall flows from between the West Shoulder of Everest and Nuptse. It takes a 90 degree turn to the South and EBC sits on the moraine just west of the icefall. EBC consists of hundreds of tents strewn about a mile long from North to South with each team having their own territory.
Everest Basecamp view from the helipad. Our route will take us up the Khumbu Icefall, the glacial flow that continues up and to the right of EBC.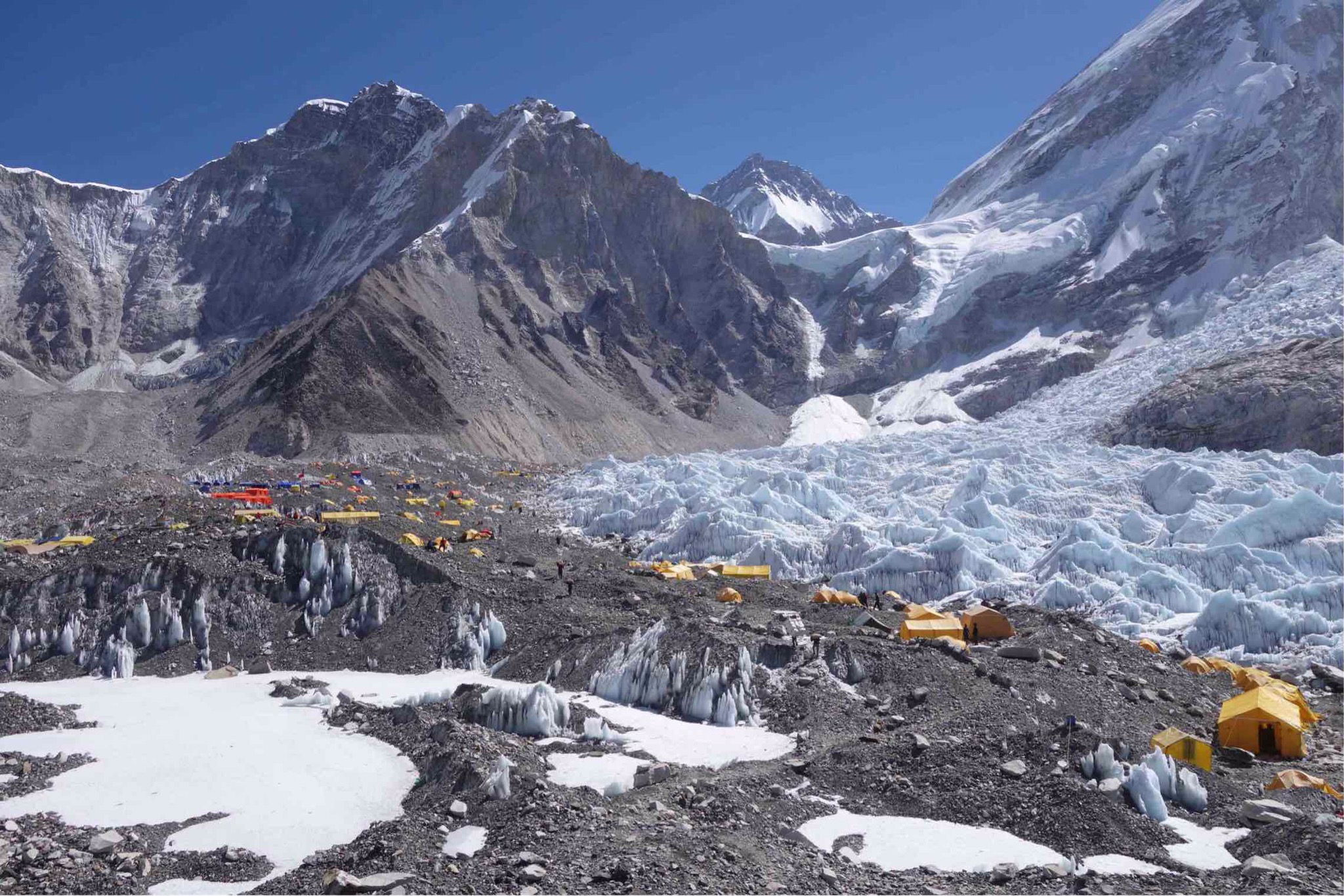 The camp for our team, Madison Mountaineering, sits approximately at the midpoint of EBC and is quite impressive. This is the point of the post where I'm torn between being dramatic by describing it as a minimalist setup or being truthful. While it would be nice for you to think that I'm suffering each and every day, that simply isn't the case at our camp. Besides, I have lots of suffering coming my way very soon, so I might as well be comfortable until then and I am VERY comfortable here. I have my own 3 person tent to myself, we have a world class chef with fresh food being flown in by helicopter every couple of days, and we have a shower tent that uses glacial water and gravity to operate. It's not exactly like laying on the beach in Hawaii but it's pretty damn good for 17,400 ft in the middle of the Himalayas. I'll go into more detail tomorrow and include a few pictures.


Dad has been spreading the Blue Diamond wealth throughout Nepal. Here, he presents our team chef, Anthony "Ant" Dubber, with some Blue Diamond Almond Breeze. I can't believe he hauled it all the way to EBC, even after I told him not to…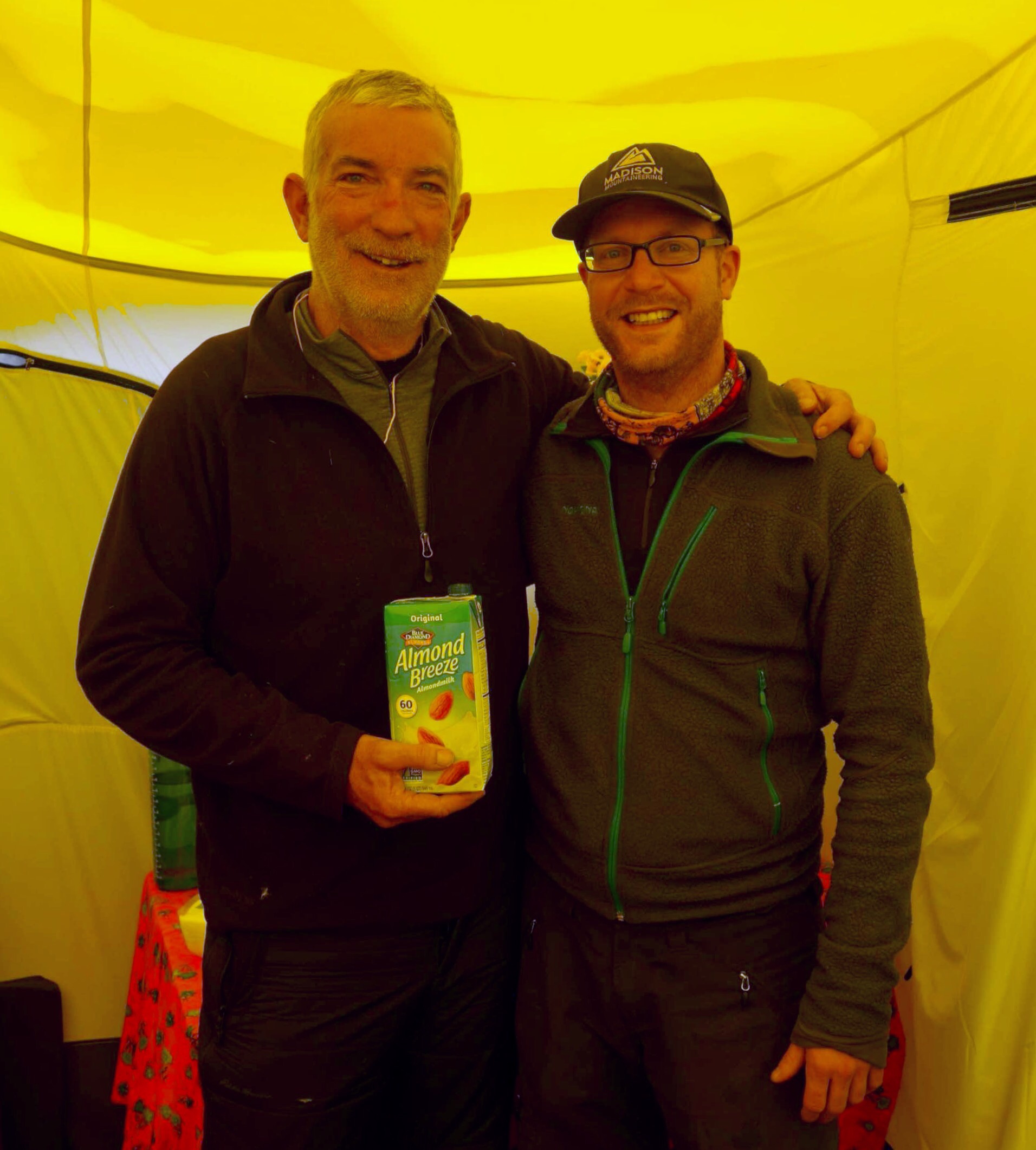 Another majestic yak at EBC!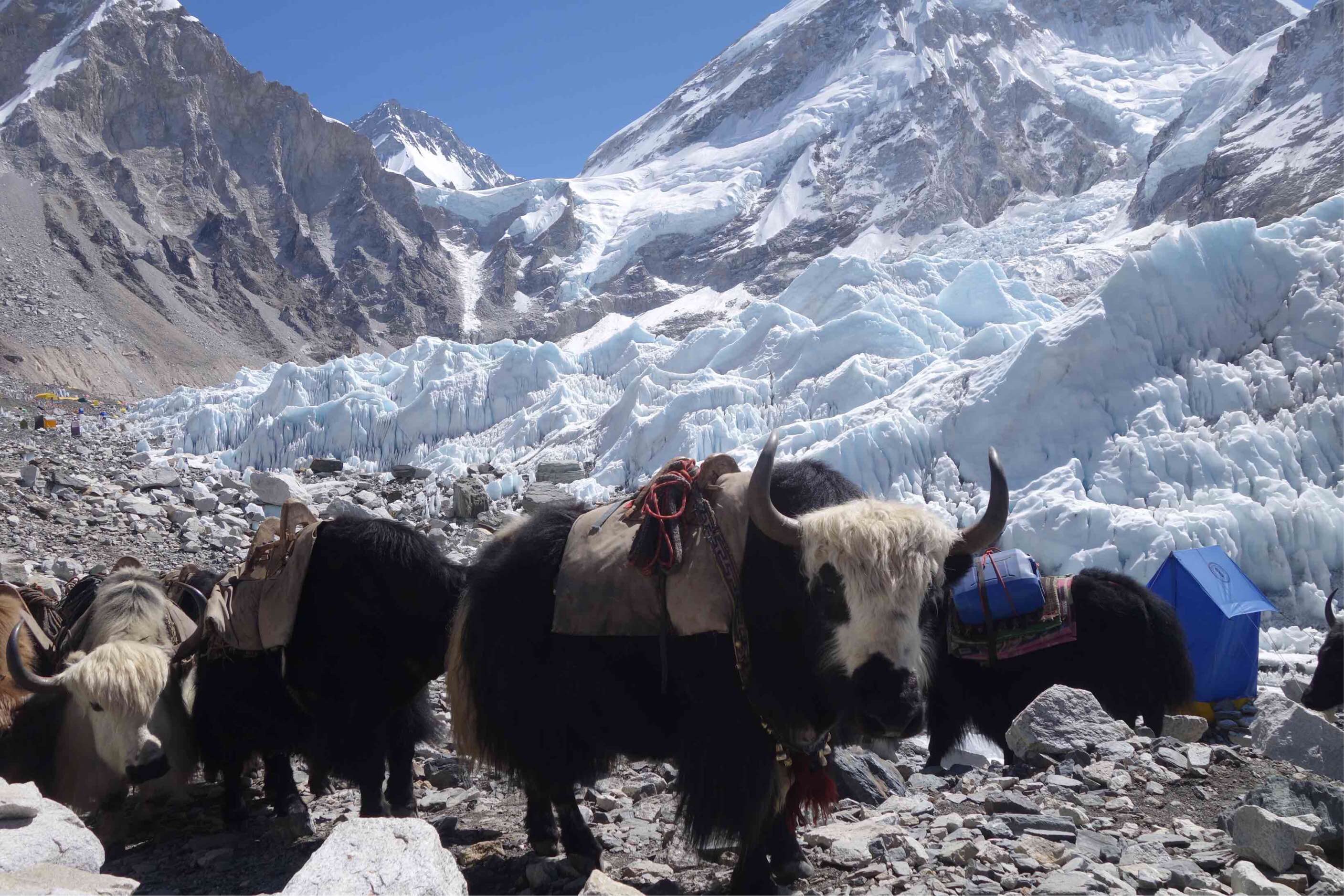 Dad is all smiles and I even gave him some of my high altitude down clothing because he is always cold (I told you that I'd take care of him, Mom). Geoff and I watched "Rock the Casbah" in the tent this afternoon and the entire team watched "American Hustle" in our dining tent after dinner. Geoff, Brent, Andrew, Anders, Randy and I have the tents at the end of the site and we have proudly coined it "Fraternity Row". I predict lots of pranks and laughs.
Tomorrow, we have a true rest day at camp and will be focusing on napping and sport eating (this is a term that we use in the mountains to describe gorging on junk food for calories). I'm definitely looking forward to a low key day to settle in and start planning our first rotation up towards Camp 1 and 2. Alright, enough of my rambling… we are just laying down for bed and we lucked out with a great view of the moon peaking over Nuptse, shining down the shoulder of Everest. Goodnight, everyone!
Moonlight over the West Shoulder of Everest (left) and Nuptse (right). The picture was taken 10 feet from my tent.