While everyone already knows the outcome of our first attempt at a summit bid, I wanted to share my journal entries leading up to yesterday's return to EBC. Despite the eventual disappointment, we did have some fun along the way, which you will soon see 😉
Saturday, May 6th (Depart for Summit Rotation)
Today we woke up at 3:45 and quickly got dressed in our tents. I made it to breakfast at 4:07, only seven minutes later than our target. I figured that I got about 3:45-4 hours of sleep, after answering as many emails before my data card ran out. It was probably a good thing because I doubt that I would have shut off my iPad before it was time to go. I hope that everyone that didn't get a response will understand why I didn't get back to them before Summit Rotation. I promise I did my best!
Alright, so where did I leave off before my email tangent… Oh yes, breakfast. The four of us met in the dining tent and had what has become our customary porridge and coffee, four parts coffee and one part porridge. We each did our own bit of complaining about the time of departure, which is actually ridiculous because the other two groups in our team usually depart between 1 and 2 AM. We have justified our late departures by stating the importance of morale on a day of climbing, tired and grumpy climbers do not make for a cohesive group. The other interesting piece of information that reinforced our late departures is the observation that all of the major collapses in the Khumbu Icefall have occurred between 12 and 4 AM. Now that I have justified it to you, I can move on with the story of our day.
We had one last task before breaking camp for our Summit Rotation, we had to pay our respects to the Pujah (the altar that had been built in the middle of our camp prior to the beginning of our expedition). The four of us circled it three times, always clockwise, and on the third rotation, we bent to inhale the smoke from the fire. We then picked up an offering of rice, which we gently tossed onto the Pujah three times. Thus, we had made our offerings and paid our respects to the Pujah and our Summit Rotation could commence. We gave hugs to Andrew and Bolah, our EBC managers, and were on our way.
The climb through the Icefall was more or less uneventful because there were hardly any climber en route, in either direction. Our belief is that most climbers were resting at EBC and wouldn't start their Summit Rotation for at least another week. I struggled through the first few hours of climbing because my throat has yet to improve. Due to the pain caused by the cold air on my throat, I have to wear a buff most of the time but struggled to get the oxygen that I need because of air flow restrictions through the buff. To make matters worse, when I'm expending a lot of energy and breathing through my mouth, the buff quickly collects moisture and does not pass air as easily. I've compared it to a sprained ankle, an ailment that slows you down a bit but is more painful than anything. I've accepted the fact that I'm probably stuck with it throughout Summit Rotation and I am just going to have to suffer through it.
The "new" tallest ladder in the icefall, comprised of four ladders stitched together with rope. It's "new" because it used to be three but was extended to four when the ice below settled. (Photo by Geoff)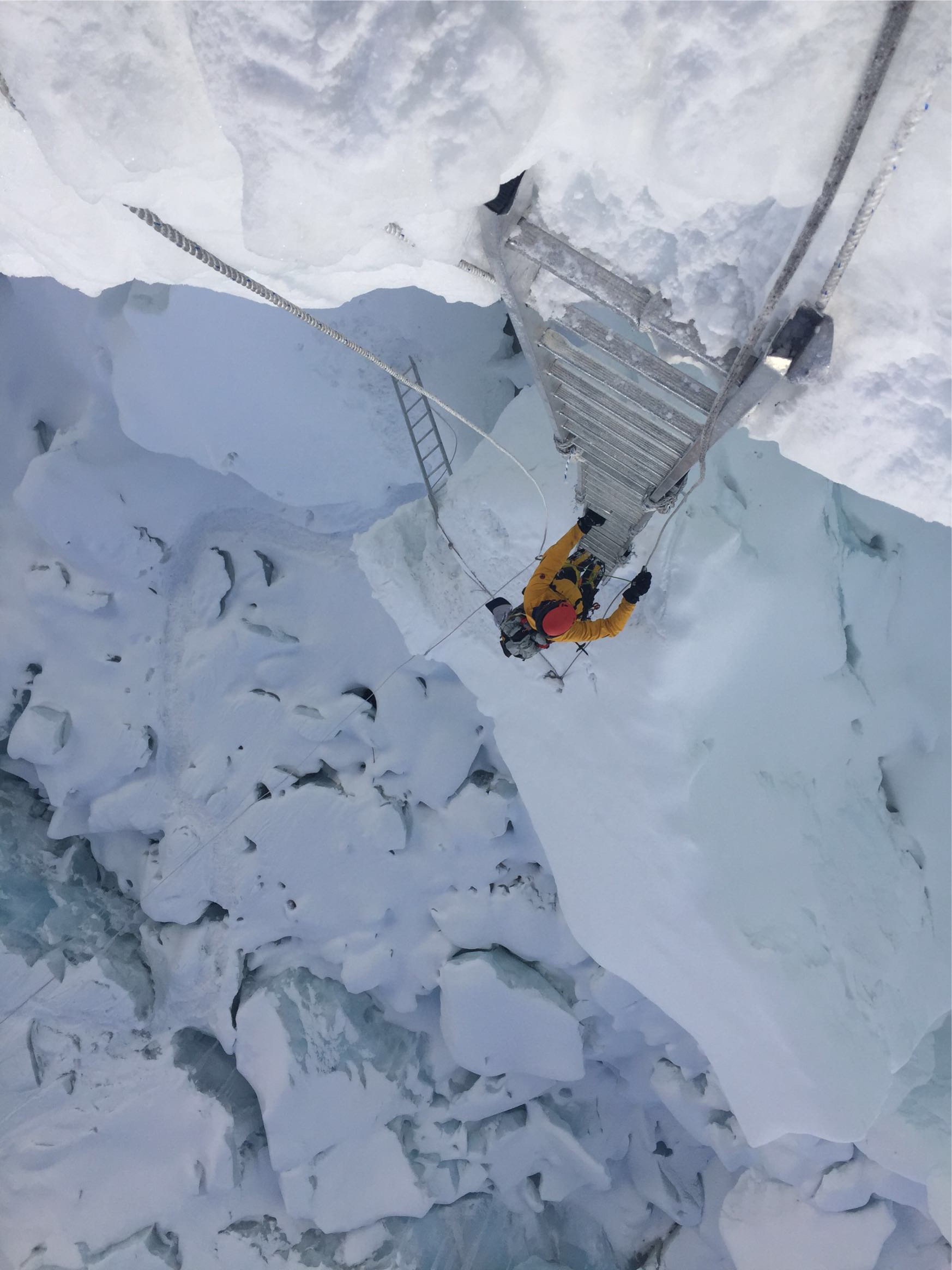 While I mentioned that the climb through the Icefall was mostly uneventful, that doesn't mean that it wasn't interesting. Since the first time that we passed through the icefall, the terrain had changed significantly. The Khumbu Icefall is basically a living thing, changing day-to-day and moving as it pleases. Up to this point, there had been numerous serac collapses in the Icefall since we arrived but only two of which affected the route that climbers took through it. We arrived just hours after the third, a large collapse that had covered the line and we had to do our best to improvise, weaving our way through and over giant chunks of ice. We made it through without any issue but we made note of two additional areas that we all agreed would probably collapse by the time that we make it back through on our descent. I'm very grateful that we have completed 5 out of 6 passes through the Icefall, with our descent off the mountain as the final pass.
Brent looking down on C1 (Photo by Anders)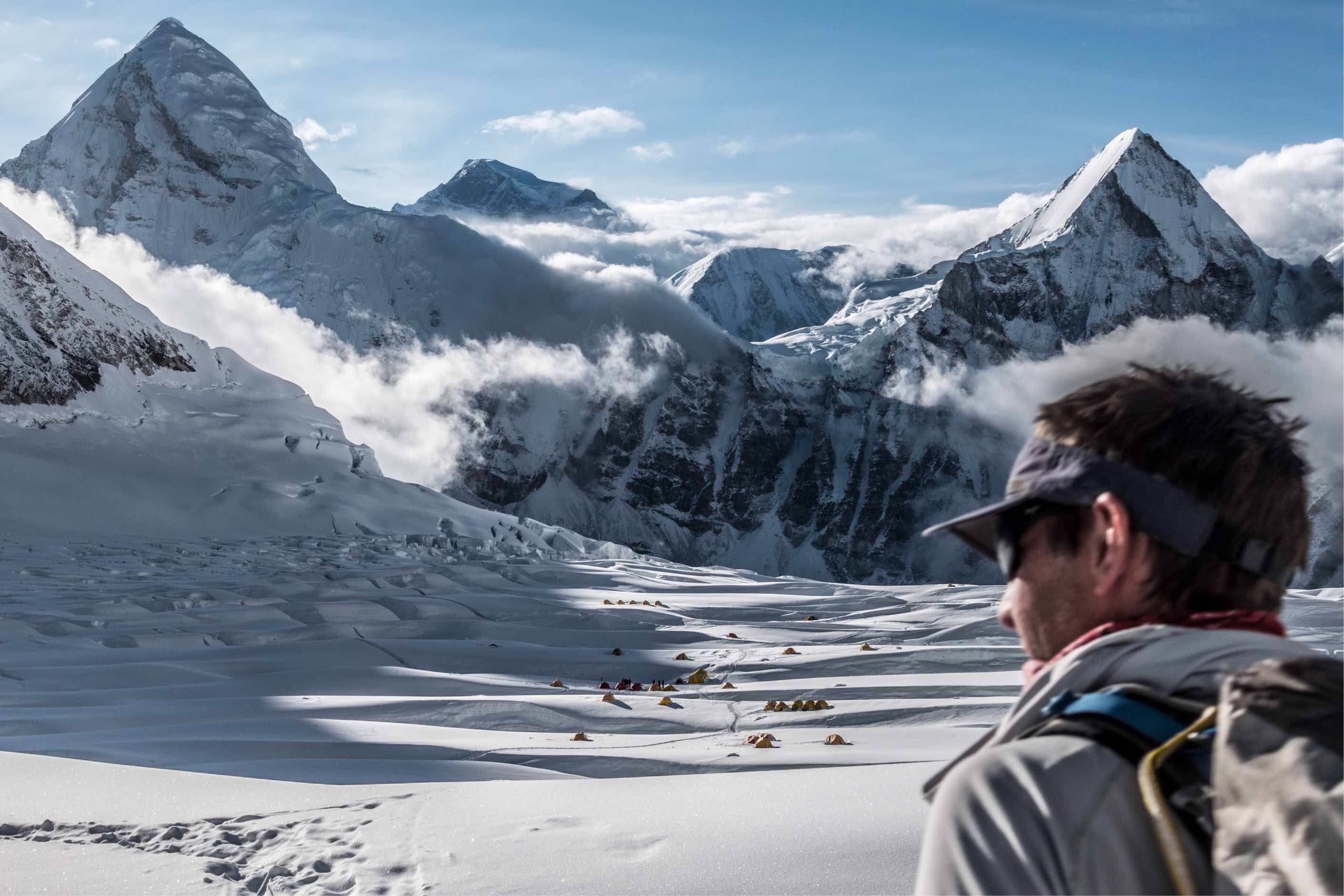 Our team moved quickly and we made it to our Camp 1 location, where we spent two nights on the 1st Rotation, in 4:45. We took some time to relax and the moseyed on to Camp 2. When we reached the final horizontal ladder, one that spanned a 200+ ft deep crevasse, Brent said, "I guess it's time for pull-ups". This was in reference to a bet that we had made on our first day of our trek to EBC. We had been crossing one of the large bridges over the ravine and I asked him if he dared me to do pull-ups off it of, to which he said he wanted me to do them off one of the crevasse bridges. Now that you know the origin of the comment, I bet you can guess what ensued… Geoff kicked it off by lowering himself off the middle of the ladder and doing 3 pull-ups, followed by some fancy acrobatics that put me to shame. I bested him with 5 pull-ups but far less flare. There is potential for these pull-ups to be the highest elevation pull-ups on a ladder ever… just saying. (Mom, you might want to skip this part and I apologize for the profanity in the videos)
I may have won the pull-up competition over the 200 ft deep crevasse…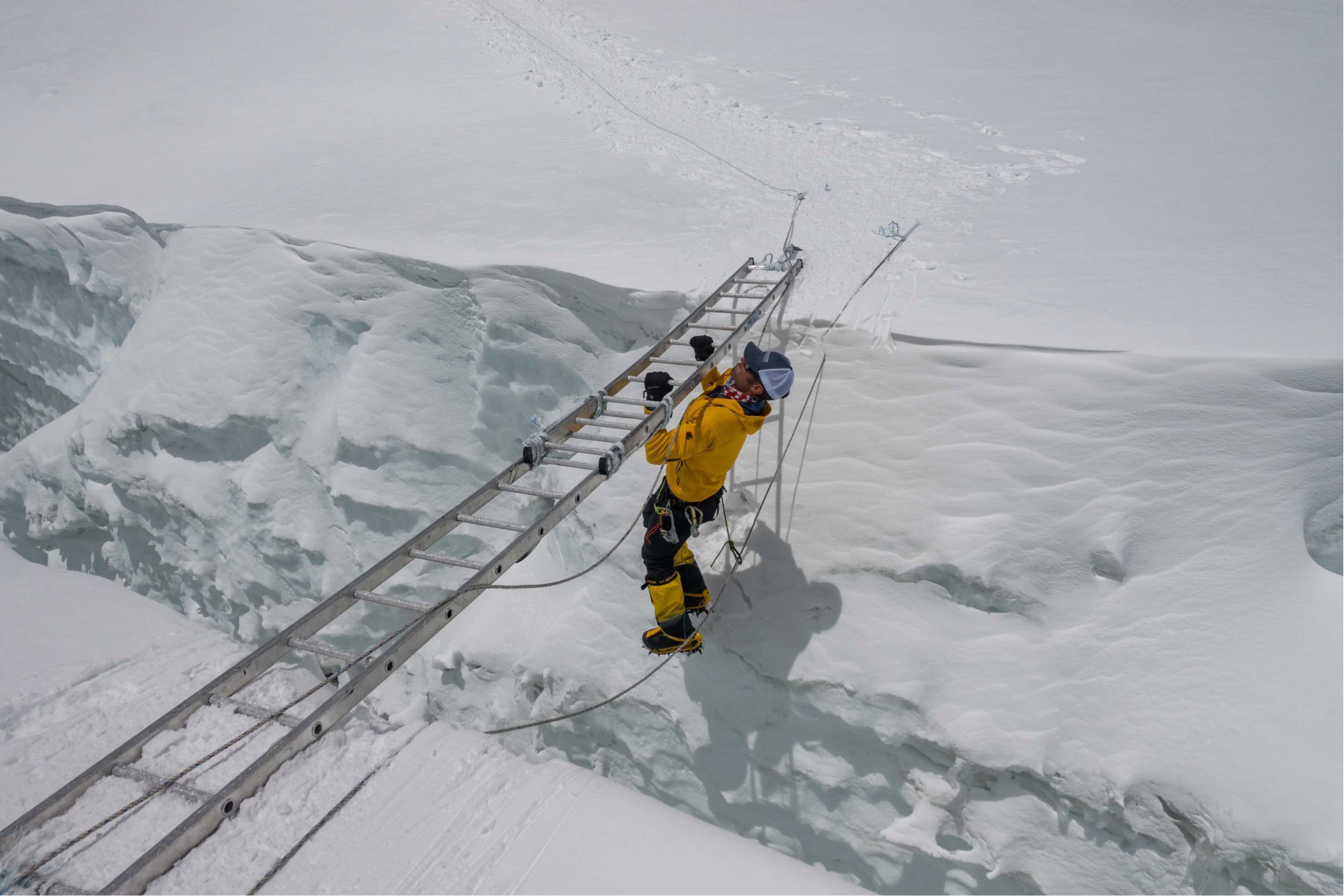 ​
​
But Geoff won in style points with ease.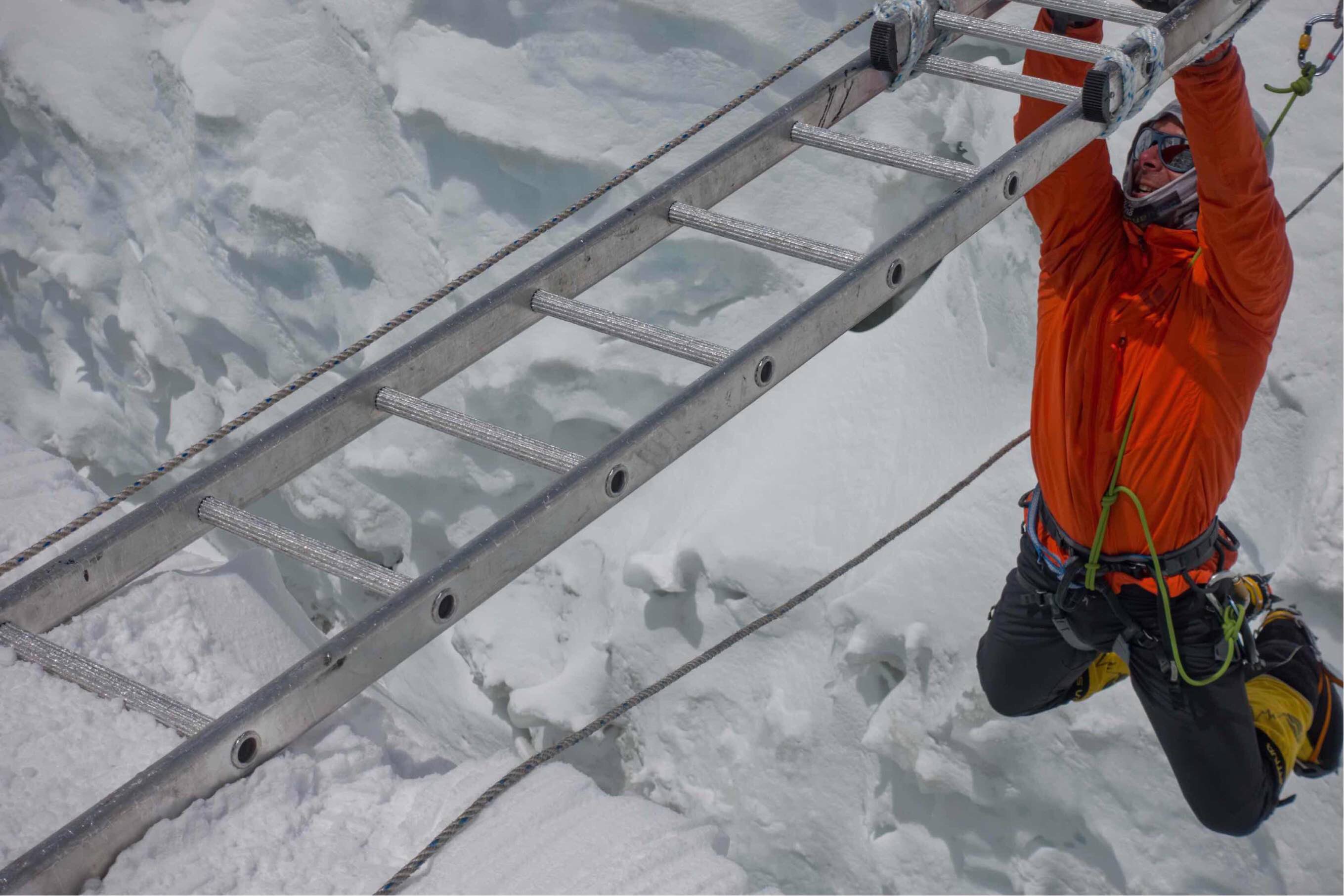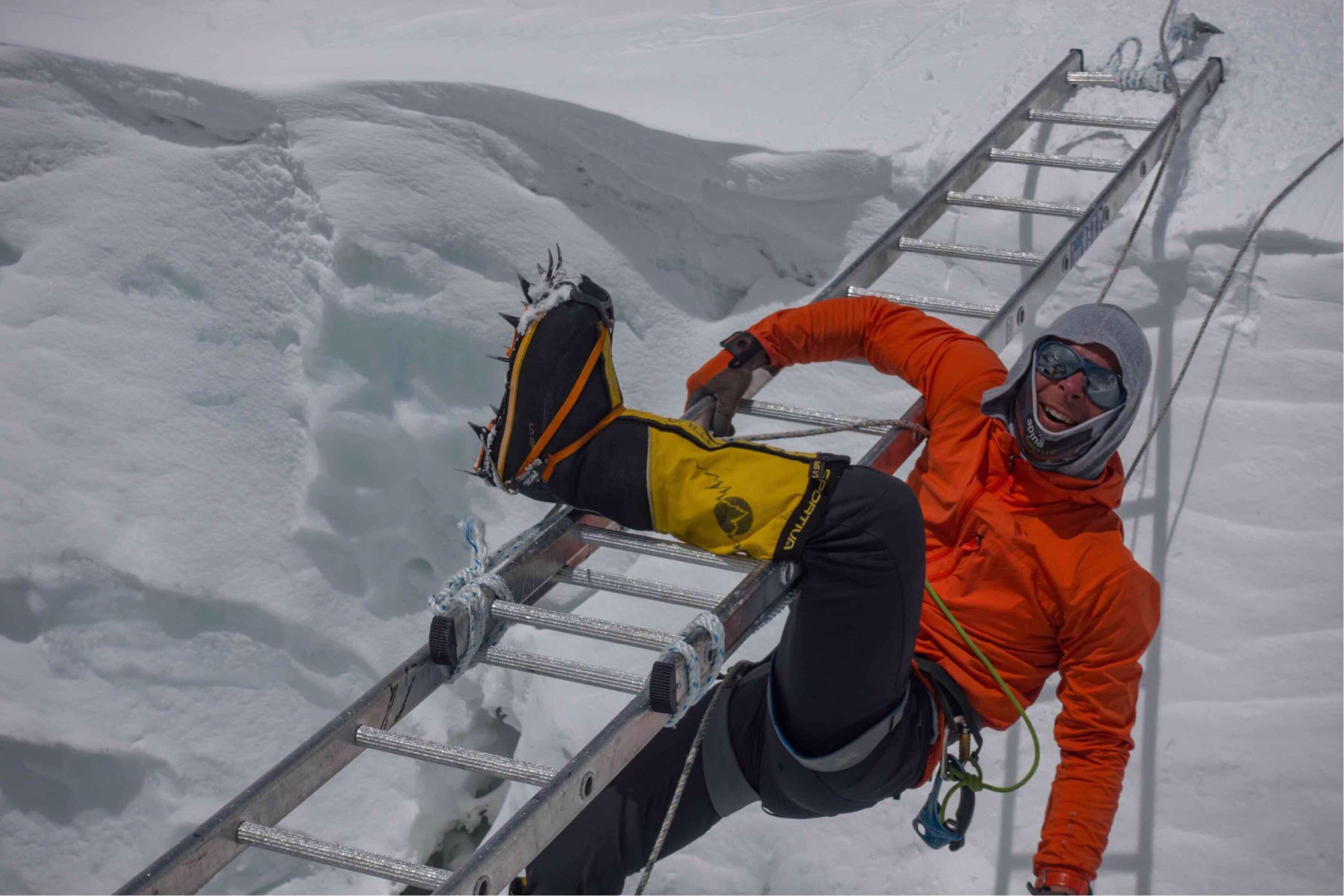 ​
​
We reached C2 a few hours later and quickly unloaded our gear, before we had soup and tea. After binging on liquids, we crawled into our tents and took naps. Before we knew it, it was time for dinner, which was very subdued since we were groggy from our 8:45 of activity and 3,800 vertical feet of gain. Time to sleep like a rock…
Sunday, May 7th (Rest Day at C2)
Today was somewhat of a strange day, I really struggled with a lot of frustration and anxiety. As I expected, I slept like a rock but all of the effort that I had expended the previous day caught up with me and did it's damage on my throat. I woke up with the worst throat pains that I have had in a week. Outside of the nasal congestion and the throat pain, my body feels great but it's taking a mental toll on me. I'm doing everything that I can to take care of it but it just isn't getting better and my patience is running thin, not that I had much to begin with.
Every morning when we sit down for breakfast, I feel like we have to run inventory on health. The two questions that you know you are going to have to answer are "How did you sleep?" and "How do you feel?". Well, as you might guess, I've become extremely tired of answering the latter. I'm fairly certain that this is the seventh day that I've had this virus and the second entire rotation that it's been present during. Generally, I try to suck it up and hide my frustration but I wasn't having it this morning, my throat was hurting more than normal and I could barely speak. When it came my turn to answer, I was honest and said "I slept well and my body feels great but my throat is killing me and I am really frustrated with it." The guys know where my head is at and they didn't prod anymore, they are just concerned. I'm just lucky that this has been isolated to my throat and hasn't spread to my lungs. As long as it remains this way, I will be able to manage through the pain and it shouldn't affect my performance.
One of our many conversations in the dining tent at C2. The topic is most likely not serious, judging by Geoff's expression. (Photo by Anders)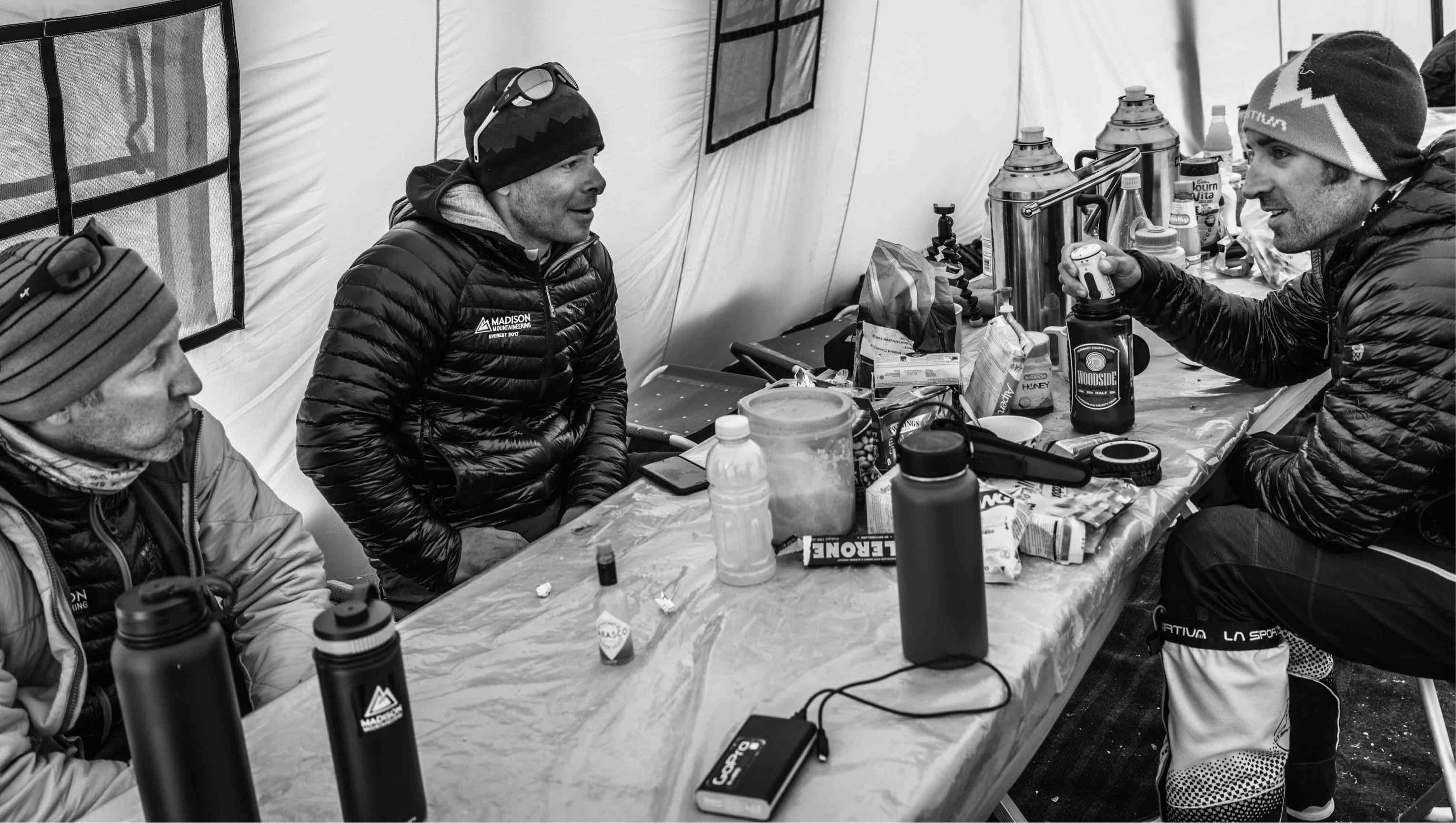 Later that afternoon, we sat down as a team to discuss our plan. The initial plan called for us to move up to C3 tomorrow but with the delays on the line fixing, we decided that it was best to take another rest day at C2 and make our move on the 9th. No one was disappointed because it was something that we had anticipated and another day of rest is always a good thing. We spent the rest of the day lounging and napping, one of my favorite activities at altitude.


Monday, May 8th (Rest Day at Camp 2)
Another night and another morning with a soar throat. It was a bit better than the previous mornings but it remains an annoyance. The fact remains that it is nearly impossible for the body to recover from sickness or injury at 21,000 ft. The lack of oxygen forces the body to prioritize and it generally focuses on basic bodily functions and movement. I have cuts and scrapes that are over a week old and would have been gone within days, had I been at sea level. Oh well, if a soar throat and some scrapes are the only thing that I have to deal with, I'll be fine.
Snowy morning at C2. (Photo by Anders)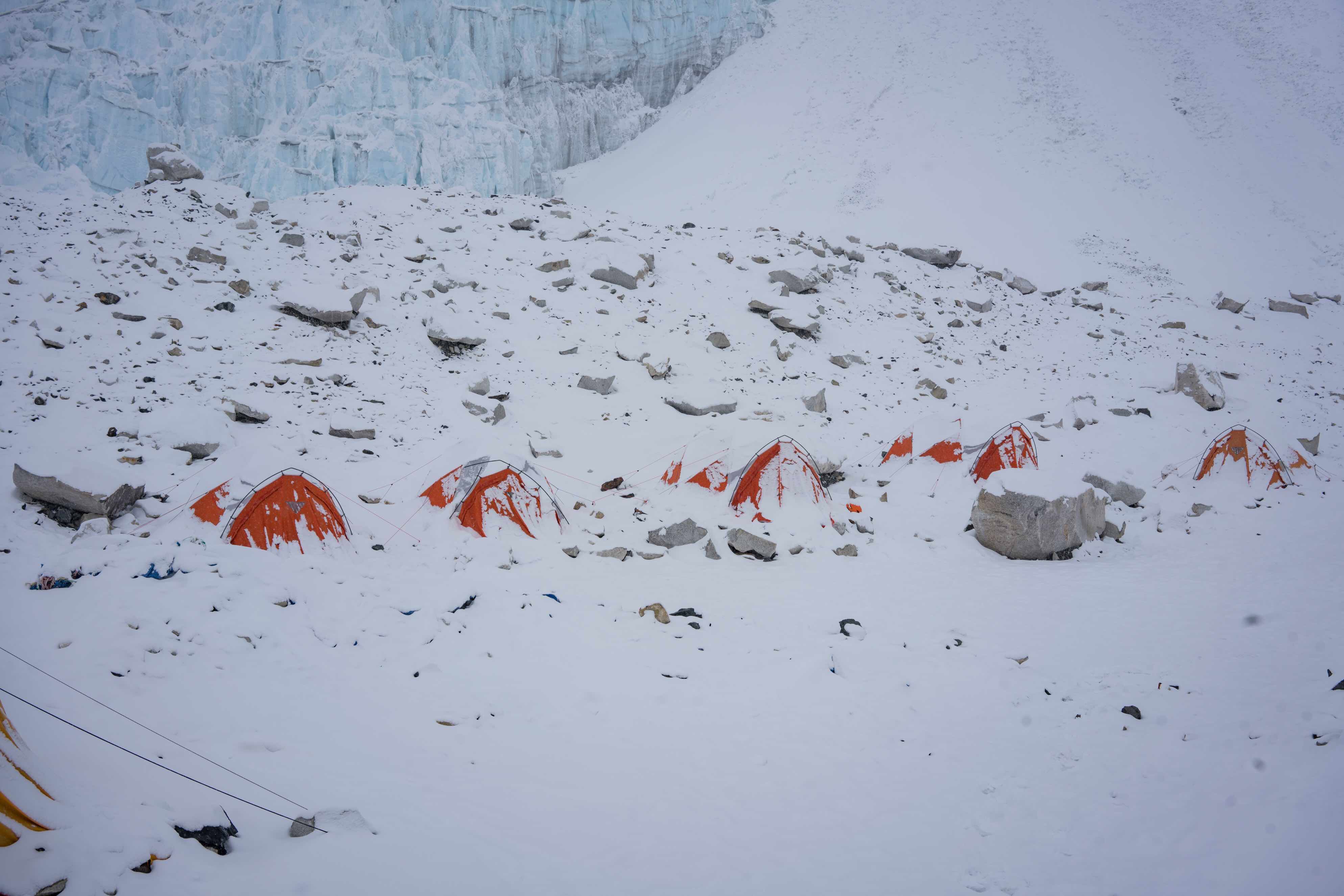 We had a few visitors throughout the day, mainly members of other teams who are on the fast track to summit early. A couple of the leaders from one of the British Expeditions stopped by for tea and we had some good laughs. Their plan is to move up to C3 tomorrow morning with a goal of summiting on the 11th, the same as us. We had all heard that the line fixing was being executed as scheduled and that the Sherpa team had reach the balcony, leaving them about 60% more to finish the following day. This shouldn't be an issue based on the favorable weather forecast for the upcoming days. My best guess was that there were 5-10 teams that had mobilized at C2 for an early summit, which would put our foursome at the very front end of summits for 2017.
After lunch, Geoff and I went to the tent to organize food for the next four days. We filled two Ziplocs for two days moving between camps, C2 to C3 and C3 to C4. This food is almost entirely carbohydrates and consists of trail mix, cookies, candy bars and other simple sugars. We also each filled two smaller bags for our summit attempts, Everest and Lhotse, which consisted of all simple carbohydrates that were easy to consume, such as Gu packets, shot blocks, and candy bars. When it comes to summit food, flavor doesn't really matter but you need to make sure that the food is easy to consume, won't freeze and will provide instant energy.
Dinner was next and we had dal bhat… again. I am sooooooo tired of dal bhat but it is one of the few things that can been cooked sufficiently at 21,000 ft. I forced it down because I need the calories. Luckily for me, I haven't lost my appetite, which is a sign of deteriorating health at altitude. Despite my appetite, I am really starting to shed the weight. My estimate is that I've lost about 15 lbs already because my pants and harness are already starting to slip off of me. I hope we get up this mountain soon because I really want to avoid losing more than 20% of my body weight.
Alright, I need to get some good sleep tonight because I won't have that luxury for the next few days.
Bonus night photo of yesterdays decent to EBC. Anders caught this photo of Brent about to rappel, right after I got off the rope, with Geoff in the foreground.