WARNING: Family members may want to sit down before they begin reading this post…
With our summit push departure set for tomorrow morning, there is something that I need to get off of my chest. I have secured a permit to climb Lhotse and plan to attempt to do so shortly after Everest, weather and health permitting. Lhotse is the fourth tallest mountain in the world and the sister peak to Mount Everest. Less than 700 people have ever summited Lhotse and only 20 individuals have summited both Everest and Lhotse in a 24 hour period. Everest remains my #1 goal but if my body is able, I want to give it my all.
Mom and Dad, I promise to be responsible in my decision to push for a summit of Lhotse and will pull the plug if the weather or my body are not cooperating. Geoff, Anders, Brent and I all secured permits, so we are in this together. We have a strong team but more importantly, we trust one another. Please know that we will be honest with each other. I truly believe that this is one of, if not the strongest teams on the mountain.
The tentative plan will be for us to summit Everest on the morning of the 10th, return to C4 on the South Col (the bridge between Everest and Lhotse), try to take a nap and rehydrate, then push for the summit of Lhotse on the evening of the 10th. We would target a summit of Lhotse on the morning of the 11th, then immediately descend to C2 to recover overnight.
Lhotse (upper left) looking down on C2. The climb to the top of Lhotse can be identified by the snow covered line that points towards the summit at a 45-55 degree angle, it is known as the Lhotse Couloir. This climb begins approximately halfway between Everest C3 and C4 (South Col).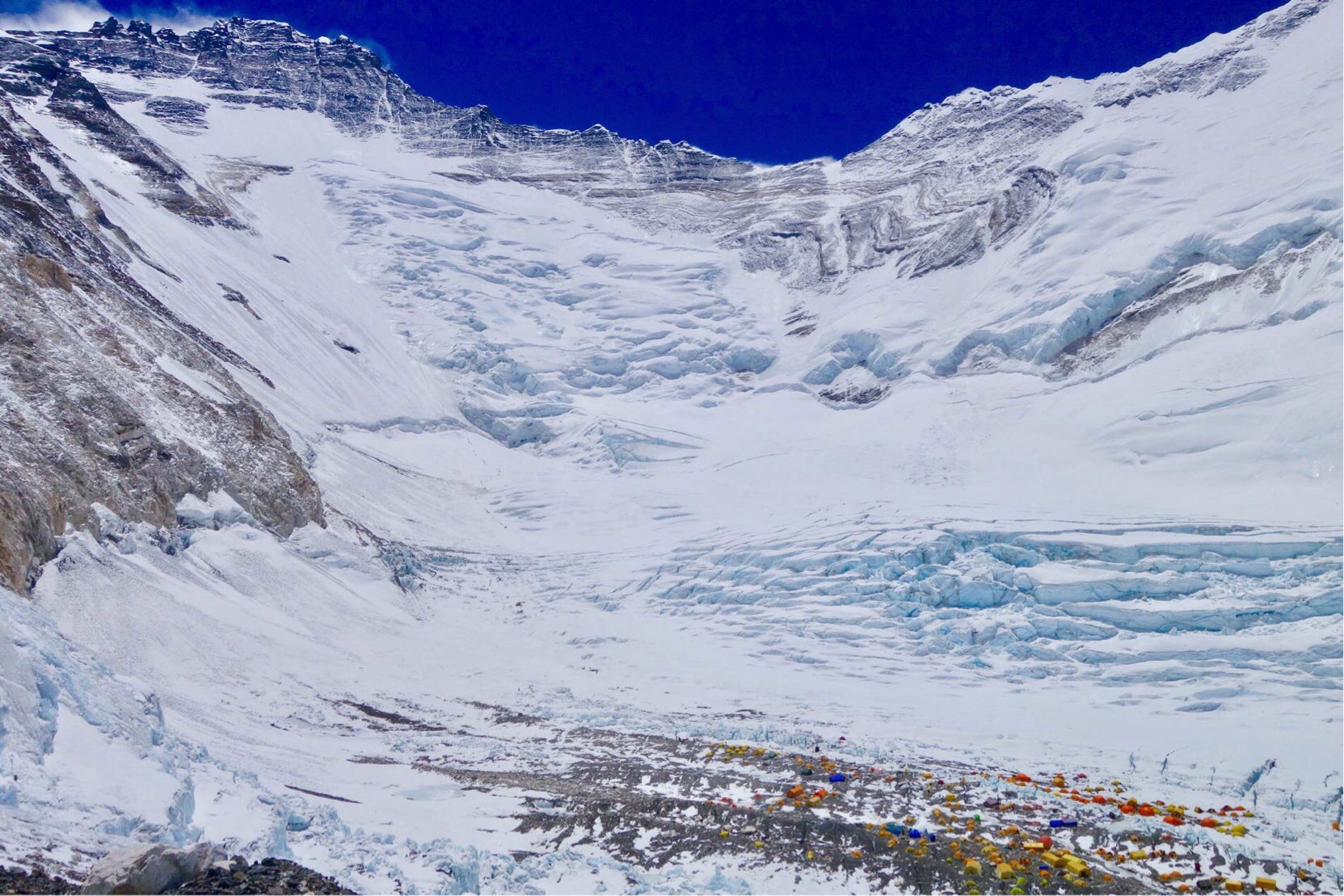 This remains a big "if" because it all depends on weather and how our bodies hold up but I felt obligated to share this with everyone to avoid confusion. I'm sure many of you already think I'm crazy but it would be worse if I waited to tell you until after summiting Everest. I liken it to one of those stressful suspense movies that you hope are over but then they just keep dragging on and on and on. I didn't want to do that to everyone who has shown so much love and support towards me.
The bottom line is that in just over 12 hours, I depart to give Everest my all. If it is God's will, we will be successful and then evaluate whether or not we are fit to attempt Lhotse. Please keep those prayers coming, they mean the world to my team!
PS – Mom, you have no idea how sorry I am to tell you this and cause you additional stress. My only justification is that I believe we can do it and don't want to live with the regret of not trying. I promise to do everything in my power to climb safely. I love you.
-John