It's been a couple days since my descent from the upper mountain and I have yet to provide an account of my summit of Mount Everest. I'm going to skip to the evening before our ascent of the world's tallest peak. For those parents who are having their children follow along, you may want to read the content before allowing them to do so. It was a challenging day and one that I will never forget…
Our speedy ascent from C3 (23,000′) to C4 (25,800′) was in jeopardy as we looked up at the Geneva Spur. The Spur is the large rise of rocks in the saddle that connects the Lhotse Face and the South Col (the saddle between the two mountains) where C4 sits. We looked up at a long line of climbers that were moving at a snails pace. It was 2:30 PM at the time and it would take us two hours to cover a distance that should have taken us only 30 minutes. The climbers that were causing the delay was a Chinese team that was overmatched for the task at hand. As we slowly passed them on the precarious terrain, each one of them looked like they had been to hell and back.
Anders and Brent traversing the Lhotse Face just before reaching the Geneva Spur.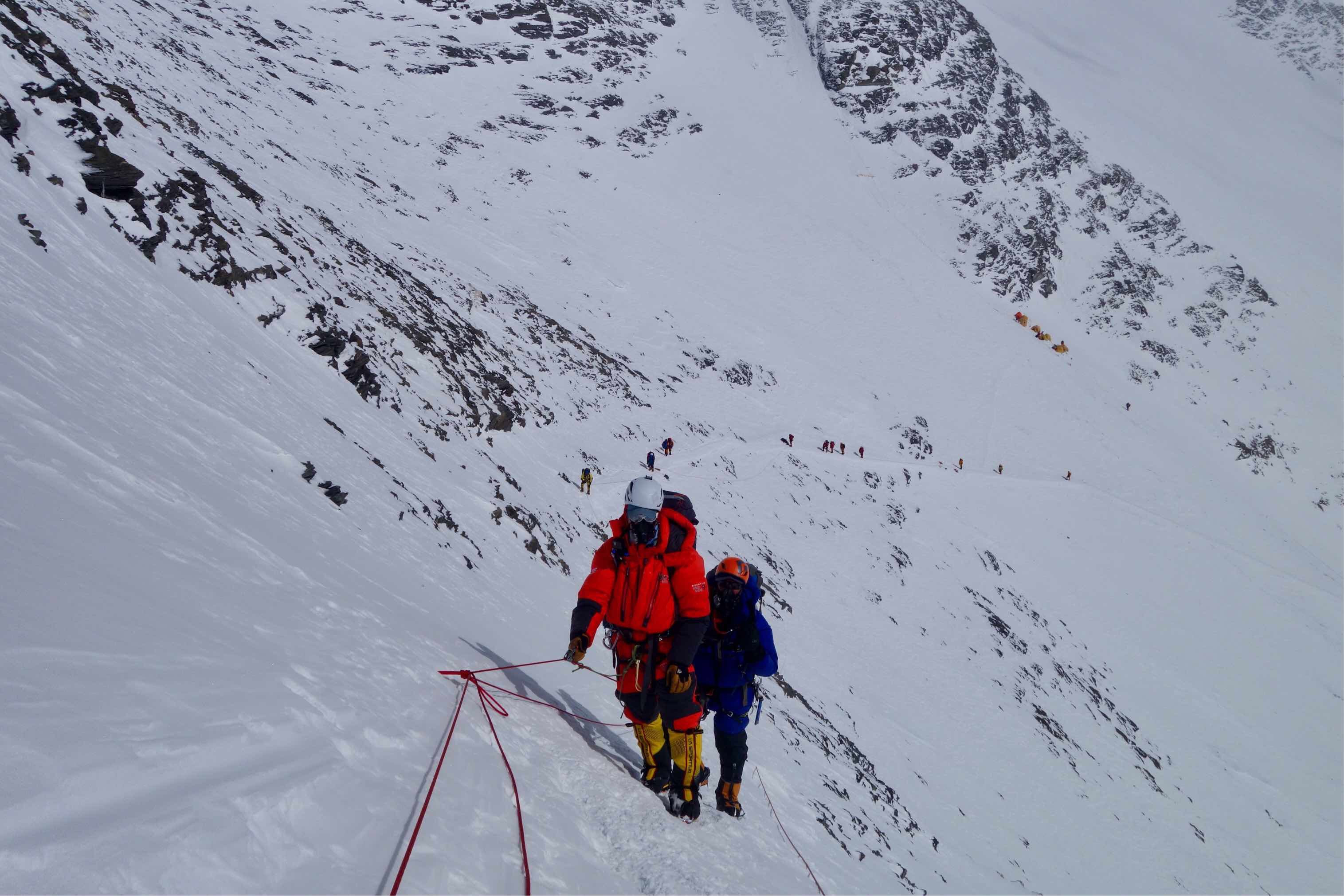 Congestion on he Geneva Spur as Geoff looks back to our team.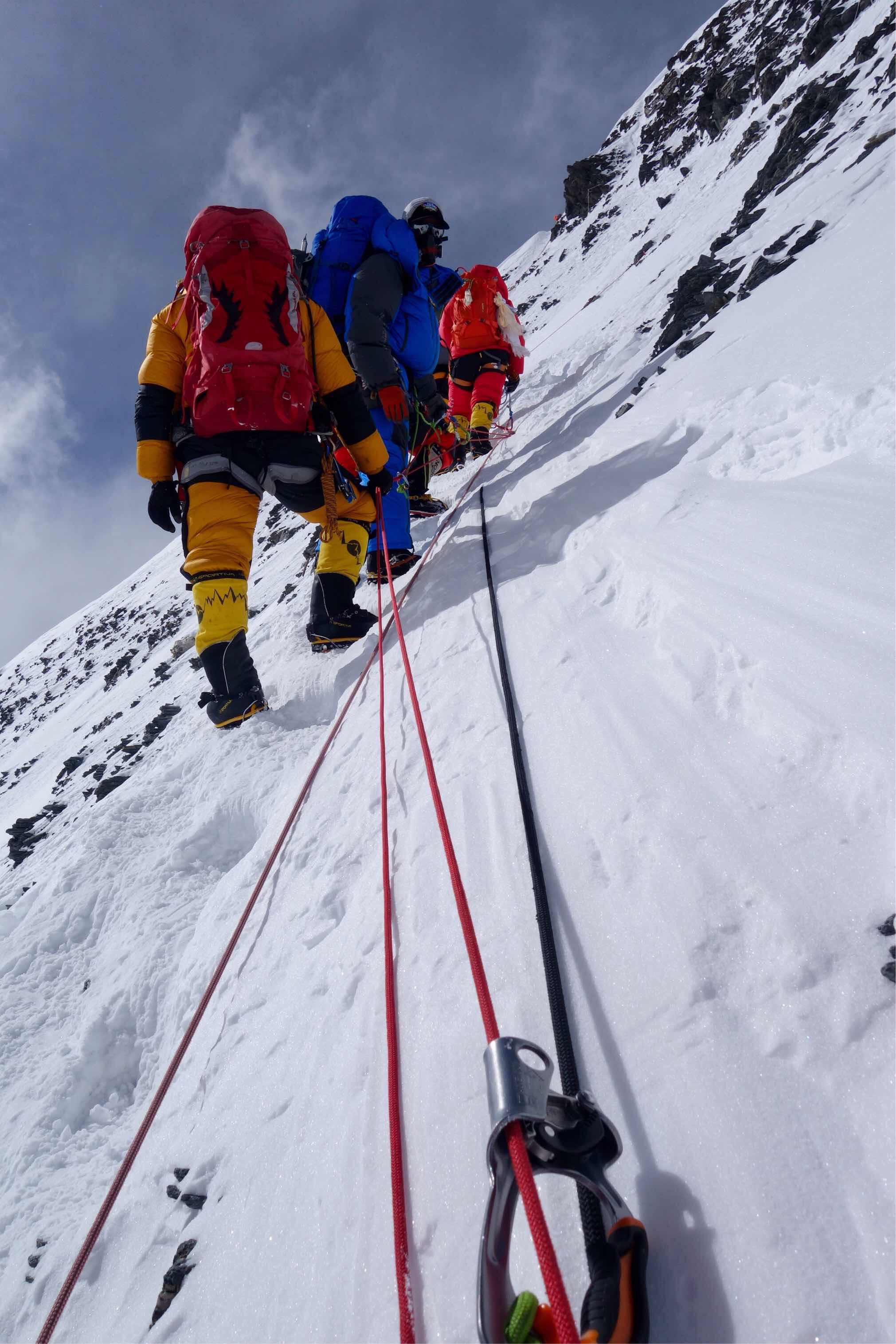 When we finally walked onto the South Col at 4:30 PM, we found a camp that was windswept and looked up at the peak of Everest. We quickly took to searching for our tents, which had supposedly been set up by our Sherpas a day prior. Despite our best efforts, we could not find our tent, every single one was occupied. We continued to search but soon found ourselves cold and increasingly tired from the high altitude. After working with our basecamp team on the radio, we soon located a tent that was ours and found two Sherpas sleeping in it. They had sought refuge in it because they thought that it would not be needed since no one had claimed it so late in the afternoon. They were not with our team and we demanded that they move to another tent so that we could get some rest.
A pile of O2 bottles in the middle of C4 on the South Col.
Looking up from C4 at the foot of the Southeast Ridge of Everest.
Brent, Geoff, Anders and I crawled into the tent as soon as they had moved out and quickly got back on the radio for weather reports. We spent the next 30 minutes getting the other tent set up and discussing our options for our summit attempt. At this point it was 5:30 and we were exhausted. The weather forecasts came in from EBC and it appeared that our best weather window would in fact be the following day, which meant that we would be climbing that evening. My morale was dwindling and I was very apprehensive about the prospect of making a summit attempt on zero sleep, after just climbing almost 3,000 vertical feet.
As a team, we finally decided that we would need to make our attempt that evening. Geoff and I settled into the second tent and I expressed my concerns over pushing through 6,000′ vertical feet in a 24 hour period. Deep down, I knew that it was the correct decision but the exhaustion manifested itself in a rather negative outlook. Geoff understood but we knew what had to be done.
We would begin our push at 11 PM, which left just enough time for us to eat some dehydrated food and melt snow for two liters of water each, which would be all that we had for our summit attempt. By the time that we had eaten and filled our Nalgene bottles it was 8:30 PM. We spent the next couple of hours preparing our packs, prepping our gear and closed our eyes for a brief moment. It was impossible to sleep as the wind beat our tent and the sound of the winds passing over the Col sounded like a freight train. It seemed like only a few minutes had passed when our alarms went off and we sprung into action.
Brent and Anders were ready first, so they set off up the mountain, ahead of Geoff and I. Once we were ready, we began our slow pace through the dark night. The wind burned my eyes and cheeks as we crawled up the hill just outside of C4. We were the last team to break camp for a summit attempt and I looked up at a line of headlamps that stretched across the Southeast Ridge of Mount Everest. It was all that I could see, outside of the few feet ahead of me that were illuminated by my headlamp. I felt as if I were an astronaut in space, alone.
After about a couple hours of climbing, I noticed something to my left, a frozen body. I had come prepared to see death on the mountain but despite this anticipation, it gave me chills. I soon crawled through a chute of rocks and I noticed that the rest of the team had stopped. I will never forget what I saw next… Geoff was knelt down next to a man who was laying on his back. As I drew closer, I saw his face, frozen from exposure and his right hand naked and contorted with his fingers twisted in an unnatural manner. Judging by the rips in his down suit, he had fallen and been unable to recover. His eyes and mouth were frozen open and he moaned in pain. Geoff was scrambling for meds that are used to revive altitude victims as Anders, Brent and I did what we could to support, while also trying to get the man to gain consciousness. It was not enough, the man had been in the cold too long and it was clear that he would soon be dead. We tried to tuck his bare hand into his suit but his body was rigid and he was unresponsive, despite his flailing and moaning. We did everything that we could but knew that it had been too little too late. I looked down and noticed an ice axe that was lying next to him with his name on it.
As we stood next to him, another climber came to us and told us of a disoriented man who was just 50 feet above. We turned our attention to this man, who lay on the steep snow bank and had similar shreds in his down suit. He lay there, pleading for help to get down the mountain. His blonde mustache was frozen into an icicle but he was far more responsive than the man that we had just tried to help. We administered meds to him and urged him to get to his feet but he was unable. As he lay there, we discussed his condition and we knew what had to be done. Anders, Brent, Geoff and I decided that we had to take him down to C4, knowing full well that we would forego our summit of Everest. Geoff and Anders rigged a rope off the main fixed line, while Brent and I began to drag the man down the mountain. It was exhausting as we pushed and pulled him down, while Geoff let rope out. Within minutes of beginning our descent, one of our Sherpa's Tashi, had climbed back down from the Balcony, a couple hundred feet above us. Tashi said that he would take the climber down and Brent agreed to assist him. Despite our apprehension, Brent encouraged Anders, Geoff and I to continue on to the summit and we eventually agreed to do so, knowing that the two of them would be able to get him down to a tent.
Neither man had an oxygen mask or canister with him. It dawned on me that both men had probably climbed on the 20th and descended late in the day, becoming disoriented from lack of oxygen and exhaustion. Being the last team to depart that evening, I knew that teams had begun ascending Everest at around 7 PM and that every single one of them had passed these men, fixated on the opportunity to summit. I felt nauseous knowing that so many had passed these men and had been unwilling to help them. One was too far gone to help, while the other was hanging onto his life by a thread. Perhaps, if we had arrived a couple hours earlier, we would have been able to save both of them. This was a moment in my life when I lost a little faith in humanity…
As the three of us pushed upward, conversation was limited to occasionally checking on one another to make sure that we were doing OK. I felt sick to my stomach and could not get the image of the man writhing on the ground with his face frozen from exposure to the elements. The darkness of the night made for a lonely ascent and I eagerly awaited the sunrise. When we finally reached the balcony, the sun slowly peeked over the horizon and we scrambled for cached O2 canisters. As we changed out our O2, we didn't speak much. We were all in shock and our minds remained with the man who was being carried down by Brent and Tashi. Geoff did his best to get us to regain our focus but he knew that it was a feeble attempt. With our O2 replenished, we pushed up the ridge. At this point, Siddhi and Anders were out front with Geoff and I following. The sun helped to warm us, after our bodies had cooled during the two hours that we had spent attempting to rescue these two men. I wish I could say that the sunlight on the face of Everest brought me some happiness but I was too exhausted from a lack of sleep and felt sickened by what we had just experienced. We pushed on, digging deep for energy…
The Summit Team: Me (bottom left), Anders (top left), Siddhi (top right), and Geoff (bottom right).
Climbing towards the South Summit after switching out O2 canisters.

Taking a rest at an anchor just before reaching the South Summit.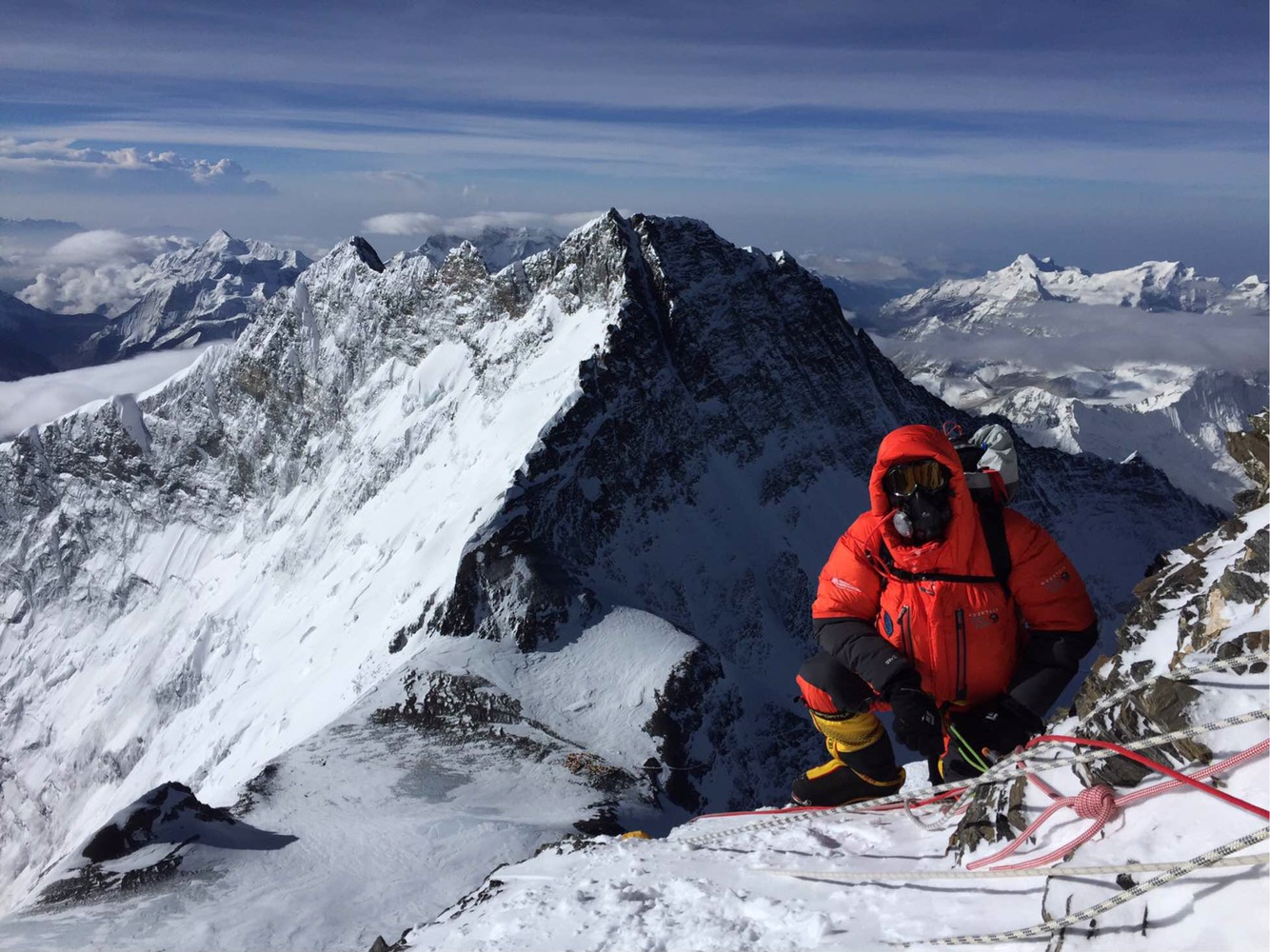 After a few hours, we had ascended the ridge and reached the South Summit, which lies at 28,500′. Before us was the famous Hillary Step, congested from climbers trying to weave through one another, some descending and others who were still ascending. Anders and Siddhi had maneuvered through some of the traffic, leaving Geoff and I behind. Geoff and I briefly became separated due to some climbers who were descending, causing me to wait to pass.
Geoff was about 150 feet ahead of me when I began climbing through the section of rock before the Hillary Step. This was the point when I realized that something was wrong. My footwork on the rock was sloppy and I couldn't seem to gain my footing, despite my best efforts. I felt drunk and seemed to be losing consciousness. I was scared and didn't know what was happening to me. When I was able to gain enough composure, I braced myself on a rock and checked my O2 gage, which read zero. I had been climbing at 28,500′ without oxygen and hadn't heard the noise of my canister running out because of the loud winds.
Geoff had been watching as I uncharacteristically struggled with my normally sound footwork. I waved him over and he rushed to my side. As soon as I told him that I had run out of O2, he quickly removed his own canister and attached it to my regulator. This was one of the most selfless acts that I had ever witnessed and I could hardly believe as I regained my composure. After a couple of minutes, I came to and was able to begin moving again. Geoff was now out of O2 and we had to find Siddhi, who was carrying the extra canister. When we had sent Tashi down, he had gone with an extra O2 canister, so the only person carrying extra was Siddhi, who was already near the summit with Anders.
The Summit Ridge of Mount Everest. Notice climbers nearing the top.

Geoff and I moved slowly across the extremely exposed summit ridge. I was still somewhat woozy from overexerting myself without supplemental oxygen, so Geoff moved forward to try to find Siddhi as quickly as possible. Soon he came into sight, as he had come back to check on us. We quickly placed a fresh canister in Geoff's pack and we took a few moments to catch our breath, before pushing to the summit just ahead.
At 10:45 AM, Geoff and I, side by side, walked onto the summit of Mount Everest. I shed a few tears of happiness and relief as we looked at the prayer flags that adorned the highest point in the world. I thought of the struggles of the past 24 hours but soon found myself reflecting on the events in my life that had led up to this point. I thought of my Mom and her unwavering love and support throughout my life. I thought of my Dad and his influence in helping me discover my passion for climbing. I knew that they were with me in spirit and my soul was warmed knowing that they were there with me, as well as a true friend who would risk his own life for me.
The Summit of Mount Everest.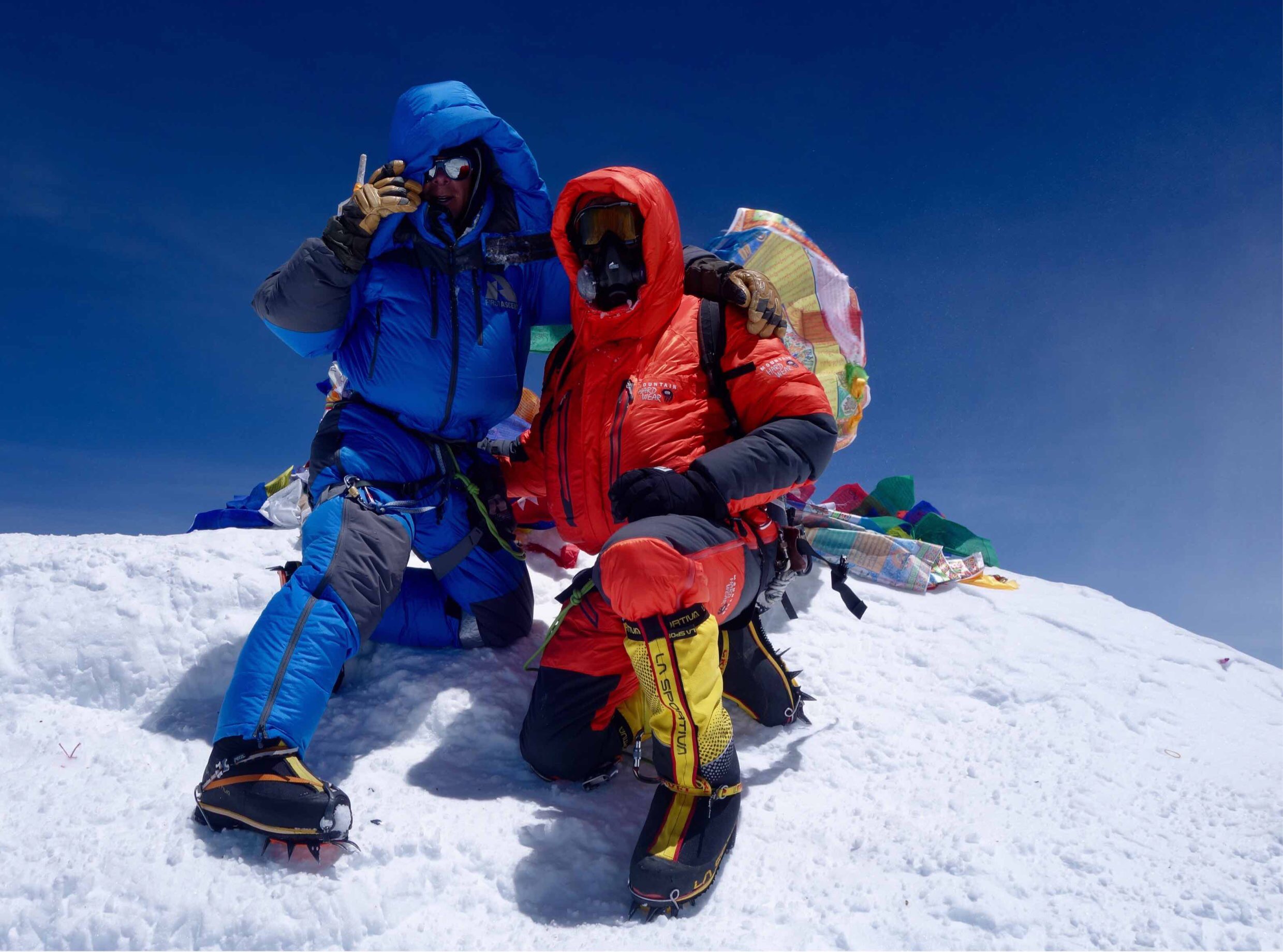 After five minutes, we were in a hurry to descend.

Anders had already begun to descend but Geoff, Siddhi and I spent about five minutes on the summit, taking a few pictures before we decided it was time to descend. It was late in the day and we needed to move quickly before afternoon weather moved in. Still groggy from my incident on the South Summit, I focused on every step to move quickly and safely down the mountain. Unlike our ascent, the descent was smooth and without issue.
It took us four hours to make our descent to the South Col and throughout the entire time my mind wandered from thoughts of our accomplishment to the horrors that we had witnessed just hours earlier. I was exhausted from the effort and lack of sleep but found comfort in strength in my amazing team. As C4 came into view, we passed the body of the man that we had tried so hard to save. He lay on his back, frozen, while other descending climbers stopped to look. I couldn't look at him but saw the ice axe with his name and I said a prayer for him and his family.
As we walked into C4 and the other members of our team surrounded us with hugs and congratulations, I once again found my mind wandering. While my summit of Mount Everest had included feelings of elation for accomplishing what I had worked so hard to do, I was disheartened. The man that Brent had carried down would die in a tent 24 hours later, after hours and hours of medical attention. I couldn't help but wonder what had gone through the minds of all the people who had passed these two men on their way to the summit. What would posses someone to find more value in a summit of a pile of rocks than in helping to save the life of another human being? Why did it take the last team on the mountain to do something? I'm not sure that I will ever understand why but I do know that there is hope in the world, as long as there are people like Anders, Brent and Geoff. Life is far more valuable than a summit of Mount Everest and these brothers of mine are shining examples of the character that we should strive to uphold.
Descending to the South Col.

My summit of Mount Everest will forever be a bittersweet memory of one of the greatest accomplishments of my life but also the challenges that humanity faces. I hope that you will remember my story, always follow your dreams, and never turn a blind eye to those in need.
-John