Due to our wifi challenges a couple days ago, I am going to provide a recap on the past three days. I hope you don't mind and if you do, please complain to the Nepali guys that set up the satellite receiver in a plastic bucket that is weighed down by rocks, so that they can charge me $50/gigabyte. If anyone is wondering, I have already used two gigabytes and probably won't make it through this post without cracking into a third. Don't worry, you guys are worth it 😉
Without further ado, here's what has happened over the weekend at EBC…
Friday, April 14th: Training at EBC
I didn't wake up until 7:55, five minute before breakfast, and had a splitting headache, again. I am not overly concerned about it because it is normal to have headaches when you wake up at altitude, while you are still acclimatizing to the elevation at which you are sleeping. It occurs because your respiratory rate slows when you hit REM and you are basically slowly depriving your brain of oxygen. Sounds fun, right? Anyway, I am performing well during the day and moving extremely well, which is the most important part, but I can't help being frustrated with the fact that I have to drink a gallon of coffee each morning before the headache goes away.
After breakfast, I took a quick walk over the the EBC helipad to say goodbye to a few of the trekkers who had joined us on our hike. We watched multiple helicopters come and go, then said goodbye to the trekkers and Sid, one of the guides who is escorting them home before he returns to EBC. Sid has to be one of the funniest people that we have ever met. Before Sid left, we reminded him of the items that we had asked him to bring back to EBC: golf clubs, golf balls, costumes, laser tag gear, etc. We stressed that these items were essential for morale. ​
Helicopter landing at EBC.
​
One of the amazing porters that carry gear to and from EBC. You can hardly spot his legs under that load. These guys are 100x's tougher than me.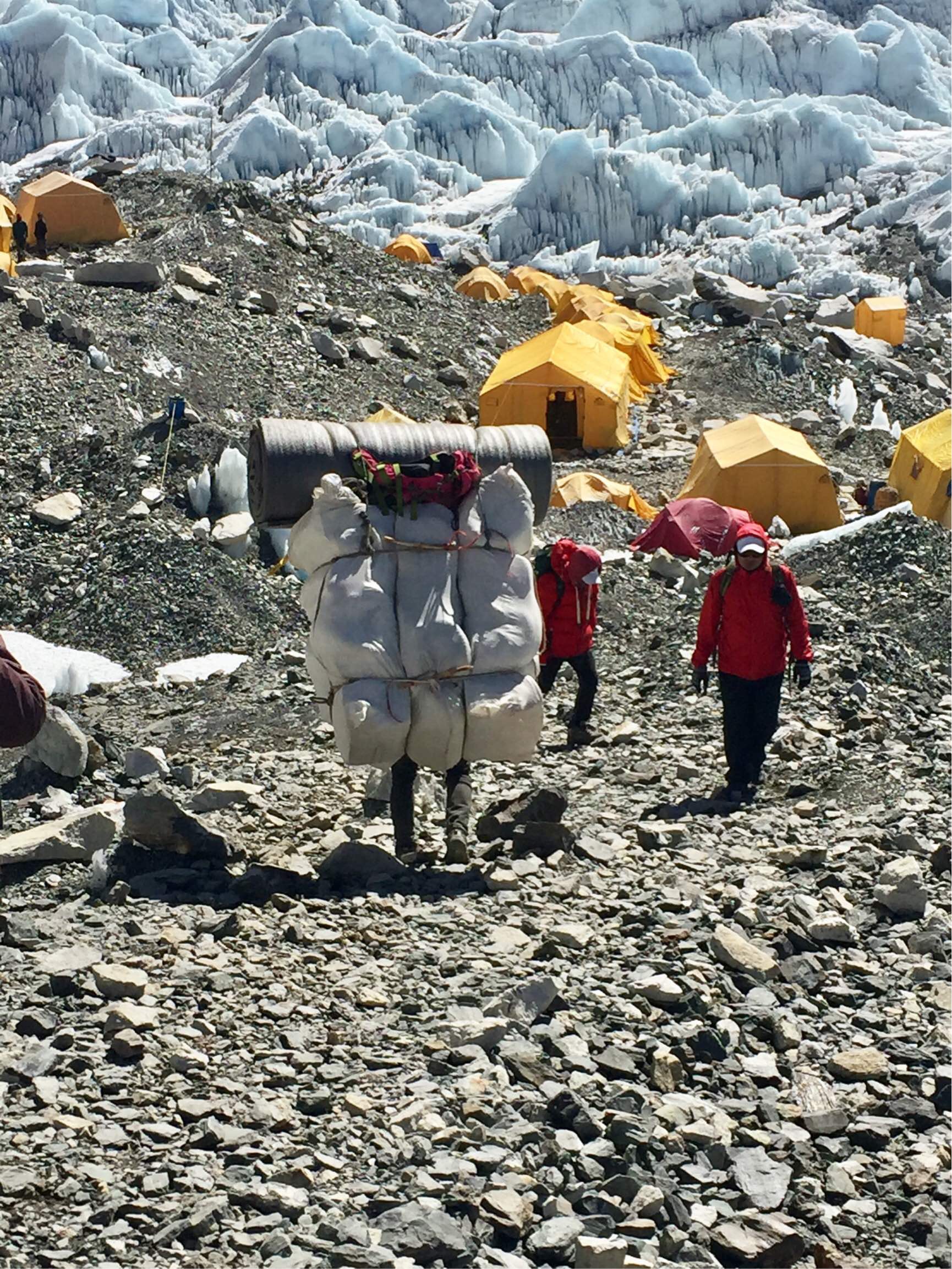 After getting back to camp, we hung out around the tents until it was time for lunch, which was delicious. I retreated back to my tent because I felt compelled to write a brief message that I will share with you tomorrow morning (your Easter evening). As soon as I was done with my writing, Dad and I spent some time together while sorting through his stuff because he was scheduled to depart the following day. It was bittersweet because we have had such an incredible trip but it won't be the same without him.
Soon it was time for dinner and as dinner was being served, Dad nudged me and asked if it was OK that he say "thank you" to the group. Of course I said yes and he said thank you to the entire team, all of which were very touched by the gesture. It was another of those proud son moments that have become commonplace on this trip. To see my Dad living his dream and seeing the team moved by his comments, filled my heart. Garrett stood up and thanked Dad shortly thereafter and said that Dad got to pick the movie because he was the guest of honor for the night. I can't believe that I'm going to say this but I think the entire team is truly going to miss him when he leaves tomorrow. He is definitely one of the team's favorite members.
When I finally made it to my cozy tent, I popped a Diamox to help increase my resting respiratory rate and hopefully prevent any headaches. I guess we will see what tomorrow brings…
Saturday, April 15th: Dad's Departure
No headache for me! As I got out of bed, I was psyched to be feeling normal but quickly realized that Dad was leaving today. The thought hung over me like a dark cloud as we ate breakfast and everyone started saying goodbye to him. I knew that it would be an adventure of a lifetime for us but I could have never imagined how moved I would have been by the end. For anyone that knows my Dad and I, you know that we love each other but you also know that we butt heads often. Well, we didn't on this trip and we shared so many laughs and a few tears too. I'm truly proud of all that he has accomplished.
Dad walked into the middle of camp with his backpack and Phurba Sherpa called one of the porters to grab his duffel bag. The team gathered around and they exchanged handshakes and hugs. Geoff and I were the last ones and he turned to me and said something that I will never forget, "I am so proud of you. You have worked so damn hard for this and I know that you will give it your all. I love you." There were a few tears.
Dad waving goodbye as he sets out on his return hike. He will be missed!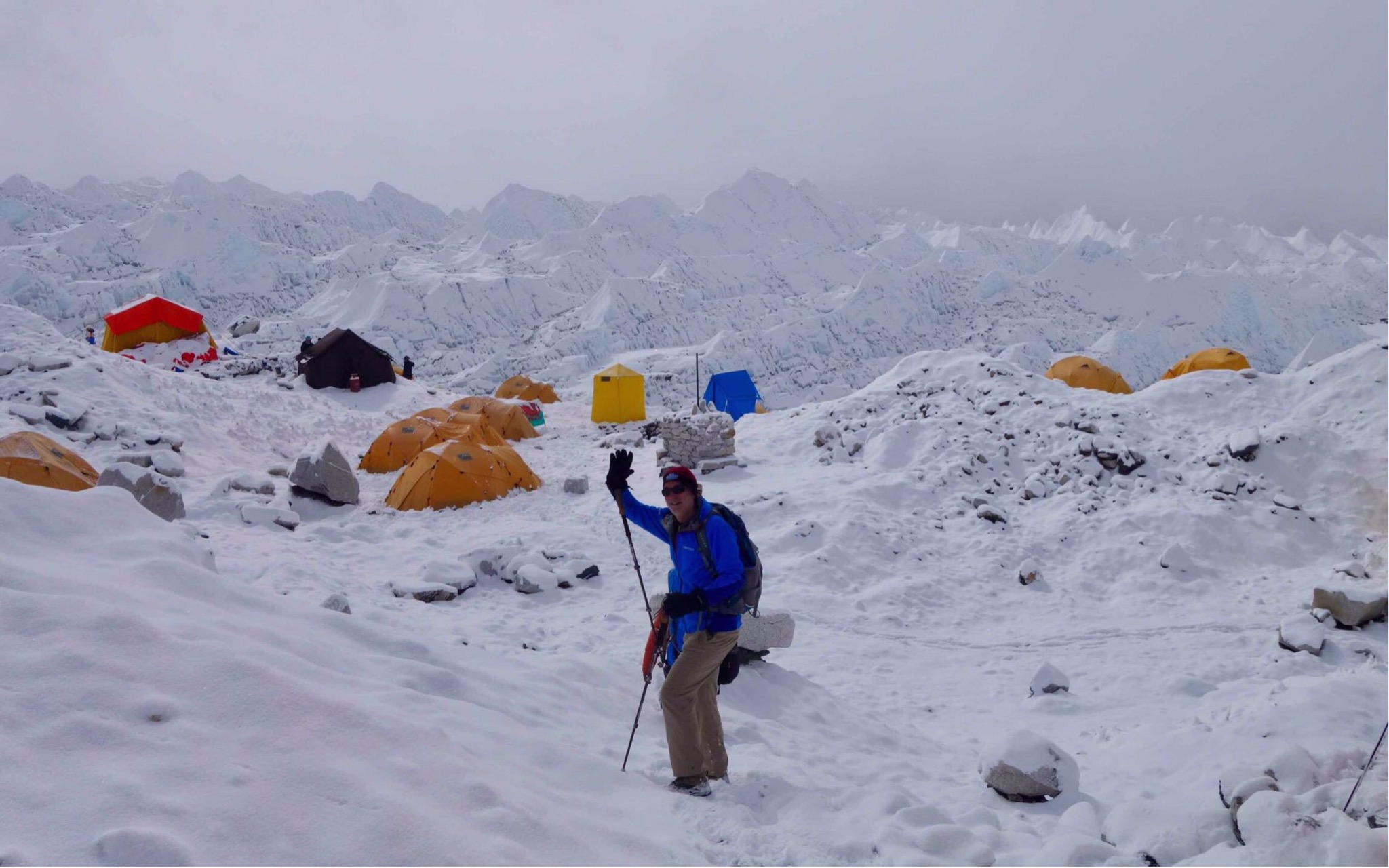 The rest of the day was a little muted after my emotional morning but I slogged my way through some team training exercises. One highlight that I have to mention is that we were joined by a special guest at lunch… Ueli Steck!!!! I know that probably doesn't mean much to the people that are reading this post but it does to me. Ueli Steck is one of, if not the best, alpine climber in the world right now. He is a recipient of the Piolet d' Or, which is an award given to the climber with the best ascent of each year, think "Best Actor Award". He is staying at EBC and knows a few of the climbers on our team, so he decided to join us. Despite his accomplishments, he didn't once speak about them, he nonchalantly said that he was going to "give a couple peaks a try", which was his way of saying that he plans on attempting to solo Everest, Lhotse and Nuptse without oxygen… no big deal.
I guess Ueli's visit was a good consolation prize after Dad began his trek home. The rest of the day was uneventful, except for the weather. We had a lot of snow, followed by thunder and lightning, and lots of avalanches breaking on surrounding peaks throughout the night. It was a good night for ear plugs…
Sunday, April 16th: Hike onto the Lower Khumbu Icefall
I decided to take another Diamox to help my sleep and speed acclimatization, and was rewarded with the best sleep in a week! I woke up feeling much better and reenergized (the coffee-filled thermos that was next to my sleeping bag might have had something to do with it too). I was excited to horse around in the Khumbu Icefall, which is probably not a good way to describe climbing in a very dangerous area that is prone to avalanches.
While the rest of the team went back to the lower glacier for more training, Anders, Brent, Geoff and I set off to climb up into the Khumbu Icefall, which lies behind EBC, and get a feel for the terrain that we would be dealing with in a few days on our first rotation. Don't worry if you don't know what a rotation is, I will explain it in more detail in a couple days but for now, just know that it is a handful of days that we climb up the mountain to acclimatize before returning to EBC to rest. Anyway, we gained about 700-800 ft as we cut between seracs (giant ice towers), climbed up fixed lines, and traversed ledges. As we were climbing up we saw an avalanche break on one of the nearby peaks and Brent told us that was the reason that no one climbs in that area.
Up the Khumbu Icefall (Brent, Me, Anders)…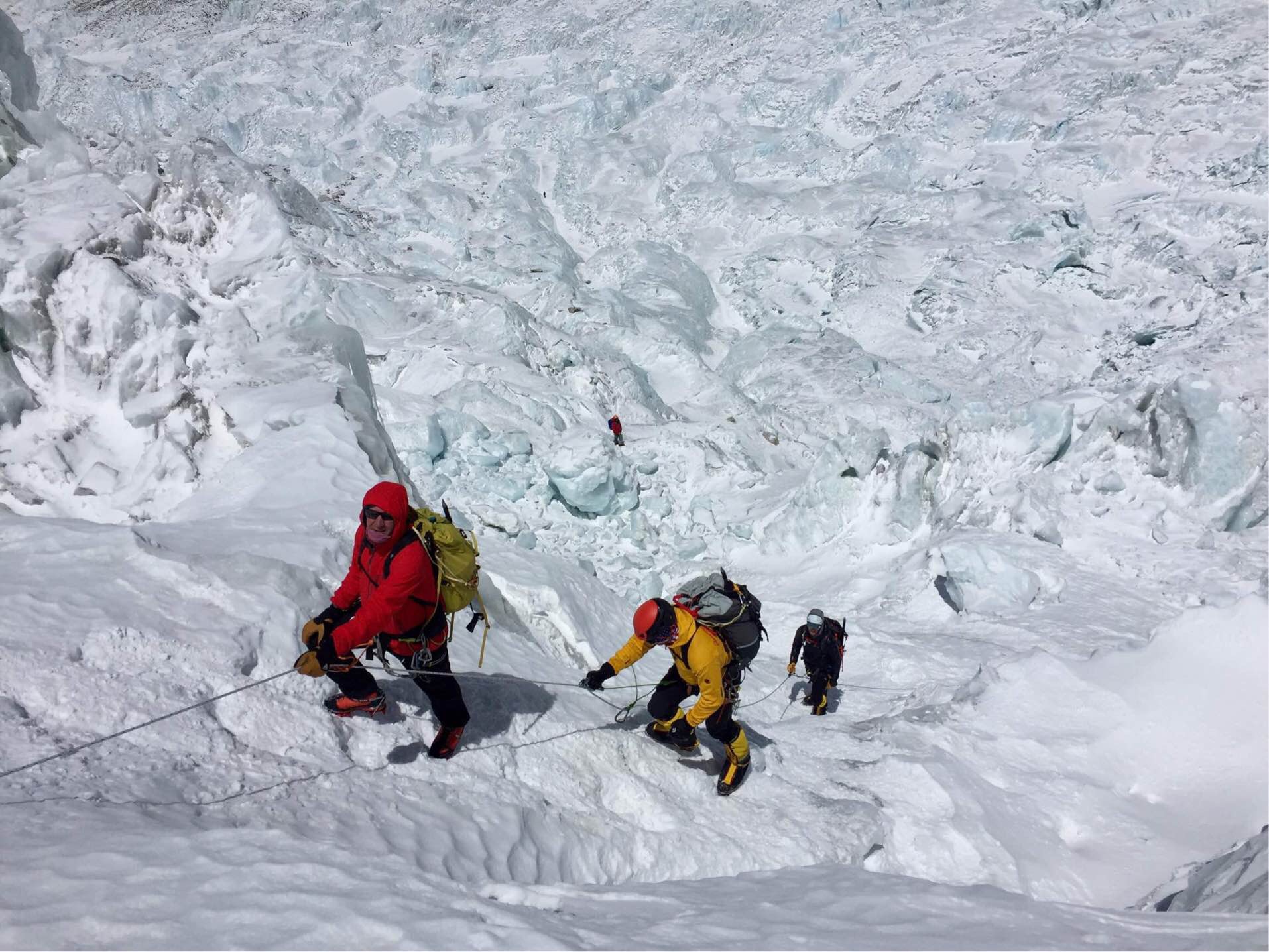 … and down.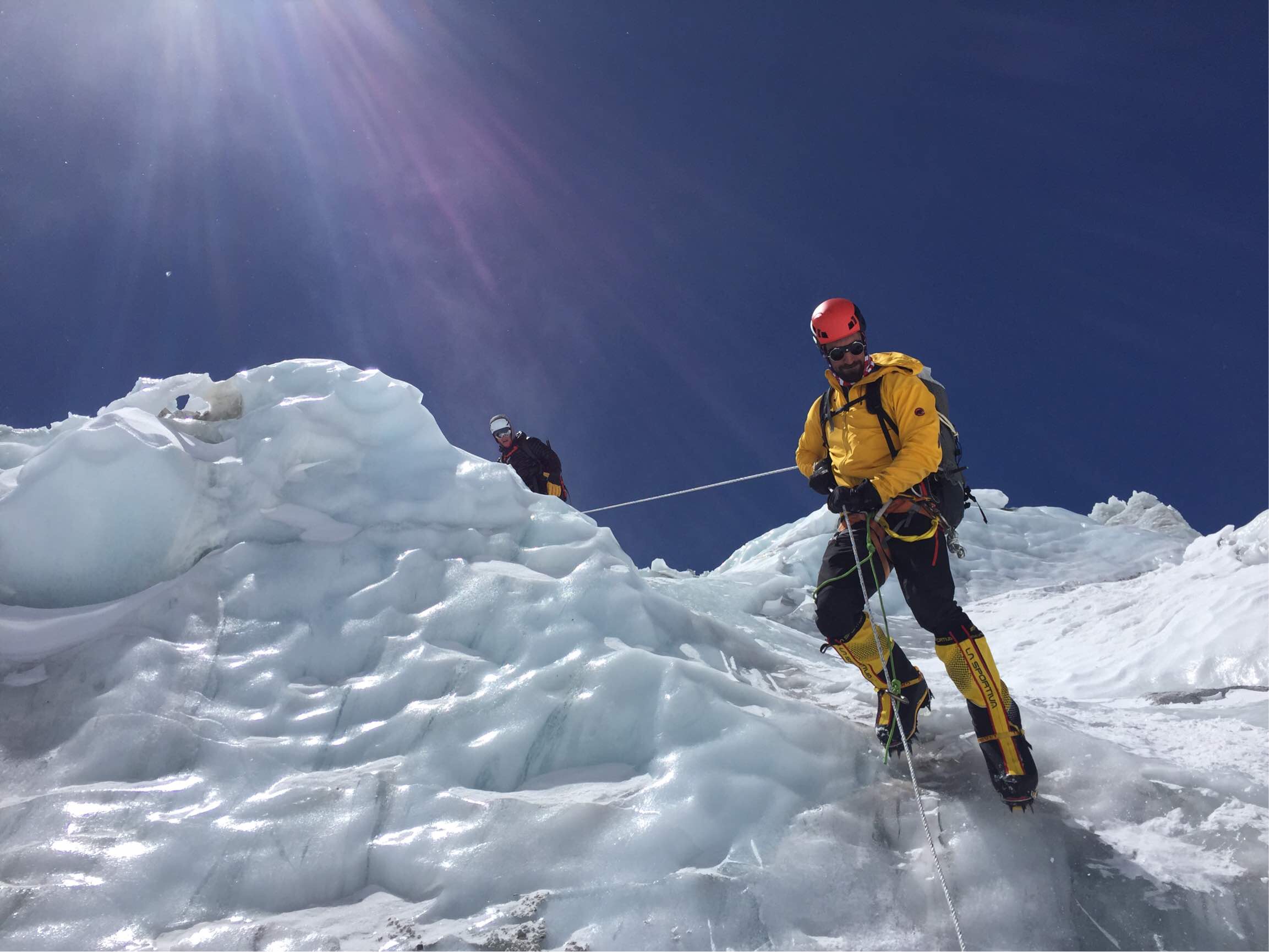 Avalanche!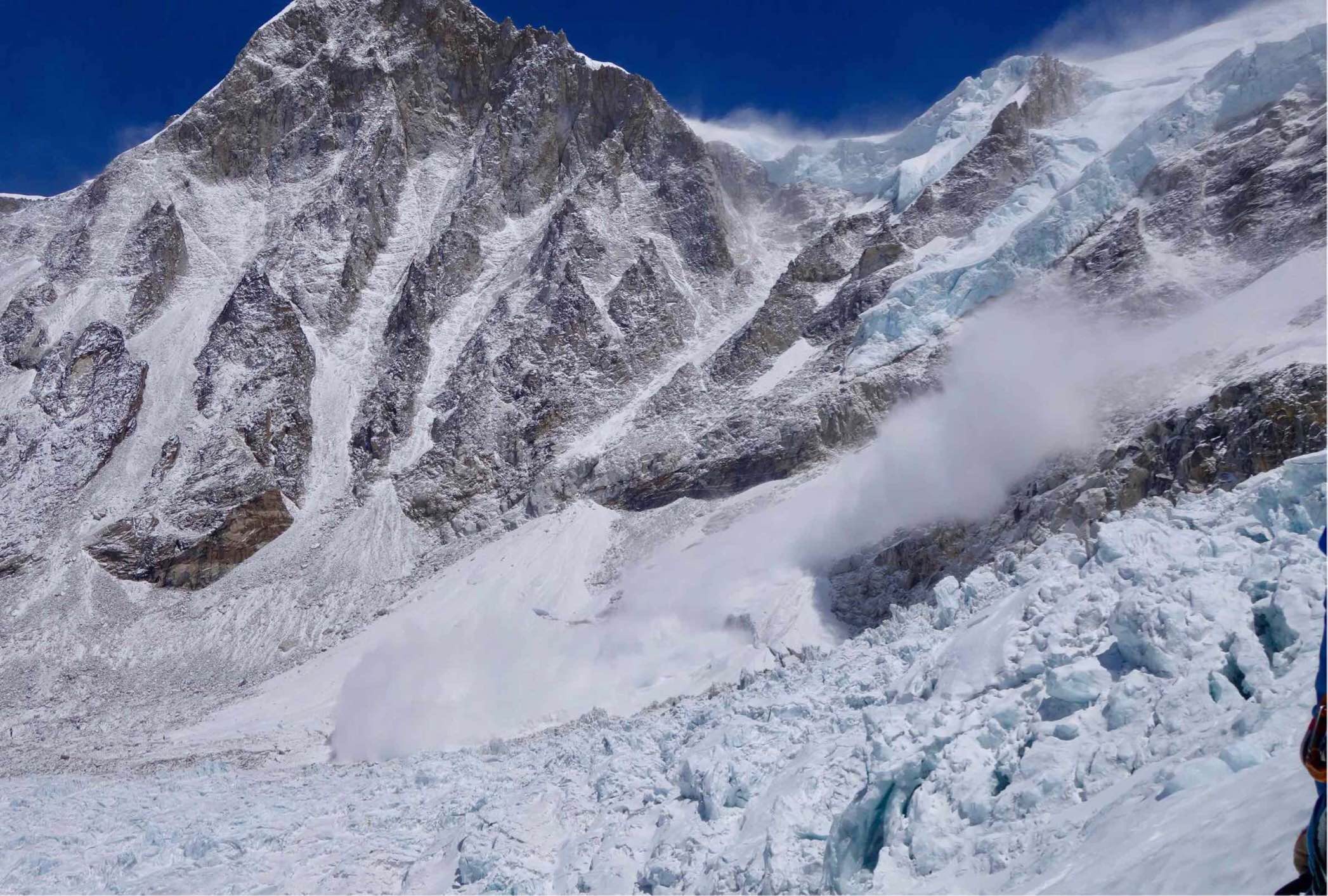 We had a blast! There is never a dull moment between the four of us because everyone is always a target for heckling. I like to think that the banter keeps us sharp as the oxygen deprived air attempts to dull our cognitive abilities. Sorry for being honest, Mom!
My Team, the best. (Me, Geoff, Brent, Anders, Randy)
We hiked back out, had lunch and hung out for a bit, until someone mentioned ice climbing on the lower glacier. I should mention that I had been lobbying for ice climbing for several days now but had been shot down. Luckily for me, I am persistent and wore them down like waves on a rocky shore. The ice was not ideal and it was much harder to ice climb at 17,200 ft than at 5,000 ft but it was still great.
Climbing with one ice axe and no rope… a no-no but a lot of fun.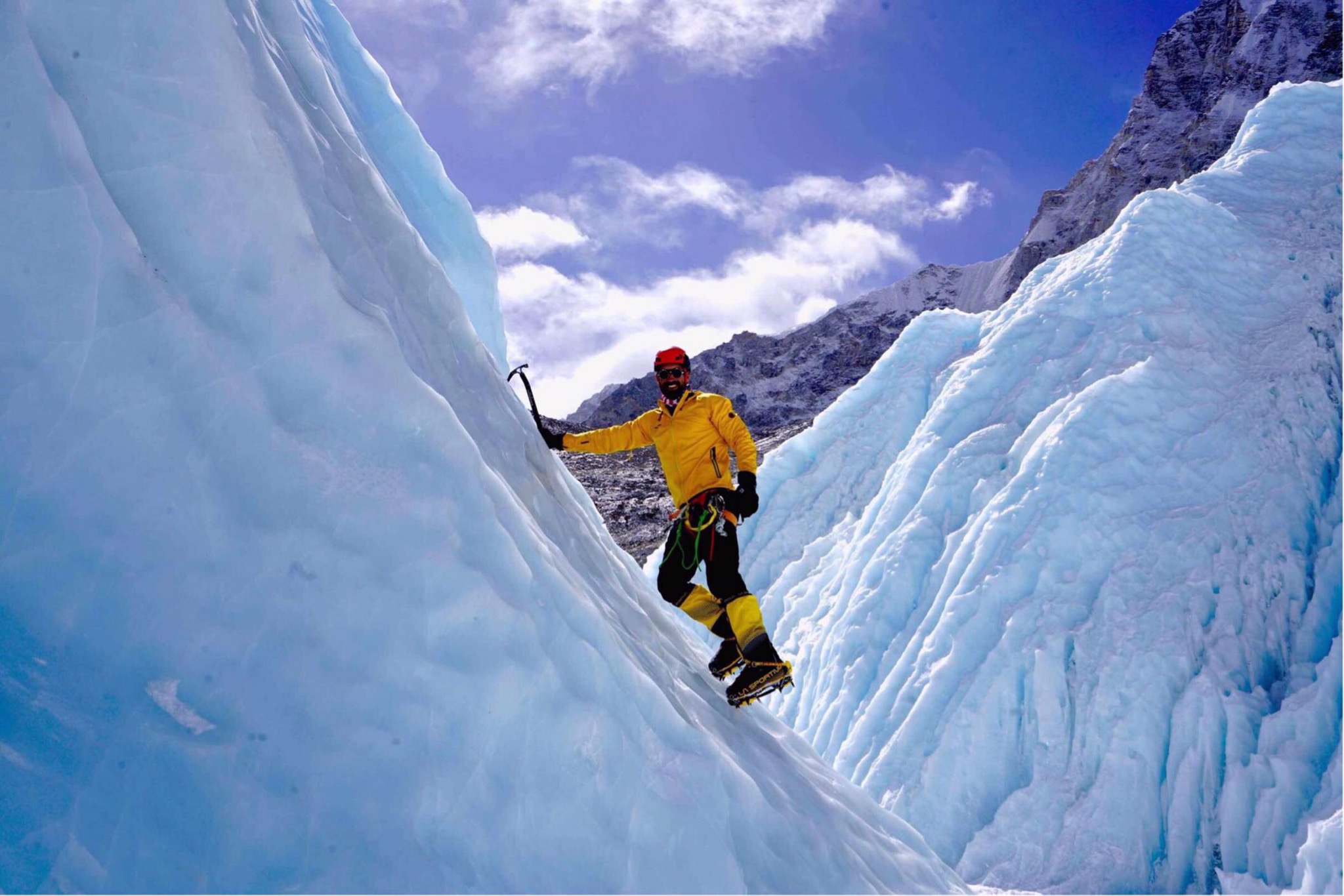 Topping out!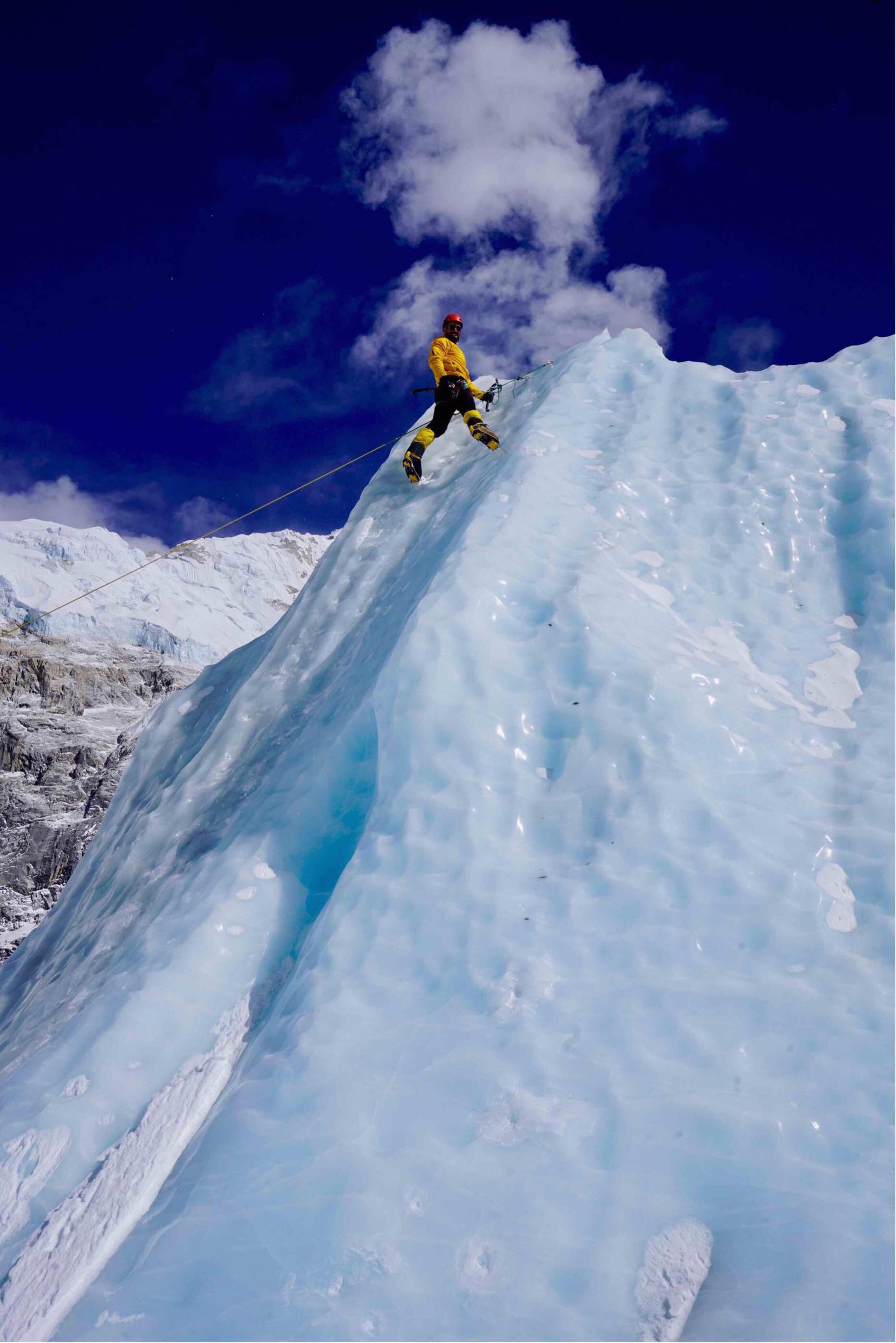 Geoff and I retreated to our tents to watch an episode of "Archer" and then headed down for dinner. The night was wrapped up with a team viewing of "Dodgeball" and now I'm in my tent finishing up this message to you.
And most importantly, an Easter Message…
I hope everyone is enjoying a wonderful Easter, celebrating the resurrection with your loved ones. Despite laying in a tent in sub-freezing temps as I hear avalanches break, I feel happiness in knowing that each and everyone of you are with me in spirit. This is the first Easter in a long time that I have not been with loved ones but all of your kind messages of love and support more than make up for the distance. Thank you, all!
Happy Easter!