We have spent the last two days at EBC, while we rest up for our next summit push. At this point, it is a waiting game and I'm doing my best to practice patience. Below are my journal entries during this time…

Wednesday, May 10th (Rest Day at EBC)
Wow, what a bittersweet way to wake up. I slept like a rock and woke up feeling refreshed in the thick air (funny that 17,200 ft provides what I now consider to be thick air, even though it's only about 55% of sea level) but I soon realized that it was the same day that I was supposed to be moving to C4. Despite my disappointment at not making our planned summit push, I felt more at peace with the fact that we had moved down. The frustration has morphed into acceptance and a new found excitement for our next opportunity to head up the mountain. However, I doubt I'll be quite that enthusiastic the morning that we have to head back through that damn Icefall.
With the entire team back in camp, most of the discussion centered around the confusion that had occurred higher on the mountain. The rest of our team had received tidbits of information but were not privy to the actual drama that had occurred the previous day. At this point, I just explained the frustrating situation and had accepted the fact that I should be treating this as spilled milk.
If I needed to find an immediate silver lining, it was that our meals are much better than at C2 and I am not forced to stomach dal bhat with rock hard chunks of chicken. I should mention that our head cook has changed since our departure from EBC just a few days earlier. Our original beloved chef from England, Ant, had also come down with a viral infection, causing him to cough uncontrollably, and had broken two ribs in the process. He had been helicoptered to Kathmandu, diagnosed with broken ribs, and was now on his way home to England. Not only was this a disappointment because of his amazing meals but we will also miss his awesome personality.
Our team spent the majority of our day catching up in the dining tent, after being separated for so many days. The rest of the group was excited about the prospect of climbing with us for the summit push but I didn't have the heart to tell them that we were still planning on departing early in an attempt to be one of the first teams to summit. Right now, it looks like we will make our next summit push on the morning of the 12th or the morning of the 13th, if we decide to skip a rest day at C2 to take advantage of more time at EBC. Of course, I will keep everyone posted as we hone in on a final decision.
Thursday, May 11th (Rest Day at EBC)
Today was supposed to be the day that we were going to attempt to summit Lhotse, if everything had worked out as planned, but instead we are at EBC, waiting patiently. I guess "patiently" would be a little generous because we are actually chomping at the bit to get moving again. Our days consist of sport eating, tinkering with gear, checking weather reports, and constantly asking when the lines will finally be fixed on the summit ridge. At this point, I have my gear for my next summit push lined up inside my tent and I could be ready to roll within half an hour.
So where do we stand at this point? The lines on the summit ridge have yet to be fixed and we do not yet have a definitive date as to when they will be completed. Weather is a bit of a moot point until the lines are fixed but it appears that there may be a window towards the middle of next week or early the following week. However, the weather reports that we have received are a bit contradictory, so we will need to give them a little more time to settle.
Sunset over the Madison Mountaineering Camp at EBC.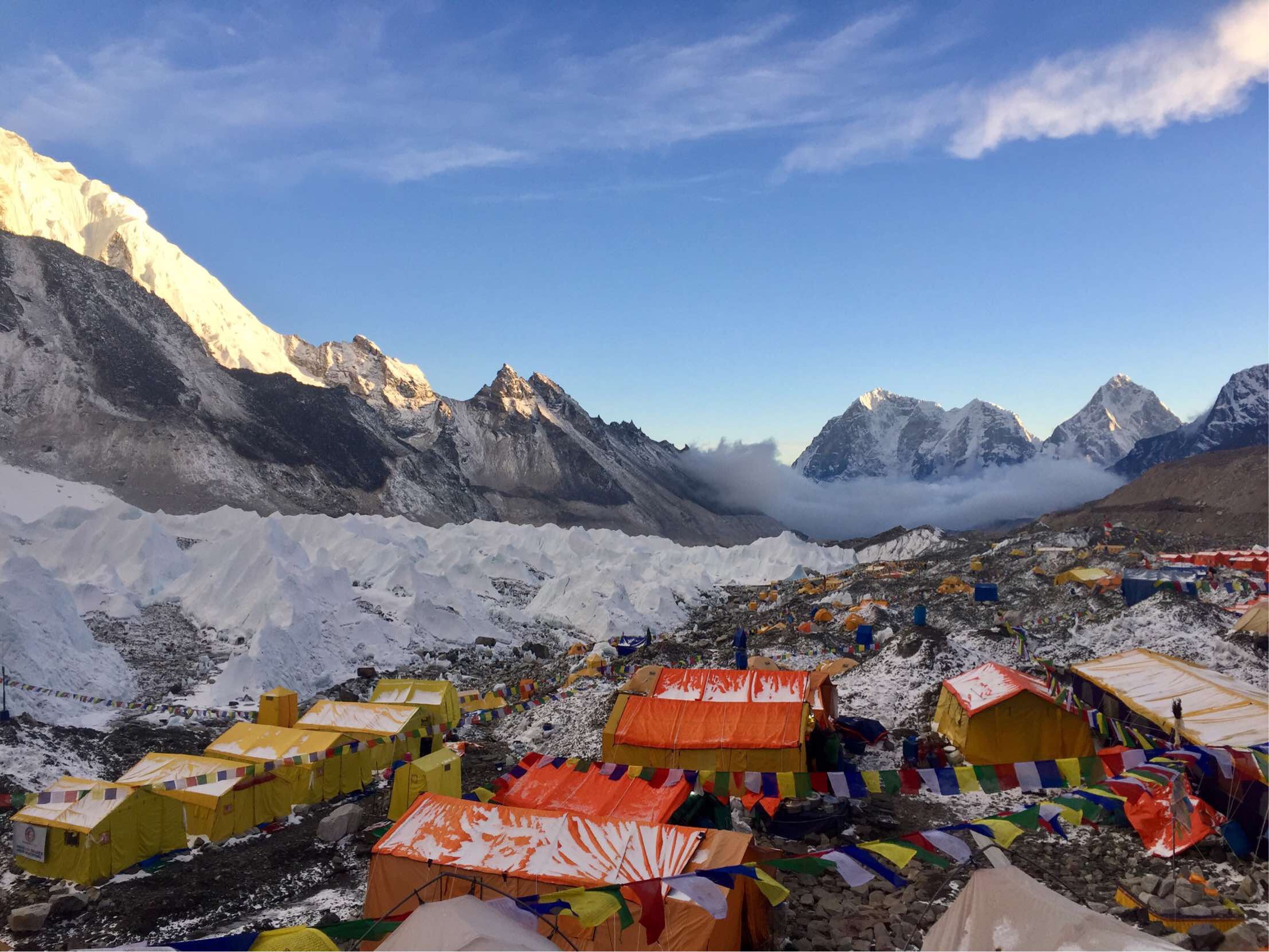 Last bit of sunlight on the peak of Nuptse.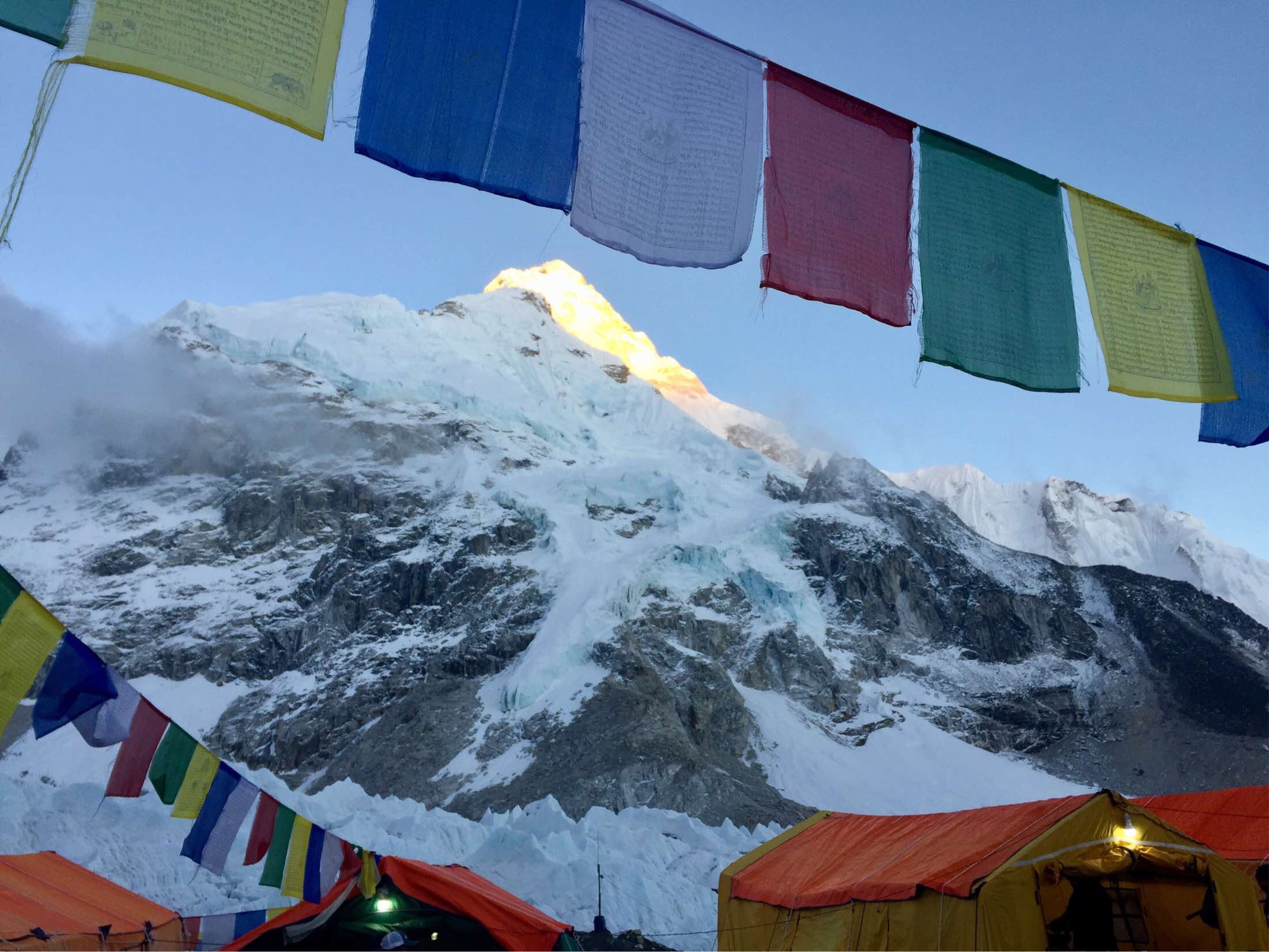 Other than scrutinize weather and obsess over gear organization, I spent the day drinking coffee, eating Peanut M&M's, and napping in my snow covered tent. I know you are thinking how great that sounds but it's about all that I can do right now. I'm doing my best to conserve energy and eat so that I don't lose weight but it's impossible because of the calories that my body is burning to distribute oxygen and remain warm. I'd guess that I'm down at least 15 lbs and our next summit push should cause that number to creep up. My big question upon my return is whether I should enter some trail races, to take advantage of my weight loss and hemoglobin count, or just focus on relaxing on the beach with chips and guacamole. I'm leaning heavily towards the latter…
I should have a better idea of our planned summit push in the next few days but in the meantime, keep those prayers and good vibes coming our way! Also, thank you for all of your messages, emails, notes, etc. I'm a little backed up on emails right now because of our spotty internet during the snow storms, so please don't hold it against me if you haven't heard back.