Day 40: Saturday, May 13th (Drop to Pangboche)
Last night was very frustrating, followed by an extremely demoralizing day. My pack had been loaded and we were on the verge of pushing up the mountain to attempt another summit push. For the past few days, there had been talk between teams about getting the summit ridge lines fixed and we were looking for an opportunity to get on the front end of all the teams. While weather did not look good, there was what appeared to be a 36 hour window that might have been big enough for us to sneak a trip to the top.
Yesterday, around 3 PM, we received two weather reports. Up to this point, we had been reviewing the reports from our own weather expert but also leveraging information from an additional two, Dutch and Swiss. One had consistently been bad, one OK and the last had been promising. When we received the Swiss and Dutch reports, both had worsened and we realized that our window might not be a reality.
After dinner, we sat down and after some debate, agreed that this was not the window for us. We went to bed knowing that our next opportunity would not be for another week and it was a horrible feeling. I woke up lacking motivation and feeling very downtrodden. It was hard to peel myself out of my sleeping bag, knowing that I would be doing the same thing for another week. In the back of my mind, I remained frustrated with the fact that we had missed our initial weather window on the 11th and 12th, due to the lines not being fixed.
As we downed our coffee and pancakes, Brent mentioned that he wanted to drop down to Pangboche to recover from a cough, similar to mine, and get out of the monotony of EBC. Geoff and I both agreed but Anders said that he didn't want to drop down unless it was via helicopter to Namche. Pangboche is a village that sits at 12,800′, about 12 miles from EBC, while Namche is a much larger town that sits at 11,500′, about 22 miles from EBC. After some back and forth debate, Brent, Geoff and I decided that we would go to Pangboche and Anders would stay at EBC. I was definitely disappointed that Anders wouldn't be joining us but I realized that it would be good for my health to drop to a lower altitude and try to kick this throat issue that had been plaguing me. One of our other members, Ingavald, decided that she also wanted to drop down and of course we agreed to let her join.
Hiking below Lobuche, about to drop into the valley where Pheriche lies.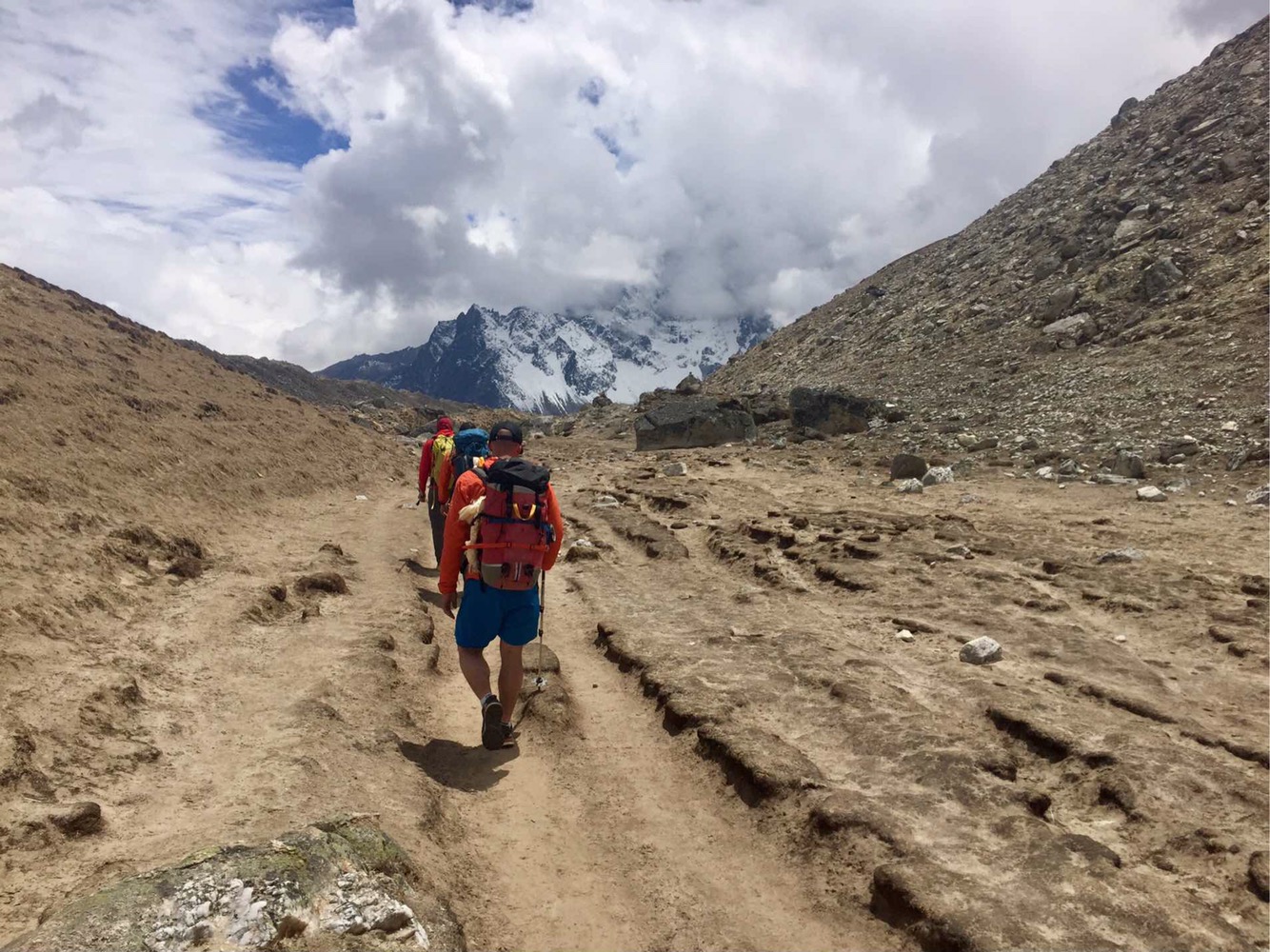 The four of us quickly loaded our packs and set off for Pangboche at 11:15, knowing that our next weather window would not occur until the 21st or 22nd. Now for the demoralizing part… I decided to wear my trail running shoes, rather than my approach shoes that have a high top, because I wanted to move fast. Within 30 minutes of leaving camp, I rolled my right ankle on a rock. This is the same ankle that has been causing me grief for the past nine months because of constantly spraining it and a bout of tendinitis. We covered ground very quickly but the nature of this ongoing injury caused me to roll my ankle an additional four times on the descent. For those that have never experienced an injury like this, imagine that your foot is bolted to your leg but you lose one of those bolts, causing it to become very loose. The terrain, combined with the weakness in my ankle, resulted in a very unsteady hike and one that left me constantly gritting my teeth. My frustration was evident but my team offered continued support throughout the five hour jaunt. (Don't worry, as painful as this sounds, my mountaineering boots provide a lot of support and will allow me to climb efficiently, despite the inevitable pain.)
The scenery made up for a bit of the pain.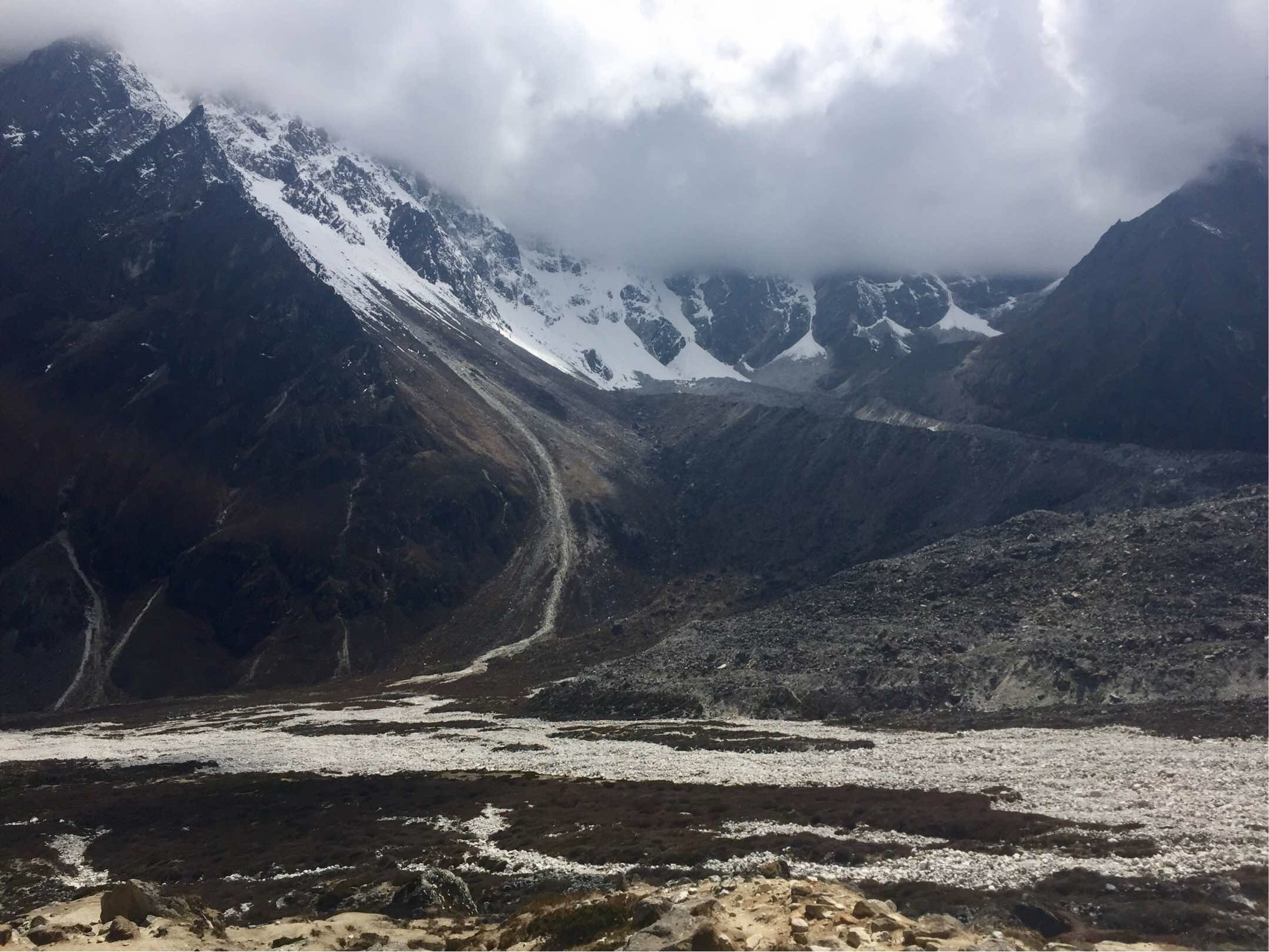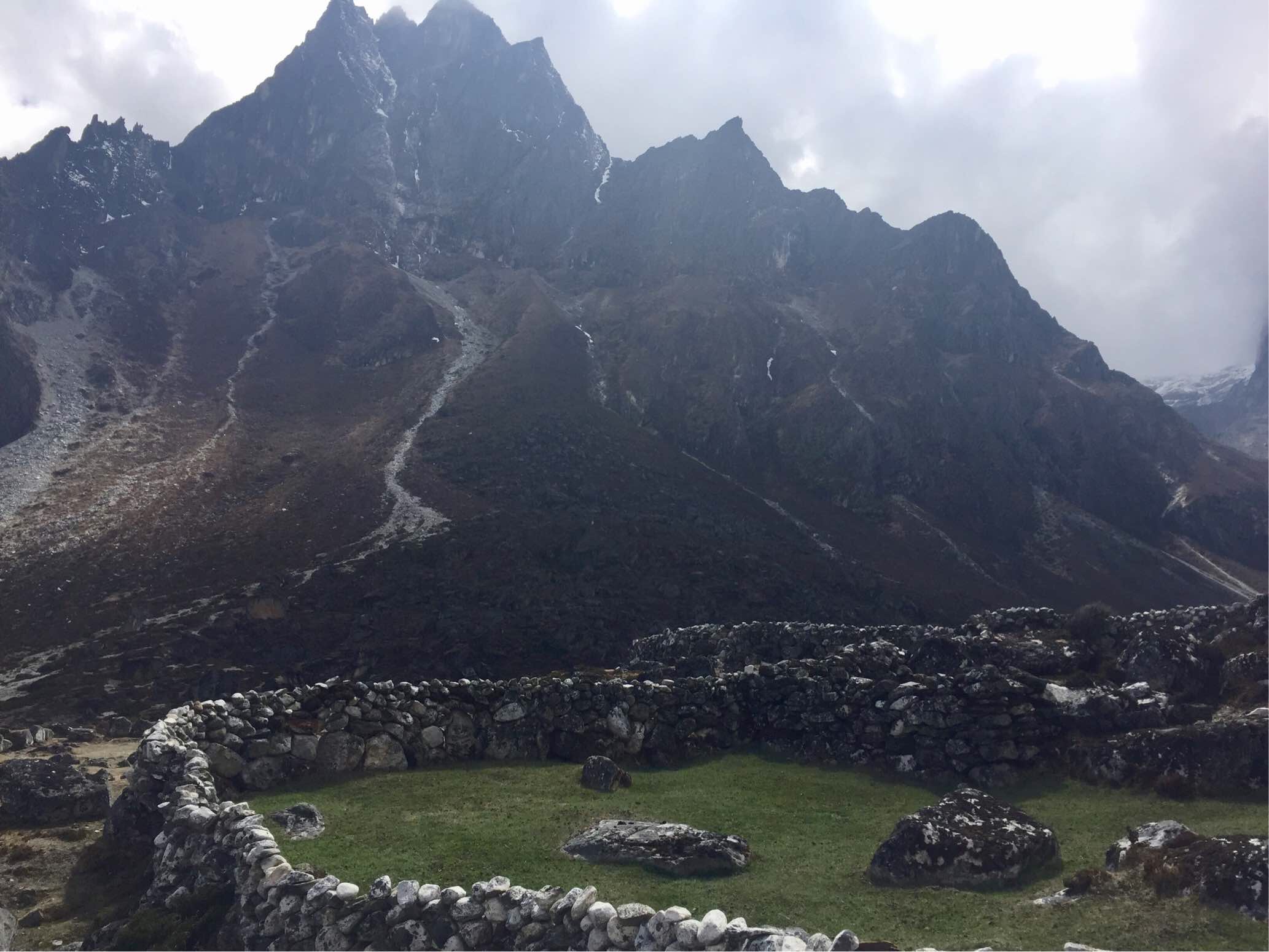 And baby yaks help too. Yes, that fuzzball is actually a baby yak.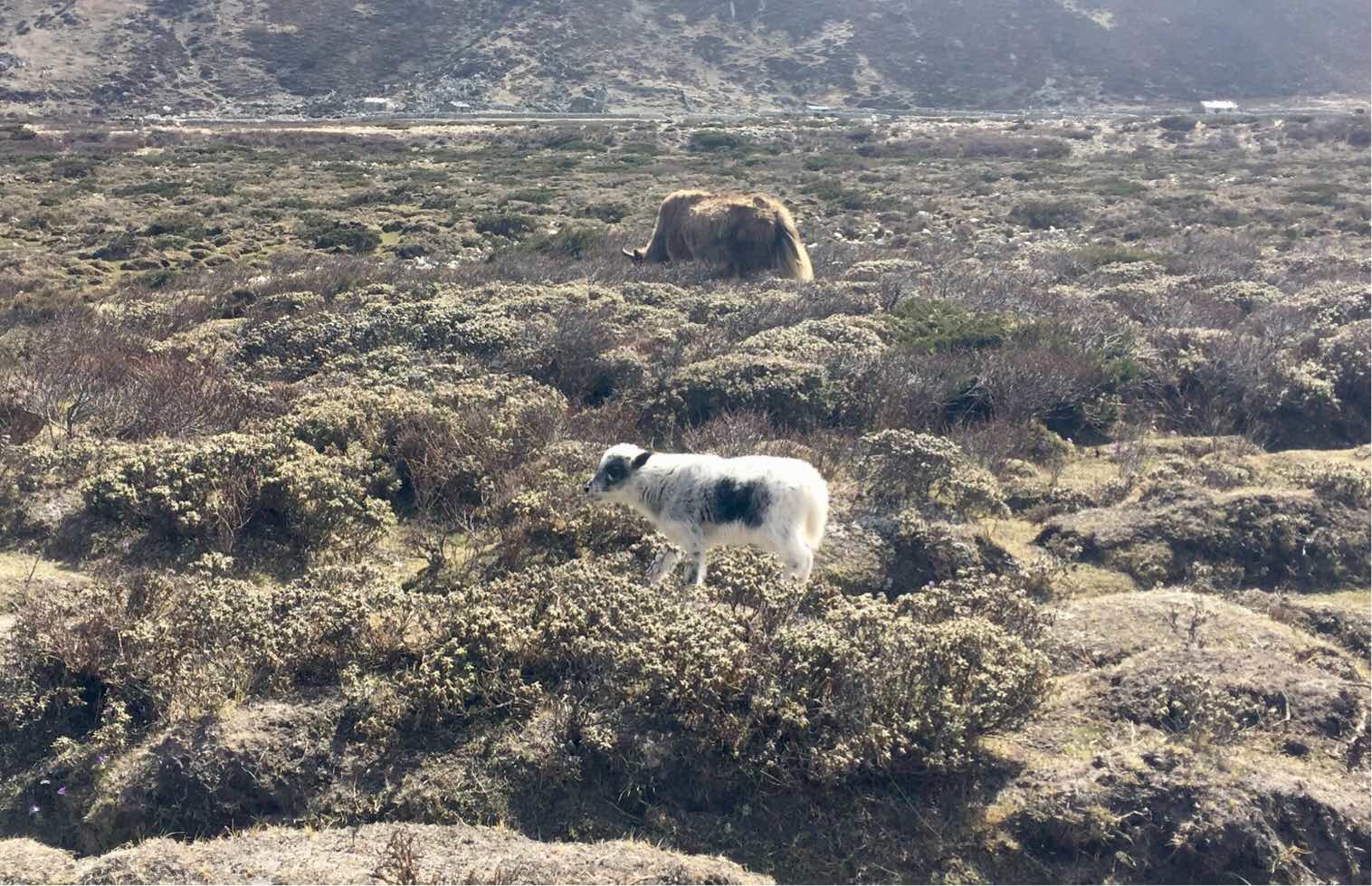 We arrived in Pangboche around 4:15 PM and grabbed beers as soon as we sat down at the Highland Sherpa teahouse. The teahouse is owned by Aang Temba Sherpa and his wife, Yangzing Sherpa, whom Brent has know for many years. In fact, Temba was Brent's Sardar Sherpa on many previous expeditions and they remained friends over the years. Here, we were treated like members of the house, which makes for a very comfortable setting. After a few beers, ibuprofen and dinner, my ankle began to feel much better and my mood lightened. This is an injury that I've battled for a while, one that I'm very familiar with but one that I will be able to overcome. Being in a friendly setting, outside of the monotony of EBC, allowed me to relax and take my mind off of the frustrations of climbing. I'm looking forward to the next few days on our mini "vacation". ​
For all the mothers following along, here is an early Mother's Day gift from Nepal… baby yaks.
​

Day 41: Sunday, May 14th (Rest Day in Pangboche)
It's amazing what a few beers, some scotch and a bed can do for morale. I slept like a rock, which was obvious when I woke up with one earbud still in my ear and the cord wrapped around my neck. I had fallen asleep listening to music and slept in until 9 PM. It was a good feeling, until I crawled out of bed to go to the restroom and was greeted by an aching ankle. Oh well, a couple of days of laying low in a new setting will more than offset the ankle issue.
Geoff and I eventually convinced each other that we needed to drag ourselves upstairs for coffee. Brent and Ingavald were just finishing up their meals when we arrived. Our food was delicious but there just wasn't enough coffee and we all agreed that our next activity for the day would have to include finding the nearest coffee shop. That was easily accomplished with a 10 minute walk up the hill.
Coffee and relaxing in Pangboche.

We spent a couple of hours hanging out in the sun of the bakery courtyard and enjoying the company of locals. It was nice to watch let time slip by as we watched yaks and trekkers shuffle through town. Despite our comfortable position, we eventually made our way back to the Highland Sherpa teahouse, where we purchased a sack of beers and proceeded to consume them in the courtyard. It wasn't long before my mind had drifted from Everest and I found myself completely relaxed in the company of friends.
For the next three hours, we sat in the courtyard, drinking beer and talking about life. It was the first time in weeks that I had been able to detach my mind from our objective and just relax… it was much needed. While we were sitting there, some local puppies took notice of us snacking and made their way into the courtyard. We were soon surrounded by a group of five Nepali puppies and we desperately struggled to give them all enough attention. Geoff was the puppy ringleader and would have brought them all back to the States if we weren't heading back up the mountain in a couple of days. Honestly, does it get any better than puppies, sun and beer? Needless to say, it was a good day of R&R in Pangboche.
One of the many puppies that Geoff will attempt to bring home.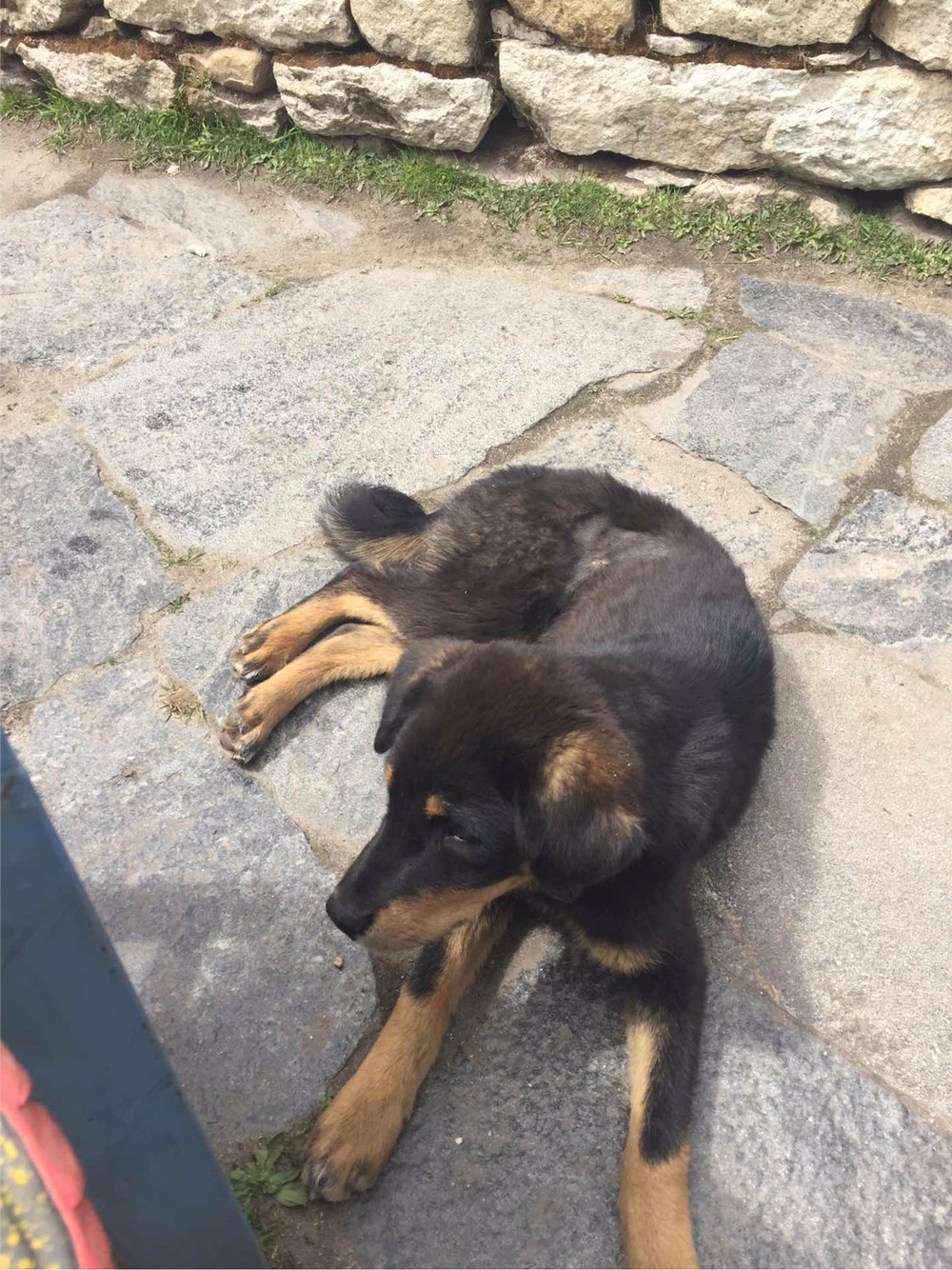 Just before dinner, we received some updated weather reports, so we spent most of our time reviewing them as we ate. At this point, we will continue to be in a holding pattern because the reports continue to call for high winds from the 16th through the 20th. There is a chance that the winds may drop briefly during the 19th but nothing that appears to be long enough for a summit window. We will continue to hope for a turn in the weather and exercise patience because that's about all that we can do. Luckily, I have a great support group here and back at home, who help keep my head screwed on straight as we wait.
PS – Happy Mother's Day to all the Mom's out there, especially my incredibly tolerant Mother, who gave me my passion for adventure! I love you, Mom!