You know when you mark your calendar for a big occasion? You spend countless hours/days preparing for it… You can't sleep because you are always thinking about it… You borderline obsess over the details… but it still seems like that day will never come.
Then all of a sudden, it's here and I'm looking for some figurative brakes to pump.
Anyone that knows me would be certain that I have had this message planned for weeks and know exactly what I want to say. Well, I don't. I know that my body and mind are ready for this final summit push but finding the words to describe how I'm feeling is slightly more challenging.
Everest (left) the tallest mountain in the world, Lhotse (center) the fourth tallest, and Nuptse.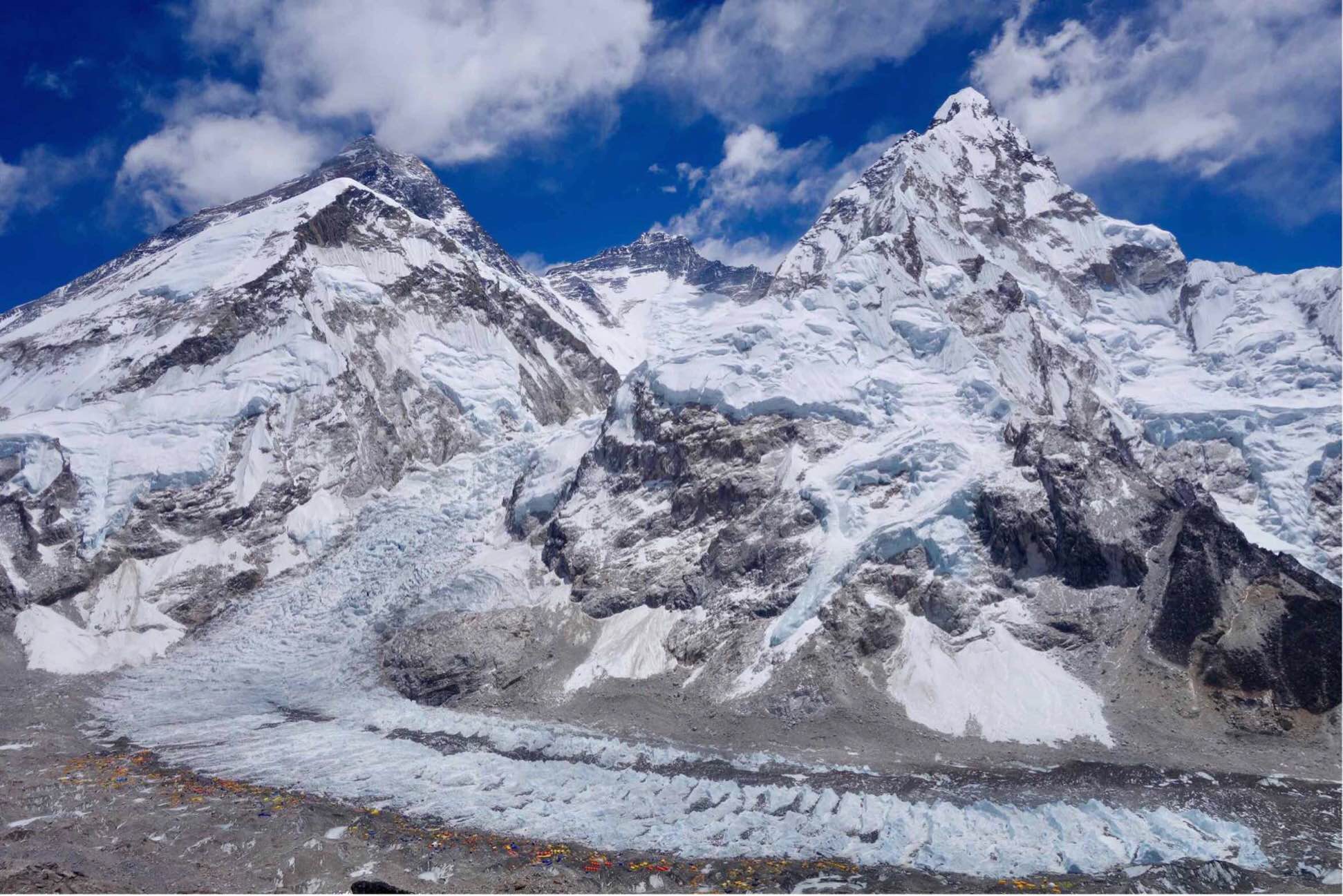 I need a little more time to find the right words, so I'm going start with the plan for our summit push. Tomorrow morning, Anders, Brent, Geoff and I will break camp at 5 AM to begin our final/Summit Rotation, which will involve us moving through the camps to get in position to take advantage of a fair "weather window" that would allow us to summit. Over the past few days, we have been reviewing the weather forecasts that we receive and they continue to point towards wind speeds decreasing over the next five days. Right now, the dates of the 10th and 11th are showing the best conditions with temps ranging from -15 to -40 on the summit with wind gusts reaching 25 MPH. Yes, I know that sounds like hell but trust me, that actually sounds pretty good, it can be much worse.
We use the forecast to make our best guess at when the weather will allow us to move, so that we are in striking distance when that "weather window" opens up. Here is our planned schedule for movement but please remember that schedules are very prone to change in the mountains. Don't be alarmed if we have to push our plans back one, two, or three days.
May 6th: Depart EBC @ 5 AM and climb to C2
May 7th: Rest Day at C2
May 8th: Move to C3 in the AM
May 9th: Move to C4 in the very early AM, nap, depart for summit around 11 PM
May 10th: Everest Summit target of 6-8 AM, descend to C4 by Noon, nap, depart for Lhotse summit around 10-11 PM
May 11th: Lhotse Summit target of 6-8 AM, descend directly to C2 by midday
May 12th: Descend from C2 to EBC
*Nepali time is 9:45 ahead of EST and 12:45 ahead of PST
Please remember that all dates and times may change depending on weather and health. I want to avoid panic, in the event that something doesn't happen as scheduled. Additionally, we may not attempt Lhotse if conditions are not ideal. In which case, we would return to EBC on the 11th. Lastly, I will not have any cell or internet service up there but will have access to a satellite phone. I am going to do my best to call in twice a day with updates but don't hold it against me if I miss a call or two because of too much cloud cover or sheer exhaustion.
Now that you know the plan, I guess I can't stall any longer, it's time for me to get a little sappy… I have been working towards this for a very long time and while it's only been on my calendar for about a year, I have had dreams about the summit of Everest for years. It was the product of years of inspiration from so many people in my life, I would never consider this a dream that I conceived on my own.
I don't know if I will reach the summit but even if I don't, this journey was well worth the blood, sweat and tears. I can't begin to explain the impact that this mountain and climbing have had on me and my life, not just over the past month but over the years. This journey has helped me find some of my closest friends, better understand myself, rebuild my relationship with my father, and now, share in the inspiration. I promise you, even if I don't make it to the top, I wouldn't change a thing.
Now, it's time for me to thank you. If it were possible for a group of people to will a body to the top of Mount Everest through love, encouragement, support, well wishes, inspiration and plain old good vibes, I would be on top right now. Over the past month, I have been completely overwhelmed by the messages that I have received. Isn't it ironic that whenever I receive a message about me being an inspiration to that person, that they are in turn inspiring me?? I've had some rough days on this mountain, feeling sick or even being homesick… but then I read your messages and I smile. To each and every one of you who are reading this, thank you from the bottom of my heart.
My team; Anders, Me, Geoff, and Brent.

Finally, I believe that I am a member of the strongest team on the mountain. I trust Geoff, Anders, and Brent to pick me up if I fall down and they know that I will do the same. There is no doubt that this climb will be incredibly dangerous but rest assured that we will take care of one another.
My promise to you… I will give this my all.
Namaste,
John