Geoff Schellens is a longtime friend of mine and my climbing mentor, the one person that I attribute most of my climbing success to. I'm blessed to have him by my side as we attempt to climb Mount Everest. He is a great climber and a beast at altitude but you would never know it because he is one of the most humble people that I know.
Geoff wanted to share an update on our 2nd Rotation, as well as some thoughts on Ueli Steck's untimely passing. If you have any questions for Geoff, please leave a message for him in the feed and I will make sure that he responds.
-John
We are back at Everest Base Camp after a successful second rotation, during which we spent 4 nights at Camp 2, acclimatizing to the thin air at 21,000 ft and lounging around. We also took a small day hike up the rocky moraine above camp. On our third day, we picked our way across the glacier with music blaring and spirits high to reach the Lhotse face.
Our team approaches the Lhotse Face, prior to receiving news about Ueli's death.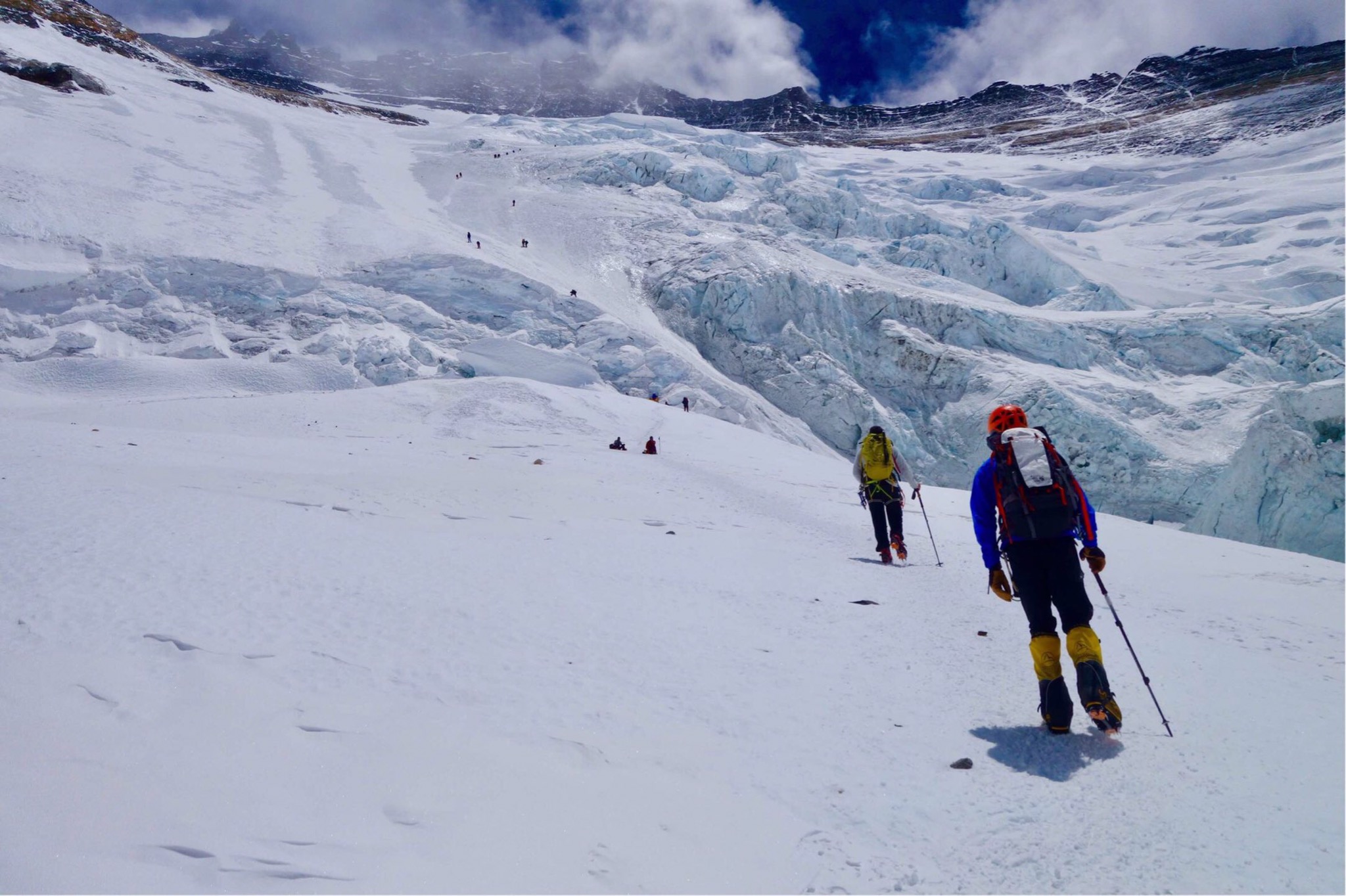 It was here that we first learned of Ueli's accident that had occurred earlier that morning. Our mood quickly dropped as we stood in silence, looking at the face on Nuptse where Ueli had fallen to his death just a few hours before. Obviously, Ueli was a legendary climber, a mutant in the mountains, and a hero but I think what hit me the hardest was not the loss of this icon but the loss of the person. I will not claim to have known Ueli well, but every time I have run into him, I have come to know him as a kind, excited, and humble person. He was always enthusiastic and happy to fuel the excitement of anyone he crossed paths with.
With this heavy reality weighing on us, we had to compartmentalize our emotions to be able to focus on our climb up the Lhotse Face to Camp 3. This is a difficult but necessary skill for any climber who spends significant amount of time in the mountains. It seems that tragedy always strikes at times when you need complete focus on the climbing at hand.
I remember descending off Mount Hunter in the Alaska Range when, after 2 hours, my partner and I exited the gully only to turn and watch a serac sweep the upper gully. If we had been an hour behind, we both would have been dead. With another 6 hours of tricky glacier navigation before we got back to our tents, we had to compartmentalize and ignore this close call for the time being to focus on the task at hand. Once back at our Base Camp, we spent the day over a bottle of scotch.
Back to the Lhotse Face… We quietly but very efficiently ascended the fixed lines to Camp 3 where we ate and drank, looking down on the Western Cwm. After our quick trip to 23,400 ft, we descended back to Camp 2 for the night and then on to EBC the next day.
Brent (left) and Anders (right) rappelling down the Lhotse Face.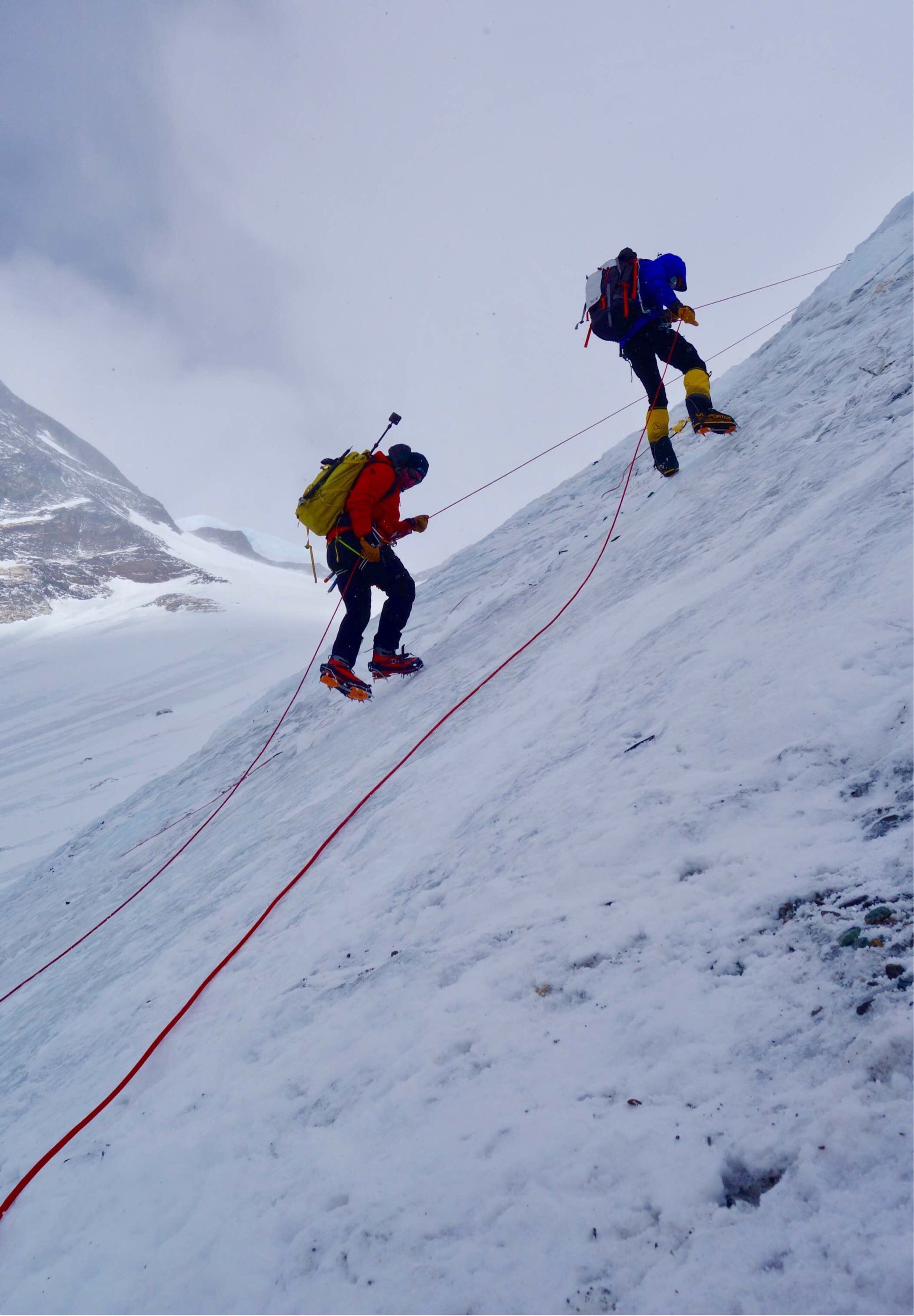 John crossing a ladder at the top of the Khumbu Icefall on the way down to EBC.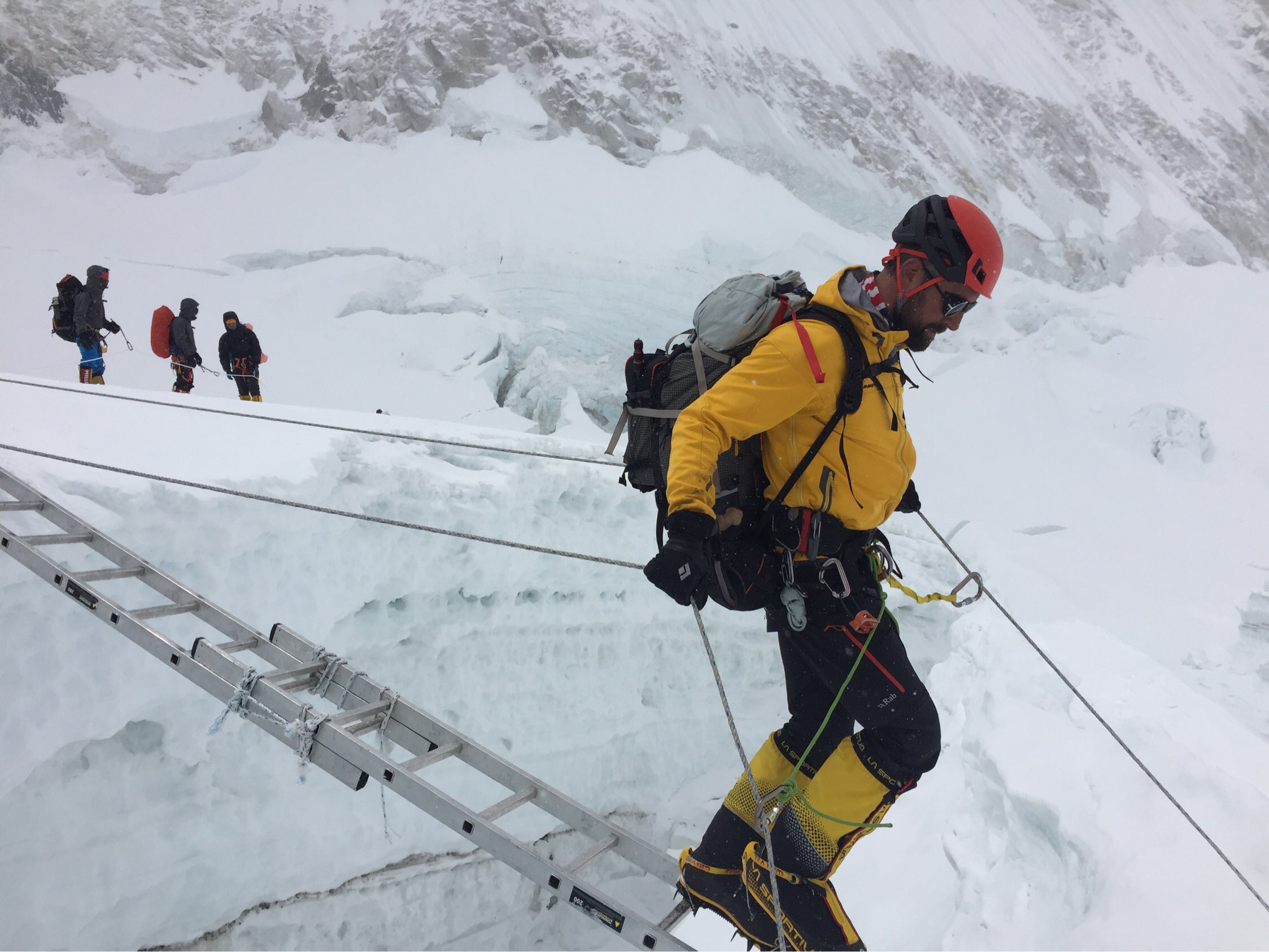 We are currently getting some much needed R&R at EBC with Ant's amazing cuisine, hot showers and movies every night. It's been sunny here but with a little nip in wind, as we wait for the jet stream to shift and the upper mountain winds to taper enough to launch our summit rotation. The down time is well deserved and necessary for our physical and mental recovery. We are all in good spirits and quickly recovering from the congestions and coughs that come with the cold dry air in the high mountains. For now we are tooling with our equipment, watching the weather forecasts, and coordinating with our Sherpa team to ensure lines are fixed, high camps are stocked, and O2 is in place for us when we get our opportunity climb again.
-Geoff
Moonlight over EBC.